Guest Blogger – Amber Green
Today I have the pleasure of interviewing author Amber Green……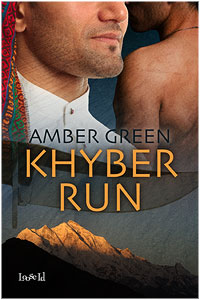 Tell us about your latest release.
Khyber Run was released by Loose Id on May 24.
Transplanted from an Afghani battleground to a Florida playground at age ten, Zarak Momand spent the next several years trying to remember Pakhtunwali, the Pakhtun Way, and instill the Pakhtun warrior spirit in his younger brothers. A generation later, he's a burned-out Navy hospital corpsman who has lost touch with everything that matters: his brothers, his heritage, and possibly his soul.
Then he's kidnapped by USMC scout-snipers hell-bent on seeing justice for a murdered brother marine. The murderer has deserted. They have ideas where to find him and plenty of unofficial support–but this is Afghanistan, where the easy answers are wrong and the best-laid plans don't stand a chance. Codenamed Zulu, Zarak navigates the ambiguities of fourth generation warfare, where there are no front lines and where the moral high ground shifts from situation to situation. He can rely on no one but Oscar, a sexually compelling marine who is every bit the warrior young Zarak had once hoped to be.
When finally told the deserter murdered his estranged baby brother, Zarak sees his way clear. Pakhtunwali allows a man to pierce the wall of hospitality–even the code of sanctuary–to demand justice for a murdered son or brother. For the first time in years, his Pakhtun self and his American self are in full accord. With Oscar at his side, and with the memories roused by their travels in these legendary mountains, he finds his spiritual center.
Secretly crossing the border into the Khyber region of Pakistan, Oscar and Zulu lose their companions, their technology, and their horses. In compensation, they find Z's extended family, Taliban assistance, and gratified lust in the night.
But is Oscar's rough passion a betrayal between brothers? And what happens when the deserter would rather die than go back?
What is your favorite genre to write? What other genres do you enjoy?
Romantic suspense is fun to write, having enough action to keep things moving and enough emotion to make it matter.  I've at least dabbled in all the genres I can think of, and had some degree of fun with most of them.  I do particularly enjoy nontraditional historicals.
Do you have a favorite character from one of your books?
Yes—but the character keeps changing, depending on my mood.  I still love Esau, from The Subject, even though I haven't visited that story in several years.  You can see strong echoes of his character in Fortinbras, from Backtrack and Bareback.  Fort is the only hero I've killed off, but his death was the fate he chose, the culmination of choices he'd made all his life.  I love Mary Alison of Hawkmoor and Twilight of Steal Away because they are both tough survivors, but I think I love Twilight more for her knack of seizing—and sharing—whatever enjoyment the moment brings.  Writing about Joe and Brian in Bareback is the most fun I've ever had at a keyboard; I still toy with the idea of bringing them back for another round.  And I love Zarak of Khyber Run, because of his ultimate willingness to forgive himself and thereby forgive others.
How do you make time in your life for writing?
I don't do housework or laundry, and I've mostly stopped cooking as well.  Keeping a kid's composition book in the car lets me scribble during red lights and while waiting for my son's class to let out.  Sometimes I don't sleep.
What do you like to read? Do you have some favorite authors?
I read omnivorously.  Most recently I've been plowing through the Simon R. Green's Nightside series, which my sons both loved.
If you decide to take a Saturday off, what are we likely to find you doing?
I'm not sure what "off" means.  This past Saturday, I slept in, which is possible in my house (with two dogs and eight cats) only because of the doggy door.  By 10:30, I had flea-combed two cats; dug cat hair out from under my C key, my D key, my space bar, and my comma key; investigated a scabby place on the puppy's neck; checked shipping options for an eBay transaction; gone through crit group posts at WeWriteStuff and ERA; read email; talked to the help desk person from the day job about a host error message; and been served brunch.  Oh, and I started answering these questions, which is how I know what I was doing at that hour.  The day got a touch hectic after that.
Choose six adjectives to describe yourself.
Busy.  Sorry—in weeks like this, you only get one.
Describe the perfect meal.
I didn't cook it.  (I love to cook, but lately there's no time.)
If you were a dessert what would you be and why?
Today I'd be one of Seeley deBorn's yazdi cakes. They're essentially pistachio muffins with cardamom.
Thank you for joining us today, Amber. You can find out more about Amber's writing at her website.

Comments
Amber Green says:

Good morning, Silvia.

KevaD says:

I'm a huge fan of Amber's work.
Marvelous post!

Gillian Archer says:

LOL I love your time keeping philosophy 🙂 Congrats on the release, Amber!

Jianne Carlo says:

I love your typical Saturday – remember those days. Now the kids are grown and out, and, the pets are chasing rabbits in doggy heaven.

This books sounds fantastic – love the premise. Going to get it now.

Cherise Sinclair says:

God invented doggy doors.

I love Ms. Green's heroes. Hot and heroic, but also so human that you're pulled into caring so much that you're cheering for every step forward.

Jadette Paige says:

I honestly believe Khyber Run is Amber's best book so far. She has a way of telling the story so the reader is sucked in and can't escape cause they are living and breathing the characters' lives. I'm glad you don't cook, do laundry or any of that other stuff! We need more of your works!

Lauren Fraser says:

Ahh I can relate to the masses of dog hair that worm their way under the keyboard keys. LOL

I'm going to have to try out that recipe for yazdi cakes.

Congrats on the new release, it sounds fantastic. I'm looking forward to reading it.

Silvia says:

Thanks for being here, Amber! I've also given up laundry and cleaning the house 🙂

Amber Green says:

Thank you all for coming by! 🙂

Terra says:

Hey, I won a awesome t-shirt with the book cover from Khyber Run and I can't not find a e-mail address to Ms. Green to say thank you. So hope it is ok if I post a thank you here.

Terra