Guest Blogger – Amber Skyze
Today we welcome Amber Skyze. Come on in and see what she has to tell us about herself and her writing….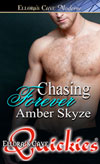 Tell us about your latest release.
My newest release Chasing Forever, is about two best friends crossing that line and becoming lovers and the struggles it can cause.
What is your favorite genre to write? What other genres do you enjoy?
My favorite is contemporary erotic romance. I also enjoy adding suspense to a few of my books.
Do you have a favorite character from one of your books? My favorite character is the hero, Nathan Donovan from Splashing Good Time. It was my second published book, but this hero still holds my heart.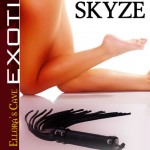 Is there a style or genre of writing that you haven't tired yet but you'd like to explore?
I'd like to try a shape shifter one day. I love white tigers and would love to write a story around one.
How do you make time in your life for writing?
I get up extra early, usually around 4am, when the house is quiet. I write until it's time to get my teen up for school. Now that school is out I may sleep an extra hour. :o)
What do you like to read? Do you have some favorite authors?
I read a variety of books from historical to chick-lit and non-fiction.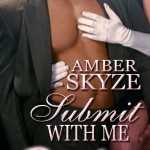 If you decide to take a Saturday off, what are we likely to find you doing?
If it's summer I'm at the ocean or floating around my pool.
Choose six adjectives to describe yourself.
Hmmm, shy, quiet, inquisitive, protective, caring, and passionate
Describe the perfect meal.
Surf and Turf – a nice filet and lobster tails…yes, plural I can eat two tails. :o)
If you were a dessert what would you be and why?
My favorite – strawberry cheesecake!
Thank you for joining us, Amber. Learn more about Amber and her writing at her website or her blog.
Chasing Forever by Amber Skyze
Blurb:
Jordyn has longed to make her relationship with best friend Diego more than platonic. Her body drips with need to know what it would feel like to have his lips kissing every inch of her skin. Desire to wrap her legs around his waist and plunge into deep waters with him fills her every dream.
Diego is one with the ocean. His passion is surfing and chasing that ultimate wave. He doesn't have time for a relationship. Or does he?
A storm is brewing and when a tragedy occurs, Diego and Jordyn need to decide if they're both chasing the same dreams.
Excerpt:
An Excerpt From: CHASING FOREVER
Copyright © AMBER SKYZE, 2011
All Rights Reserved, Ellora's Cave Publishing, Inc.
Chapter One
Jordyn sat on the beach towel watching Diego riding out the waves. Her pulse raced. He knew he shouldn't be out there. Hurricane Ivan was heading inland and the weatherman had warned of the dangerous undertow. She'd attempted to chase a few waves, but once she'd swum a few yards she knew it was a mistake. She'd quickly swum back to shore and waited while her best friend tried to prove he was smarter than the ocean.
The waters had turned mean and ugly over the last twenty minutes and the sky was an ominous gray. The hurricane was moving closer. A breeze came in off the water and a chill passed through her body. She'd unzipped her wet suit down to her waist, exposing her bikini top when she exited the water. She should cover up again in case the rains poured down.
She scanned the waters. Someone on a Jet Ski buzzed around, stopping every so often to take some pictures. She hoped he would keep away from the jagged rocks. The razor-sharp rocks were Jordyn's bigger fear with Diego being out on the water. One wrong move and a wave could drag him under and throw him against the rocks, ending his life.
Jet skis were prohibited at any time on this part of the beach, but it didn't stop them, especially on a day like today. They'd swarm around the surfers—in this case, just Diego—hoping to get a great shot of him nailing a thirty-foot wave.
Hopefully that's all he catches.
She scanned the beach looking for any other fools. People with cameras hoping to click the ideal picture of the perfect storm peppered the sand.
"Dumbasses," she muttered. What did that make her? She was on the beach too. Why had she allowed Diego to convince her this was a good idea?
"Because I'm a fool too." She buried her foot in the sand and watched how the tiny particles glided between her toes. If she was smart she'd grab her board, jump in her Jeep and hightail it back to her place. Common sense flew out the window when it came to Diego, because she was head over heels in love with him.
Too bad he doesn't feel the same. He loved her like a sister he'd said a few too many times, especially on drunken occasions.
If she'd had a nickel for all the times he'd said, "If you weren't like a sister to me, I'd fuck you."
How her pussy moistened with the thought. A few times she'd been tempted to sock him one and other times she'd wanted to tackle him and show him the woman inside waiting for him to fill that void deep within.
Instead she'd sat back and waited.

Comments
amber skyze says:

Thanks Silvia! I'm going to give away a copy of Chasing Forever to one of your commentors so please leave an email address! 🙂

Victoria Zumbrum says:

Please enter me in contest. I would love to read this book. It sounds very good. Tore923@aol.com

Regina Carlysle says:

Great interview, Amber! Loved getting to know more about you!

Bronwyn Green says:

Great interview and awesome excerpt. I love friends turned lovers stories!

Linda Kage says:

Oh, yum. Now I'm hungry for lobster, crab, and cheesecake!! And I had no idea you got up so early. Ack. Congrats on Chasing Forever. I haven't gotten this one yet. But it's definitley on my list!!!

anny cook says:

The book sounds great! And the interview…yummmy. LOVE cheesecake!

Cindy Spencer Pape says:

Great interview, ladies. Fun questions & answers. Amber, loved the excerpt, as always.

Amber Skyze says:

@ Victoria thanks for stopping by. 🙂
@ Regina, glad you enjoyed the interview.
@ Bron Friends turned lovers is my kinda read too!
@ Linda – LOL I made myself hungry during the interview.
@ Anny – thanks for dropping in.
@ Cindy – you're so sweet. 🙂

Jean Hart Stewart says:

Yummy,both the cheesecake and the excerpt. I'd rather have cherry cheesecake but I'll take Diego as he is.Jean

Katalina Leon says:

"Chasing Forever" sounds great! Now I want to read it while eating strawberry cheesecake!
XXOO Kat

Amber Skyze says:

Jean you can have cherry cheesecake and Diego! 🙂

Thanks Kat. I'll send you strawberry cheesecake! 🙂

Marianne Stephens says:

We need to go out to dinner…you named some of my favorite foods!
How do you get up so early??? Sometimes I don't even get to bed before 1AM!

Molly Daniels says:

I'm with you Amber; give me the pool or ocean! I'll take chocolate cheesecake, thankyouverymuch:)

amber skyze says:

I'm in bed by 10 Marianne!

Nothing like hanging by the water, Molly. 🙂

Jen B. says:

I would be chocolate cake.
jepebATverizonDOTnet