Sweet Treats: Brownies
Jun 30, 2011 Filed under: recipes
Thanks to Xavier, I've been on quite a brownie kick recently. I've made Oreo Brownies which are orgasmic in the extreme and next up I want to make these sea salt caramel brownies. But today I'm going to share my recipe for plain old regular brownies because sometimes a brownie is just a simple comfort. And sometimes I just need to eat a spoonful, okay several spoonfuls, of the batter so much that I make these up just to indulge myself. And if some get cooked, so be it. I like my brownies dense and very chocolatety so my secret ingredient is coffee which in small quantities brings out the flavor of chocolate without adding the taste of coffee, not that I mind a nice espresso brownie on occasion.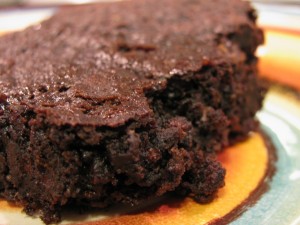 Silvia's Brownies
4 oz unsweetened chocolate
3/4 cup (1.5 sticks) butter
1.5 cups sugar
1/4 cup strong brewed coffee
3 eggs
1t vanilla
1 1/4 c flour
Preheat oven to 350F. Grease a 9x13in pan. Melt butter and chocolate together in microwave. I heat about a min and stir and then continue heating in 20 second intervals until everything is melted. Stir in sugar, coffee, eggs, and vanilla until well combined. Then stir in flour. Spread evenly in pan and bake approximately 30 minutes, less if you like them gooey and not quite done like I do.