Dinner with a Hero – Josh Lanyon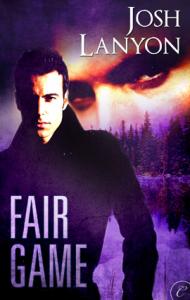 Today, Josh Lanyon, a write I admire immensely, invites you to join two of my favorite heroes, Tucker and Elliot from Fair Game for a mouth-watering repast….
Cocktails
Lemon Drop Martinis
Ingredients
• 1/2 oz. Jose Cuervo Especial Gold T
• 1 1/2 ounces vodka
• 1/2 ounce triple sec (may sub Grand Marnier for extra kick)
• 1 teaspoon superfine sugar (to rim martini glass)
• 3/4 ounce fresh lemon juice
• 4 -5 ice cubes
• Twist of lemon
Directions
• Chill martini glasses in freezer for at least 10 minutes prior to serving.
• Place Vodka, Triple Sec, lemon juice and sugar into a cocktail shaker with 4-5 ice cubes and shake vigorously for 30 seconds.
• Run the lemon twist around the edge of the chilled martini glass and dunk in a small amount of sugar for a coated rim.
• Pour the strained martini into the chilled glasses and serve.
Hors D'Oeuvres
Roasted Eggplant and Tomato Bruschetta
Ingredients
• 1 French baguette, cut into 36 1/4-inch-thick slices
• 3 tablespoons olive oil 2 halved garlic cloves
• 1 medium eggplant
• 1 large seeded, diced tomato
• 1 tablespoon fresh lemon juice
• 1 tablespoon shredded fresh basil leaves
• Salt and pepper
Directions
• 1.Cut a French baguette into 36 1/4-inch-thick slices and brush lightly with 1 tablespoon olive oil. Toast in a 350° oven for about 7 minutes until golden. Rub the toasts with 2 halved garlic cloves.
• Lightly coat 2 large baking sheets with vegetable oil cooking spray. Slice 1 medium eggplant lengthwise 1/4 inch thick and arrange the slices on 2 baking sheets. Brush with 2 tablespoons of olive oil and season with salt and pepper. Roast for about 10 minutes, until softened. Cut the eggplant into 1/2 -inch dice and transfer to a large bowl. Add 1 large seeded, diced ( 1/4 inch) tomato, 1 tablespoon fresh lemon juice, 1 tablespoon olive oil and 12 shredded fresh basil leaves. Season with salt and pepper.
• Mound the eggplant-tomato mixture on the garlic-rubbed toasts and serve.
Soup
Butternut Squash & Apple Soup
Ingredients
• 2 Tbs. unsalted butter
• 1 yellow onion, thinly sliced
• 1 jar (2 lb.) butternut squash puree
• 1 Granny Smith apple, peeled, cored, thinly sliced
• 2 cups low-sodium chicken broth
• 2 small bay leaves
• 3 tsp. kosher salt
• 1/2 cup crème fraîche
• 1/4 tsp. ground coriander (optional)
• 1/4 tsp. grated peeled fresh ginger (optional)
• Fried sage leaves for garnish
• Freshly ground pepper, to taste
• In a Dutch oven or stockpot over medium heat, melt the butter. Add the onion and cook until soft but not browned, 12 to 15 minutes.
• Add the butternut squash puree, apple, broth, bay leaves and salt and stir to combine.
• Bring the mixture to a boil, then reduce the heat to medium-low. Partially cover the pot and simmer for 30 minutes.
• Remove the bay leaves and discard. Add the crème fraîche.
• Using an immersion blender, puree the soup directly in the pot until smooth. Stir in the
coriander and ginger.
• Ladle the soup into warmed bowls and garnish with fried sage leaves and pepper.
• Serve immediately.
Main Course
Tucker's Cedar Plank-Grilled Salmon with Garlic, Lemon and Dill
Ingredients
• 1 (3 pound) whole filet of salmon, skin on, scored (up to but not through the skin) into serving pieces
• 6 tablespoons extra-virgin olive oil
• 4 large garlic cloves, minced
• 1/4 cup minced fresh dill
• 2 teaspoons sea salt
• 1 teaspoon ground black pepper
• 1 teaspoon lemon zest, plus lemon wedges for serving
Directions
• Soak an untreated cedar plank (or planks) large enough to hold a side of salmon (5 to 7 inches wide and 16 to 20 inches long) in water, weighting it with something heavy, like a brick, so it stays submerged 30 minutes to 24 hours.
• When ready to grill, either build a charcoal fire in half the grill or turn grill burners on high for 10 minutes.
• Meanwhile, mix oil, garlic, dill, sea salt, pepper and lemon zest; rub over salmon and into scored areas to coat.
• Place soaked cedar on hot grill grate, close lid, and watch until wood starts to smoke, about 5 minutes. Transfer salmon to hot plank, move salmon off direct charcoal heat or turn burners to low, and cook covered until salmon is just opaque throughout (130 on a meat thermometer inserted in the thickest section) 20 to 25 minutes or longer, depending on thickness and grill temperature.
• Let sit 5 minutes; serve with lemon wedges.
Roland's Cauliflower with Mustard-Lemon Butter
Ingredients
• 1 small head of cauliflower (about 1 3/4 pounds)
• 1 teaspoon coarse kosher salt
• 6 tablespoons (3/4 stick) butter
• 2 tablespoons fresh lemon juice
• 2 tablespoons whole grain Dijon mustard
• 1 1/2 teaspoons finely grated lemon peel
• 1 tablespoon chopped fresh parsley
Directions
• Preheat oven to 400°F. Butter rimmed baking sheet.
• Cut cauliflower in half, then cut crosswise into 1/4-inch-thick slices. Arrange slices in single layer on prepared baking sheet; sprinkle with salt.
• Roast until cauliflower is slightly softened, about 15 minutes.
• Meanwhile, melt butter in small saucepan over medium heat. Whisk in lemon juice, mustard, and lemon peel.
• Spoon mustard-lemon butter evenly over cauliflower and roast until crisp-tender, about
10 minutes longer. DO AHEAD Can be made 2 hours ahead. Let stand at room temperature. If desired, rewarm in 350°F oven until heated
through, about 10 minutes.
• Transfer cauliflower to platter. Sprinkle with parsley and serve warm or at room temperature.
Dessert
Warm Chocolate Cakes with Mascarpone Cream
Ingredients
• 8 ounces bittersweet chocolate, chopped, plus shavings for garnish (optional)
• 1 1/2 sticks (6 ounces) unsalted butter
• 3 large eggs, plus 3 large egg yolks, at room temperature
• 1/2 cup sugar 1/4 cup cake flour
• 1/2 cup heavy cream
• 1/2 vanilla bean, split and seeds scraped 2 tablespoons light brown sugar
• 1/2 teaspoon finely grated lemon zest
• 1 cup mascarpone (8 ounces)
• 1 teaspoon fresh lemon juice
• About 1/2 cup brandied cherries or kirsch-soaked sour cherries
Directions
• Preheat the oven to 375°. Coat six 6-ounce ramekins with butter, and dust lightly with flour. Set the ramekins on a sturdy baking sheet. In a microwave-safe bowl, melt the chocolate with the butter; let cool.
• In the bowl of a standing electric mixer fitted with the whisk, beat the eggs, yolks and sugar on high speed until pale and fluffy, about 4 minutes. Using a rubber spatula, gently fold in the chocolate, then fold in the cake flour just until no streaks remain.
• Spoon the batter into the prepared ramekins and bake for 15 minutes, until the cakes have risen, the tops are dry and the centers are slightly jiggly. Let stand for 5 minutes.
• In a bowl, beat the cream with the vanilla seeds, brown sugar and lemon zest until soft peaks form. Add the mascarpone and lemon juice and beat until blended.
• Run the tip of a small knife around each cake to loosen it, then unmold onto plates. Spoon the mascarpone cream onto the cakes and garnish with the brandied cherries and chocolate shavings.
Bailey's Irish Coffee
Ingredients
• 1 (12-ounce) wine glass, preheated
• 10 ounces brewed coffee
• 1 shot glass of Bushmill's Irish whiskey
• 1 1/2 jiggers Bailey's Original Irish Cream
• 1/4 cup heavy cream, whipped until stiff peaks form
• Ground cinnamon or chocolate shavings (optional)
Directions
• Pour whiskey into heated glass
• Add hot coffee
• Add the Bailey's and stir well to blend
• Top with a mound of whipped cream
• Sprinkle with cinnamon or shaved chocolate.
• Serve responsibly.
Fair Game by Josh Lanyon
Buy at Amazon, ARe, or Carina Press
Watch the book trailer.
Blurb:
A crippling knee injury forced Elliot Mills to trade in his FBI badge for dusty chalkboards and bored college students. Now a history professor at Puget Sound university, the former agent has put his old life behind him—but it seems his old life isn't finished with him.
A young man has gone missing from campus—and as a favor to a family friend, Elliot agrees to do a little sniffing around. His investigations bring him face-to-face with his former lover, Tucker Lance, the special agent handling the case.
Things ended badly with Tucker, and neither man is ready to back down on the fight that drove them apart. But they have to figure out a way to move beyond their past and work together as more men go missing and Elliot becomes the target in a killer's obsessive game…
Excerpt:
On the sidewalk outside the house, Tucker preempted Elliot with a harsh, "I don't want to hear it. Personally if someone did pop the kid, I like Daddy-o for it."
"I'm not saying you're wrong."
'The guy is a bona fide homophobe – with a violent streak to boot. Have you had a look at his record? Assault charges were filed against him three times back when he and your pop were buying their tie-dyed tickets to Woodstock."
Tie dyed tickets? Despite the face that there was little to find funny in any of this, Elliot's mouth twitched. "What happened to the assault charge?"
"Maybe the same thing that happened today. Someone convinced someone else against his better judgment to drop them."
Elliot met Tucker's flinty gaze. He shook his head. "The guy's a lawyer, Lance. A very successful lawyer. And he's a grieving father. Where do you think a court's sympathy is going to lie? With a model citizen like him or a hard-ass like you?"
Tucker's gaze grew adamantine. He opened his mouth, but Elliot said, "It's a rhetorical question. I know the answer if you don't. Can you give me a lift back to the college?"
After a moment, Tucker nodded curtly.
The drive back to campus was accomplished in record time and dead silence. As the tires bit into the chapel parking lot, Tucker glanced Elliot's way and growled. "You okay?"
Elliot gave him a narrowed look. "Why wouldn't I be?"
"What happened back there?" Tucker glared at Elliot's knee, which Elliot had been unconsciously rubbing.
"Nothing." That was obviously not true. Elliot qualified, "I rammed my knee into the counter."
Tucker opened his mouth, then seemed to think better of it. He shrugged.
"I'm fine. Don't worry about it." He was not fine, of course. He felt drained, depressed, and his knee was pulsing to a steady, painful beat, flares of anguish surfacing through damaged nerves and muscles and tendons when and where he least expected.
He was sorry he'd ever agreed to look into Terry Baker's disappearance. What the hell use had it been?
"Good," Tucker clamped out, pulling up beside Elliot's Nissan. "Great."
"I'll talk to you later." Was there some reason he would be talking to Tucker later? Elliot wasn't sure, but he knew that he couldn't say a final goodbye to Tucker here and now. He didn't dare examine that conviction, but it persisted all the same. This was not the time or the place to face never seeing Tucker again.
He reached for the door handle, and Tucker said suddenly, urgently, "Elliot?"
He turned his head and Tucker's big hand landed ungracefully on his shoulder, drawing him back as his warm mouth landed on Elliot's.
For an astonished moment Elliot was aware of nothing but the feel of Tucker's hard, insistent lips on his, the almost desperate pressure, the taste, the scent, the disturbing reality of Tucker's desire.
"Elliot," Tucker whispered, breaking contact for a moment. The heat of his breath was against Elliot's face, hypnotizing, bewildering. His mouth touched Elliot's again, and Elliot could feel his name – and a question – formed against his skin. Just that. Just Elliot?
There was a terrible familiarity to it. A reminder that he had not forgotten nearly enough, nearly what he had reassured himself was far, far behind him. It was all there, buried deep, but still flickering, like a short in his wiring, like an imprint on cell memory. Genetic code and the secret message was Tucker. The sudden unbearable sweetness of it made his breath catch and his eyes sting. Turned his guts to liquid with furious longing for that touch – that touch and no other.
The unfairness of it, the outrage of it, gave him the necessary strength to pull away. Tucker stared back at him, pupils dilated, breath uneven.
"What the fuck?"
Tucker's chest rose and fell.
"Where did that come from?"
Still nothing from Tucker, and Elliot's anger soared.
"Are you out of your fucking mind? You think after two years you're just going to – to pick up where we left off? What the hell's the matter with you?" Elliot pushed Tucker. Shoved him back into his corner behind the steering wheel. Tucker made no move to defend himself.
"You're what's the matter with me," he cried. "Why did you have to come back?"
"I'm not back."
"Then what are you doing here?"
"I'm working for the Bakers."
"Bullshit. Bullshit, Elliot."
"You think I got involved because you're on this case?"
"No. I know better than that. Maybe you've developed selective amnesia, but I haven't. I remember the way it went down. I'm not the only one who made mistakes."
"What the hell is that supposed to mean?"
"You're so goddamned stubborn. And you always have been."
At some point it would be funny, the fact that the two of them were sitting there glaring at each other, panting and nearly inarticulate with anger and lust and complete, utter confusion. But it was not funny now. Now it was merely one more painful, pointless instant in a day of painful, pointless incidents.
"Yeah, you just keep telling yourself that, Tucker," Elliot threw back. He yanked open the car door, jumped out. "Eventually you'll convince yourself I walked away." He slammed the door shut with all the energy and anger he could summon.
He stood there rubbing his knee impatiently, absently, as Tucker's car sped from the parking lot.
Learn more about Josh Lanyon at his website.

Comments
Jan says:

I SO want to try that salmon dish and the Chocolate cakes and cream sound delicious. Josh does some of the best sensory descriptions around.