Dinner with a Hero: Xavier Axelson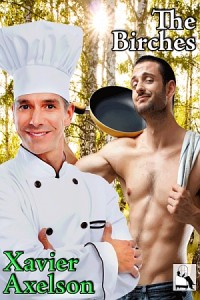 Today we welcome my scintillating friend, Xavier Axelson. Xavier has a deep dark passion for food and he's got yummy things to share with us.
I've been asked recently if I would ever consider writing a cookbook.  This may be because every one of my books features food.  Either being eaten, cooked, talked about, or used as an aphrodisiac, food features prominently in all my fiction.  I didn't even realize the trend until someone brought it to my attention.
You can imagine my pleasure at being asked to come up with a menu for Silvia Violet's blog.  The hardest part was deciding which of my characters I would cook for.  Being that The Birches is about to be released and is ALL about food I'm going to prepare dinner for Dock.  He is a self-taught cook and owner of The Birches and is the type of guy who would rather forget the rules when it comes to culinary and sexual pursuits.  I'm feeding him a hearty but simple and yummy repast.  I think he would appreciate the simple goodness behind these recipes, and would probably roll the dessert crust without his shirt on.  Lucky us.
I would start by serving a Bibb Salad with Basil Green Goddess Dressing.
Followed by a Perfect Broiled Steak
Served with Baked French Fries
For dessert I would serve homemade Deep-Dish Apple Pie with Cheddar Crust
Swallow That!
If you're still hungry and I know you are, here is an excerpt from my new release, The Birches available now from Seventh Window Publications.
Excerpt from The Birches
He pulled into the parking lot of The Birches and sat on his bike a minute. He felt nervous, like he was about to meet a celebrity and the self-doubt that plagued him made him queasy.
"You gonna sit outside or come in?"
Leo jumped at the sound of the man's voice. He pulled his helmet off and looked around, but didn't see anyone.
"Over here."
Leo looked just past his left shoulder and saw a man emerging from the nearby woods that surrounded the little restaurant.
"Oh, hey," Leo called out, his voice cracking.
"You looking for something to eat?" the man asked, coming closer.
Leo was shocked to find himself riveted to the spot, staring at the man who came towards him.
The man offered Leo a rough, calloused hand. "I'm Dock,"
"Hey," Leo managed weakly.
"I was out back, picking blackberries, they grow wild around here.  I thought they'd make a great dessert. Don't know what kind of dessert, but how can you go wrong when you have stuff like this?" He said as he offered up a large, wooden bucket half-full of dark, purple black berries.
There were purple smears across Dock's white tank top that seemed barely able to contain Dock's impressive chest. There were several brown freckles on Dock's shoulders, next to where the strap of tank top clung to his body.
"Lucky berries," Leo said under his breath.
"What?"
Sweat ran down Leo's back, he felt so nervous. For a brief moment, he thought of hopping on his bike and taking off.  Instead he said, "Um, nothing, sorry, I just wanted to come by and–"
"You want to come inside and have an iced tea or something?" Dock asked, "It's hot as hell out here and I know I need to cool off." He swiped a hand across his face and left a smudge of blackberry juice across his cheek.
Leo's heart was pounding, what was it about this place, this man?
Buy The Birches at Seventh Window or Amazon
You can find Xavier Axelson at his website, on Facebook, on Twitter and at his Examiner column.

Comments