Holiday Recipe Extravaganza – Selena Illyria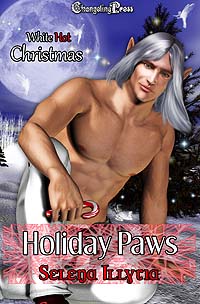 Happy Holidays!
Thank you to Silvia Violet for allowing me to take part in this fun event. I bring to you one of my favorite recipes of the season. (Warning: This is very addictive). I got this recipe from my mom and love to make it myself.
Pecan Roll Recipe
½ Pound Butter
6 Tablespoons Confectionary Sugar (10X)
2 Cups All-Purpose Flour
2 Cups Pecans- Chopped Fine
1 teaspoon Vanilla
1 Tablespoon Cold Water
Cream butter and sugar together. Add the rest and mix.
Take a teaspoon of batter and shape like a date.
Put on ungreased cookie sheet.
Bake at 250 for 4-60 minutes until golden brown.
Makes approximately 60 cookies.
Store in Tupperware or cookie tines. I use wax paper between rows.
Roll in confectionary sugar before serving. (Optional) Or you can melt chocolate and drizzle over cookies and then serve.
Recipe can be doubled.
I know I have to include these cookies in a book. I really do. Instead for my Christmas story, I fixated on chocolate cupcake with mint and white chocolate ganache filling and vanilla-mint icing.
White Hot Christmas: Holiday Paws by Selena Illyria
Blurb:
After dealing with the flu and missing her flight to spend the holidays with her family, Nessa thought she'd be alone for Christmas. When her mate Ben shows up at her door with the intention of giving her a holiday she won't soon forget, she knows this Christmas will definitely be the best yet.
Excerpt:
She was going to focus on them, and what it meant to be a mated couple.
First, they would connect physically and then talk. She felt they needed to get the sex out the way before any progress could be made. Talking wouldn't have any effect if they were both thinking about fucking or satisfying the need that had started an hour or so ago when Ben had shown up with cupcakes. They were a good start.
With a sigh, she dug a fork into the cupcake. "Perhaps it's time I really show him that I'm committed to him, rather than the other way around," she said to no one.
Finishing her cupcake, she took her mug of hot chocolate into her. When she entered she found it set up for romance; candles were lit and soft music playing. She found him in the bathroom with the water running in the shower.
"You shower and relax. I'll go get my bag." Not waiting for answer, he left her alone.
With nothing else to do but follow his direction, she stripped and got into the shower, allowing the water to run over her. She was thankful she'd gotten her hair straightened so there wouldn't be a huge curly, tangled mess, and it would be very easy to dry.
The thought of Ben pampering her by drying her hair, sent liquid warmth through her belly. Ben always wanted to do things for her and pamper her in any way she would let him. He was her mate after all. Ben should be allowed to be involved in some of her more personal rituals and intimate moments — not all of them, but some.
The warm water sluiced over her body, chasing away some of the alcoholic haze and clearing her thoughts. She could say, in all honesty, that she appreciated him not taking advantage of her in her tipsy state. Even though she was very willing, it meant a lot that he wanted her in a clear state of mind when they did have sex again.
As she washed her body, ripples of heat slid along her skin. Desire flared hot, raising goose bumps. Moaning, she cupped her breasts and gave them a squeeze before moving to pinch and roll her thick nipples between her fingers. Electric shocks shot straight to her pussy. Her inner muscles quivered as the throbbing of her clit became more demanding.
She didn't want to come by her own ministrations. Nessa wanted Ben's hands her body and to feel him skin to skin. She wanted to feel the glide of his cock against the cleft of her ass, teasing her with his touch before he slid the shaft between her thighs to taunt the aching bundle of her nerves and then sink into her needy sheath.
Moaning, she slipped a hand between her legs and flicked her clit. She thrummed the bud over and over again, setting off sparks deep in her vagina. Rocking back on her heels, she rested her bottom against the wall and slid down the wall to sit in her tub.
Stroking and pinching her clit and massaging her breast, she brought herself closer to the edge while tingles raced along her legs and up and down her spine. Over and over again she brought herself to the edge but kept pulled back. Nessa wanted to wait for Ben.
A small creak of the door hinge alerted her to her mate's arrival. A frisson of heat sliced down her spine to hum in her pussy. Her stomach muscles clenched as her heart pounded against her ribcage. Now she would get what she wanted. She was in a fog of desire and a need to connect with Ben physically.
Buy it here.
Learn more about Selena Illyria at her website, Facebook or Twitter.

Comments
Tara Lain says:

Sigh. You are the mistress of food porn! And that COVER! Congratulations sweetie. : )

Shelley Munro says:

The biscuits sound delicious, and the book very acceptable 🙂 LOL about deciding to have sex before the talking. Wise move!

Selena Illyria says:

Moi? Noooo! I'm just sharing! LOL. Thank You, Tara!

They are uber delicious, Shelley and very addictive, since they're so small and yummy! LOL!

Ani says:

Love both the recipe and the story.