Holiday Recipe Extravaganza – AJ Llewellyn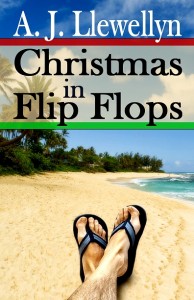 Mele Kalikimaka By A. J.  Llewellyn
This is the first Christmas in several years where I am not spending it in Hawaii but I will still be having a Hawaiian Christmas. The first Christmas ever celebrated in the islands was in 1786 in Waimea Bay, on the island of Kauai. The crew of the Queen Charlotte all missed their families and their traditional foods, but improvised. They ate Hawaiian pig instead of goose and coconut milk with their rum.
Christmastime in Hawaii has always been about making strangers feel welcome and for those without their families to have a place to celebrate the holidays. What I love about the expression Mele Kalikimaka is that everybody says it to each other. It means, roughly translated, Happy Songs. And who doesn't love happy songs?
My Christmases there have always been amazing and this year, my Hawaiian family and friends are coming to me!
We will eat Happy Cakes, ambrosia and all kinds of yummy things but my favorite Hawaiian Christmas recipe is for Hawaiian Reindeer Snacks. I discovered this recipe when I played Santa a few years ago for my niece and nephew. We made this recipe because they insisted that reindeer get bored with carrots. I am inclined to agree and ahem, whoever plays Santa gets to enjoy these yummy morsels!
Hawaiian Reindeer Snacks
2/3 cup creamy peanut butter
2/3 cup honey
1/2 tsp. ground cinnamon
1 tsp. vanilla extract
4 cups regular oats, uncooked
1 cup unsalted macadamia nuts
1-1/2 cups candied pineapple chopped into small pieces
Combine peanut butter, honey, and cinnamon in a small saucepan and cook over medium heat, stirring constantly, until thoroughly heated (do not allow it to boil). Stir in vanilla. Spread oats in a lightly greased 15z10x1 inch jellyroll pan. Pour peanut butter mixture over oats; stir to coat evenly. Bake at 300 F for 35 minutes, stirring occasionally. Stir in macadamia nuts. Turn oven off and let cool in oven 1-1/2 hours with door closed, stirring occasionally. Remove from oven; stir in candied pineapple pieces. Cut into pieces. Mmm!
My book, Christmas in Flip Flops, coming to Amber Allure on December 18 is set in Honolulu and reflects this type of tradition since the main character is away from his family thanks to his new job in Honolulu…
Blurb:
It's twelve days 'til Christmas and Devon Callahan is a dental hygienist with a very big problem…make that two. He's been unemployed for months and now a thief's stolen his cell phone. Tracking the guy through Mobile Me, he's got a cyber lead on his purloined phone, but he's also hot on the trail of a mysterious new job…what's a guy almost maxed out on his credit cards to do?
He goes to his interview and discovers he could soon be gainfully employed. The catch is he'd have to fly to sunny Waikiki within twenty-four hours to start work at Schofield Barracks, caring for the health of thousands of US service men and women stationed in the islands.
Devon is thrilled to be part of such an important post, but what's his boyfriend, Manco, going to say? His movie producer lover is expecting his entire family to visit from Peru. Will he see the sunny side of Christmas in flip flops…or will Devon be feasting on dinner for one?
Excerpt:
…It was after seven by the time he got home. He heard music playing in the apartment as soon as he opened the door. He stood for a moment in the darkness, listening for voices. He could hear Manco's soft laughter and his heart almost sank. Who was making him laugh like that?
He switched on a couple of lamps and progressed toward the bedroom. The door was ajar and he could hear Manco talking, but his words were obscured by the sexy, growly voice of Garou, one of their favorite artists to make love to.
Oh, my God. He's brought somebody to our house! What the fuck?
He pushed open the door and found his lover on the bed naked, his cock hard as he stroked himself, dictating into a small, pocket recorder.
Manco looked up, smiled and switched off the recorder, crawling across the bed to him.
"Where have you been? I'm going crazy without you. Damn…" His fingers reached for Devon's face. "Do those scratches sting?"
Devon felt himself scuttle forward, his hips naturally jutting toward his lover's face. Manco buried his face in Devon's crotch. To Devon's dismay, Manco began to cry.
No…not cry. Howl.
"What's wrong?" Devon dropped to his knees, taking his lover's face in his hands, kissing the tears that flooded Manco's beautiful face. "Baby, please…tell me what happened."
Manco only grew more hysterical. Tears were not his thing. Never. The last time he'd seen Manco cry was when his grandmother died. He could still bust up at the mere mention of her name, but this…this seemed like a new trauma…
Mele Kalikimaka and Hau'oli Makahiki Hou – Merry Christmas and a Happy New Year to everyone!
Aloha oe, AJ
Website
Facebook
Twitter

Comments