Guest Blogger: Talia Carmichael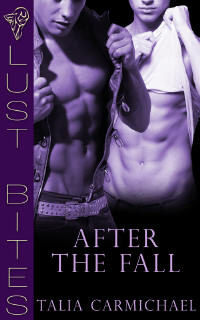 Today I'm welcoming author Talia Carmichael to my blog. She's agreed to answer some questions about herself and her writing.
Tell us about your latest release.
Talia:  After the Fall  (The Right Choice #1) is about meeting someone who unexpectedly becomes part of your life. They become important to you but you won't admit it. At least not until you realize that you have fell for them. Then you go forward After the Fall.
Leigh Masters is a bookstore owner who is having problems with the company he hired to renovate his store and apartment. Leigh doesn't do relationships and is very outspoken when it comes to what he wants.
Malcolm Snipes is one of the owners of the company who is working with Leigh. He is used to being professional and knows when he wants something he goes after it. He knows Leigh is stubborn but he's fine with getting around that attitude.
What is your favorite genre to write? What other genres do you enjoy?
Talia: All of them. So far the books I have contracted are in the contemporary genre however I do write in most other genres.  I enjoy them all. Each brings something different. I write based on what characters move me to write. I enjoy a good story and don't really think about genre.
Do you have a favorite character from one of your books?
Talia: Uh huh not answering this. LOL. Answering this, is like trying to choose between who is your favorite child or niece/nephew, sibling, parent. Not a question I can answer in all honesty. I think it is best to leave it to the readers.
Is there a style or genre of writing that you haven't tired yet but you'd like to explore?
Talia: No there isn't any style or genre that I want to try that I haven't. If I come up with a story no matter up in a genre or style I try it. It might not ever see the light of day but I do try it.  LOL.
How do you make time in your life for writing?
Talia: Writing is an integral part of my life. I have a schedule I work by. This is my lifeline so I can get my books written. The schedule has built in "me time" which is when I take a break from writing. It can range from a day or two to weeks. I do nothing that has to do with my writing or anything to do with it during that time. This helps me keep from burning out.
When I'm writing I write a certain word count a day and anything over that word count is a "whoo hooo I've done more day". I have an idea of how long it will take me to finish a book – not word count wise since each book word count goes based on story – and I set that time aside in my schedule. Even if I have a whoo hooo over word count day I still meet my word count the next day. Sometimes this means I finish a book earlier than planned. If I do complete the book earlier the days I have left in my schedule for the book becomes "take a break days". I love those unexpected days so I tend to push myself to work harder to get the book completed. Some days due to other things in my life I don't always get to make that word count but I don't stress about it. 🙂 If I need to take what was a writing day and not get to write I just check my schedule and adjust it. I basically shift a break time day and make it a writing day.  So having a schedule works to keep me going.
What do you like to read? Do you have some favorite authors?
Talia: I'm an avid reader and read in every genre. As long as the book captures my attention I'm reading it.  It goes according to what mood I'm in.  I could feel like reading historical romances, sci-fi, urban fantasy, thrillers, romantic suspense, romance (every kind of genre), true crime, mystery, mainstream, fiction or any other numbers of genre and sub genre out there.
Reading is fun and relaxes me. And there is no way I can list my favorite authors there is too many to list in all the genre of books I read.
If you decide to take a Saturday off, what are we likely to find you doing?
Talia: I curl up on my couch surrounded by movies and books. I'll rotate between reading and watching movies. I'd order in and just chill out as I enjoy some of my favorite pastimes. Reading and movies.
Choose six adjectives to describe yourself.
Talia: Okay hmm… Shy, geeky, caramel obsessed, family-oriented, genuine, weirdly wacky stranger person.
I think I went over and strung some words together. LOL.
Describe the perfect meal.
Talia: Cheesy mashed potato and pot roast with a veggie on the side. Root Beer Soda. For dessert: something that has caramel.
If you were a dessert what would you be and why?
Talia: Something caramel. I don't know if you realized it yet but I love caramel. LOL.
Where can we find you on the web?
Talia: Theses are places to find me.
Website: http://taliacarmichael.com
Blog: http://taliacarmichael.com/blog
Newsletter: http://groups.yahoo.com/group/taliacarmichael
And excerpt from After the Fall…
After the Fall
 by Talia Carmichael
Blurb:
A renovation brings two men together who will find that unexpected meetings can bring about the most tempting of encounters. As the contractor works on getting the project in on time he also has his sights set on building something with the owner.
Leigh Masters is concerned the renovation of Masters Pages – his bookstore – will not be completed in time. He's losing his cool. A call to find the contractor hired brings unexpected results. The man doing his project has run off. In his place Malcolm – his brother and the owner of the company – comes to see Leigh. The man makes Leigh feel off-kilter. He has his doubts about Malcolm's assurances that the job will be done on time. As the renovation progresses he finds it hard to resist temptation of the man who is now in charge of renovating his bookstore. Malcolm knows what he's doing but Leigh wants to shake up his quiet, calm persona to see what he has hidden underneath. 

Malcolm Snipes has worked alongside his brothers to build Snipes Construction, their family owned business. He strives to maintain their reputation of providing excellent work, on time projects and being a professional. He's tired of picking up the messes of one of his irresponsible brothers. Except this time the call he gets from an irate client brings him in the path of a man who is fascinating. This time Malcolm won't mind taking over the renovation since he can keep an eye on sharp-tongued and sexy Leigh Masters.

This renovation is about to become very interesting as they each wonder what happens after the fall…
Excerpt:
Malcolm put his cell phone back in its case, eyes still on Leigh's back. Although Malcolm had no clue what it was about this man that drew him, he would pursue it. After they'd finished the job. That only gave him an added incentive to get things done on time. Not that he needed it—he didn't work any other way.
With that in mind, Malcolm finished moving the boxes. As he piled them in the dining area, he could feel Leigh watching him. A small grin curled his lips. Yep—he couldn't wait to get this job completed and get to know Mr Masters better. His shaft hardened, very much in agreement with the idea. Malcolm placed the last box on the pile and turned to Leigh…and caught him watching him.
"Ready to show me the rest?"
Leigh nodded and got off the stool. Malcolm walked behind him, appreciating the curve of his ass. The constriction in his jeans got tighter. Malcolm stifled a groan. Yep—this project would be a test of his professionalism and control.
* * * *
Four weeks later, Malcolm wiped off his forehead and sat back on his heels. He glanced at the crown moulding he was putting up. It gave the store a classy look. Malcolm rolled his shoulders. He'd let the guys go for the night. They had been working hard, pushing to get stuff done.
"I said, that is not acceptable." Leigh's voice sounded from the counter not far from where Malcolm was working.
Malcolm recognised the tone as the one Leigh had used on him that first time. He turned his head and watched Leigh who was sitting behind the counter, on the phone. He was in a button-down, short-sleeved shirt the colour of his eyes. Without seeing the bottom half of his body, Malcolm would bet he was in some kind of slacks and loafers. Since he'd meet Leigh, Malcolm couldn't remember ever seeing him in jeans, boots or sneakers. Leigh's pants even had a perfect crease down the front.
"I'm opening in four weeks and you will have the display set-ups I ordered here as you promised. By next week." Leigh hung up.
Malcolm strode over to him. Leigh glanced up. When he was in front of the counter, Malcolm leaned against it.
"At least you didn't threaten him with your lawyer."
"I reserve that for special occasions. Namely wayward contractors. And it worked. You've done a lot in the last few weeks. But I still I have my doubts you'll be finished on time. At least using the lawyer card worked to get the work moving forward. It whipped you into shape. " Leigh smirked.
"You've got a sharp tongue when you're angry."
"Then don't make me angry," Leigh retorted.
"I could think of a lot of things you could do with your tongue." Malcolm watched Leigh's lips as he said it.
They parted and his tongue swiped out, wetting them. Malcolm raised his gaze. Leigh's blue eyes were intent. Malcolm debated for a moment whether he should do the professional thing and walk away. It was only four more weeks until he could ask Leigh out.
Malcolm wasn't sure who moved first. He reached for Leigh, and Leigh seemed to launch himself out of his chair and onto his knees on the counter. Malcolm slid his hands over Leigh's waist and pulled him across the marble surface.
Copyright © Talia Carmichael, 2012.
All Rights Reserved.
Order Link – http://www.total-e-bound.com/authordetail.asp?A_ID=167

Comments
Lena Grey says:

'After the Fall' sounds great Talia! I can't wait to read it and meet more of your wonderful men.