The Hot Cowboy Roundup Blog Hop
I'm so excited to be part of the Hot Off the Range anthology! I love cowboys be they hard-riding cattle drivers from the Old West, modern day ranch hands, or space cowboys.
We giving away gift certificates and books. There are details below so don't forget to enter! Click here for a list of all the posts.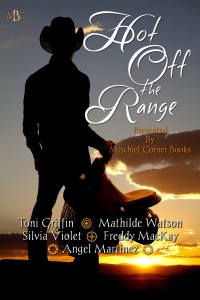 I also love to bake. It's the one hobby I manage to fit into my life no matter how busy I am. When I write, I like to include this love of baking (and eating) in my stories. Here are the first paragraphs of Accounting for the Hero…
Grant leaned on the porch railing and looked out across the dry fields. Most of the grass had turned brown after a long summer with almost no rain. The cattle were skinny, and they hung their heads, looking as if they didn't have the energy to move. Grant didn't have the money for extra feed, and no one would buy the animals from him with them looking like that. There had to be a way to turn this mess around, but hell if he could see it.
He took another bite of the chocolate cake his aunt had brought him when she'd visited earlier in the day. He'd given up on slicing it and was now eating directly from the cake plate, pretending he was evening up the edges. Unfortunately, his aunt didn't have any better ideas than he did. She'd told Grant's grandfather to sell and move to town when his health started to fail, but he wouldn't give up the farm, especially not to developers, and now, with Grandma gone too, the land no one wanted was all Grant's
Whenever I make a cake, I often catching myself "evening up the edges" after it's been cut. Those pieces obviously don't count. *grins*
Later in the story, Miles, makes a cake for Grant, and this is Grant's reaction:
"I love dessert," Grant said, his voice all swoony. He couldn't make himself care that he sounded like a twelve-year-old girl with a rockstar crush.
Miles grinned. "It's nothing fancy, just pound cake."
"Never discount the importance of cake."
When I bake I love to share what I've made and to pass on recipes to other bakers. So today I want to share the recipe for the chocolate cake Grant is eating. It's quick (almost as quick as a mix) and I make it often with my daughters helping me.
Grant's Chocolate Cake
1 3/4 cups sugar
1 3/4 cups flour
3/4 cup cocoa powder (Dutch process cocoa will give you the richest chocolate taste)
1.5 tsp baking powder
1.5 tsp baking soda
1 tsp salt
2 large eggs
1 cup milk
1/2 cup oil
1 tsp vanilla
1 cup boiling water
Mix the dry ingredients in a large bowl or the bowl of a stand mixer. Add eggs, milk, oil, and vanilla and mix on medium speed for 2 minutes. Add the boiling water and mix until well combined. Don't worry if the batter looks too thin.
Pour into 2 greased and floured 9in cake pans.
Bake at 350F for 30-35 minutes or until a toothpick comes out clean. Cool in pans for 10 minutes. Then remove from pans and cool completely before frosting.
Frosting
1/2 cup butter (1 stick)
2/3 cup cocoa
3 cups powdered sugar
1/3 cup milk
1 tsp vanilla
Melt butter and sift in cocoa (un-sifted cocoa tends to leave lumps in the frosting). Then add powdered sugar alternately with milk until frosting has a good consistency. Stir in vanilla.
Here's a larger helping of Accounting For the Hero….
"So you don't have any experience working on a farm?" Grant asked.
"Not really. No." Miles chewed his lip again and ran a hand through his hair. Grant realized he was openly assessing him, but he couldn't stop. Miles's hands were smooth and beautiful. They belonged on a piano keyboard, not wrapped around a pitchfork. Of course, they wouldn't look bad wrapped around Grant's… No. Not going to go there.
Grant frowned at him. "What I really need is someone who not only knows how to work a farm but also how to manage one. This land was my grandmother's and I want to keep it, but I need someone experienced to help me get the farm back on its feet."
"I work real hard, and I'm a fast learner," Miles said.
"That's great, but if you don't know what you're doing, and I don't know what I'm doing, then we're not going to get much of anywhere are we?" Grant wondered why the fuck he'd invited Miles to the farm when he'd known the man wasn't qualified. Maybe in the back of his mind, he'd convinced himself Miles would turn out to be 6'5" and solid as concrete so at least he could do some of the heavy labor Grant had been struggling with, but Grant had no business leading Miles on. He needed someone who knew how to run a ranch, not a hot boy in tight jeans.
Miles looked Grant up and down. Heat rose into Grant's face as the young man's gaze slid down over his worn jeans to his dusty boots and back up. Suddenly, Miles didn't seem like an innocent boy anymore. There was definitely heat in his glance. Grant's gaydar started sending loud signals to his barely functioning brain.
"You look like you know what you're doing," Miles said. His tone wasn't overtly flirtatious, but his words had Grant's cock taking notice.
Grant gave a nervous laugh. "So just 'cause I wear my jeans well, I must be a real cowboy? Trust me. Looking like a cowboy doesn't qualify me to run a ranch, especially not one that's been neglected for years."
"Look. My mama died in a car wreck last month, and my stepdad took off, saying he 'couldn't handle it.' She'd been out of work for a while and had almost nothing, especially after helping me with tuition for UT. My aunt and uncle took my brother in, he's fourteen, but they won't have anything to do with me 'cause…well, they just won't have me. I said I was home from school for the summer, but the truth is I won't be able to go back, not until I earn the money for tuition. I need to stay close to my brother, so I have to find a job around here. My aunt doesn't want me around him. They're trying to turn him against me, but I'm not going to let that happen."
Grant was almost certain Miles's aunt and uncle had rejected him because he was gay, but if he did his hiring based on feeling sorry for the applicants, he was going to guarantee the ranch's bankruptcy. "That sucks, and I'm real sorry, but this ain't a charity." Grant felt like an ass, but he couldn't do Miles any good if he couldn't pay him, and he wouldn't be able to unless someone helped him turn the ranch around.
Miles nodded. "I know. I just… I'm sorry I wasted your time."
He turned to go, and the look on his face sliced right into Grant's heart. Don't do it, Grant cautioned himself, but the warning did no good. "Wait!"
PRIZES!
You really think we'd have a blog tour without prizes. Pfft. No! We Most definitely have those. What do you need to do? Go to the different posts and leave comments and email addresses.
$10 All Romance Gift Certificate
$15 Amazon Gift Certificate
Hot Off the Range Anthology (eBook)
Your Choice of eBook from Toni Griffin's Backlist
Your Choice of eBook from Angel Martinez's Backlist
Your Choice of eBook from Silvia Violet's Backlist
Your Choice of eBook from Freddy MacKay's Backlist
In ADDITION, we are participating in Rafflecopter.
If you make a comment, FB like and tweet our blog hop, then each time you do so will enter you. For those to count though, you need to use the widget.

Comments
laurie g says:

thanks for a great blog hop!

Shirley Ann Speakman says:

Yes I love hot Cowboys do I get one now!!!

Angela Searles says:

Yes! I will take one hot cowboy to go please :)! angelarosebooks@yahoo.com

Nancy S says:

Cowboys and chocolate cake; it doesn't get any better than that.

Joye says:

I like these hops since i get introduced to a lot of authors I have yet to read. And i get information on books I would like to read.

Kat says:

Love cowboys and love chocolate cake…hmmm, really love the two together! 😉

kalimar2010 @ gmail.com

nepliko.net says:

Online dating sites are a newer type of subscription based
website. It is easier to take a stand on your core beliefs, moral
view, family issues, and share your history before you meet someone.
It's important to take a look at some of the other warning signs of a possible money scammer.