Multi Author $50 Amazon Card Giveaway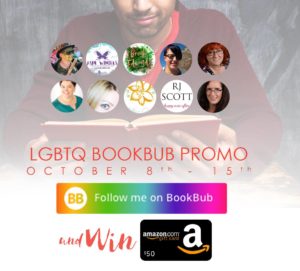 Follow me on BookBub, and you might win a $50 Amazon Gift Card!
I'm one of ten authors of LGBTQ fiction teaming up to share the love for BookBub!
BookBub is a great place to go to find out about new releases and discounts. You can select preferences and get a filtered list of recommendations plus new release announcements. 

We would all love for you to follow us on BookBub, so we're offering a prize to one of you for doing so. Entering is simple. Click the Rafflecopter Giveaway below, and then click the names of each of the ten authors and follow them on BookBub.
You will need a BookBub account to enter, but it's free to sign up, and you can decide how often they email you. For each author you follow, you'll receive one contest entry. You can also receive three more entries for sharing the giveaway on Twitter.
One winner will be selected at random to receive a $50 USD Amazon gift card – or the equivalent, if you'd prefer a different currency or source.

It's as simple as that! We look forward to seeing you on BookBub.
a Rafflecopter giveaway

The giveaway starts at 12:00 am (EST) 8 October 2018 and runs for seven days. The winner will be selected at random on 15 October 2018.