Love Someone Like Me is Out Now!

Waverly
I'm not a typical omega. I like control, and I'd rather take than be taken.
After years of fantasizing, I finally find an alpha who will submit to all my desires. Our connection is beyond intense. My wolf says we're fated for each other, but I know better.
Even if a test strip says I'm pregnant, I don't want a mate. No matter how submissive he may appear, I won't link myself to an alpha.
Derek
I'll never live up to what my pack thinks an alpha should be.
I don't want to order omegas and betas around. In fact, I'd prefer to hand over the reins and enjoy the bliss of surrender.
I jump at the chance when a dominant omega asks me to share his heat. Once I get a taste of him, I know a few days together won't be enough. I want it all: a mating ceremony, kids, the future stretched before us. He wants to run as fast as he can, but I'm determined to show him I don't want to confine him—I want to set him free.
Download Love Someone Like Me now!
_____________________________________________________________________________________________________________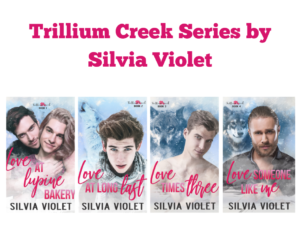 Love Someone Like Me is Book 4 of the Trillium Creek series. If you haven't started the series yet, you can find it all here.