Archive for the 'guest blogger' Category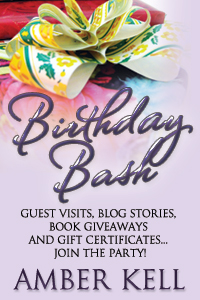 Amber Kell is visiting today as part of her Birthday Bash. Below is Part 15 of her story m/m story, Wandmaker. Go here to find links to Parts 1-14 and look for more to come each day this month.
Wandmaker Part 15
Silvan kept a hand to Cebrus's back and he rushed him back to the castle. He nodded to people who came to speak but brushed them off. No way would he lose his opportunity. If he gave Cebrus a chance the man would come up with some excuse to ditch him. He knew that without asking. The wandmaker had that jumpy wild-eyed look like an untamed horse ready to bolt.
They might be wand-bonded but his wand maker would be the one person in the world who could probably figure a loophole for their situation. Silvan had no wish to be unbound and he figured by keeping Cebrus off balance he won't be able to come up with an escape plan.
Silvan opened the door to his room and pushed Cebrus through the doorway. Now wasn't the time for subtlety he needed to cement their bond before Cebrus wiggled out of it.
He slammed the door behind him, keeping an eye on Cebrus. "Strip. I need to claim you properly," he demanded.
A smile curved Cebrus' lips. "And what makes you think I want to be claimed?"
"Baby you've been traipsing around the country dying to be claimed, I'm just the lucky bastard who got to you first."
Cebrus laughed. "You'd be surprised at the number of offers I've turned down."
Silvan smiled. "Not in the least but apparently they weren't worthy if you rejected them."
"Hmm, you might have a point," Cebrus agreed.
"I have a very nice one and if you get naked I can share it with you."
Cebrus snorted. "Oh, that was horrible."
Silvan pulled Cebrus into his arms. "I am a horrible, horrible man, let me show you how much."
The first brush of Silvan's lips across Cebrus's sent a shiver down Silvan's spine. Need raced through his body faster than a stampede of stallions. He'd never had anyone spur him to passion through a simple touch before. Silvan knew he'd do anything to keep Cebrus by his side.
Even help on a quest. He might doubt the wisdom of Cebrus's plan but he'd do nothing to stop him. Besides even if they trekked all across the world there were no guarantees they'd find Cebrus's mythical tree.
Silvan ran his hand beneath Cebrus's shirt sighing into his mate's mouth as the feel of silky skin met his touch. Unlike the hard muscled bodies of a fellow knight, Cebrus had a leaner form. As if he were created for Silvan's pleasure between the sheets instead of on the battlefield.
A moan vibrated their lips. Pleased, Silvan lapped at Cebrus's mouth trying to lure the sound out again.
Tightening his grip, Silvan rubbed his body against his mate's slighter frame.
This was what he'd been born for; ruling a kingdom, and loving this one man.
Silvan shoved the straps off of Cebrus's shoulders. His pack hit the ground with a loud thunk.
"You better not have snapped one of my wands," Cebrus scolded, however his tone didn't hold the annoyance his words implied.
"If I did I promise to make it up to you." Silvan bit at Cebrus's neck, leaving a satisfying mark of ownership on the long bare length of skin.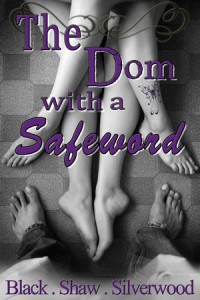 Welcome Cari Silverwood! She is here to share her new co-authored book, The Dom with a Safe Word.
I have a new book out called The Dom with a Safeword which I co-wrote with two other authors.
Here's what the book's about:
Late at night, on an amateur ghost hunt, Sabrina and her best friend Q are caught trespassing by the gorgeous, blonde Jude. The embers of attraction between them sizzle when they discover Jude's kinks match their own. Jude is a Dom on his last summer of freedom before starting the prison sentence that is med school. Q is a badass bi switch who knows what she wants, and for years it's been her cute, doe-eyed straight friend Sabrina. But the only way for Q into Sabrina's heart and panties may be with Jude's fist wrapped in her hair.
Domming the bratty Q and mischievous Sabrina isn't going to be easy but Jude relishes the challenge. At the end of the summer, will they find a way to stay together when everything is tearing them apart?
So it's a BDSM contemporary romance with a ménage and Mff sex scenes as well as quite a few girl on girl kissing and sex scenes.
People often ask how the three of us came to write The Dom with a Safeword – after all, it's uncommonly difficult to get along with one other writer enough to do a book, let alone three!
We three became friends first – I already knew Leia Shaw, of course, as we wrote 31 Flavors of Kink together. And when we discovered that Sorcha was a good writer, despite being new and a bit clumsy with the grammar, we considered doing a book together (Her writing is now awesome, by the way). We all wanted to try contemporary fiction but all of us were more comfy with fantasy writing. Things rolled out from there.
It became quite simple for each of us to slip into one character and we alternated chapters as the points of view (POV) changed from one person to the next. We came to know our characters so well that we would often alter the dialogue or body language someone else wrote in. I was the sexpert (lol) as I seem to write those well, and Leia was the US dialogue and humor coach.
I won't say who wrote what, though I have mentioned it elsewhere. You can guess. We critiqued each scene anyway, and swapped, and so things merge to a degree. I also wrote the sex and some of the kissing scenes told from Leia's character's POV.
So there are three characters and each chapter is labeled with the name of the character whose POV it is.
We figured out the people and plotted it first, though that did alter a bit as the story progressed. Mostly we wrote it in time sequence, but toward the end we overlapped so as to get it finished.
The book was released early on the 28th of October, because of worries Hurricane Sandy would mess up our release plans. Our first review on Amazon:
5 Stars
"Absolutely LOVED this story! It was so hard not to fall in love with Jude! The story of Jude, Q and Sabrina was adorable! Such a wonderfully written piece where everyone ends up happy, even if there is a heart breaking moment of separation. I thoroughly enjoyed this story of the dom/sub play, and it truly showed the respect and unconditional love a Dom has for his submissives. A fantastic read!"
Kayla-Marie
Excerpt from The Dom with a Safe Word by Cari Silverwood, Leia Shaw, and Sorcha Black
Here's an excerpt where Sabrina has found herself bent over and pinned facedown to a table by Jude.
Jude lifted his hand from her lower back and the spot felt suddenly cold. She almost complained but caught herself. No way would she give any indication she enjoyed this. When his hand came down again, she could tell he was gathering handfuls of her dress. Inexorably, like the raising of the curtain on a stage, he was hauling it up.
Then the hand dragging up her dress switched from hard and heavy, to a lighter grasp. Q had taken over the task while Jude went back to holding her down at neck and lower back. Her dress was staying on. The threat of sudden, terrible nakedness was gone.
Yet that hold of Jude's on her – so firm, unrelenting, and male. His calluses rubbed her nape. He'd shown her such consideration without relinquishing a single bit of control. And without him speaking a word to her, she felt their connection sink in, from where his palm touched her skin, and spread through her flesh.
The hem of the dress reached her upper thighs. Trembling, she adjusted her grip on the tablecloth, and put her forehead to the cloth. If they looked, they'd see her thong was drenched.
A touch of cool night air hit her bared ass. So vulnerable.
Q came into her vision again. She looked down at Sabrina curiously.
Maybe she could appeal to her too-nice side.
"Q," she said in a small voice. "Just…just be nice."
Q smiled. A good sign, right? "I don't think you really want me to be nice, little girl."
Learn more about Cari Silverwood at her website.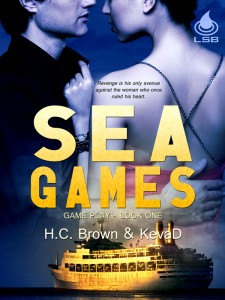 Silvia, thank you very, very much for allowing us to tarnish your image.
You're quite welcome.
Tell us about your latest release.
KevaD – No.
H.C. Brown- If you can't play nice go down to the dungeon.
Brian Bowers is a man on a mission. Revenge weighs heavy on his mind. The need to punish the woman he once loved above all others falls into tatters the moment he sets eyes on her again. Fifteen years of walking on the fine edge between love and hate ends in an explosion of lust.
Patrice, sophisticated and wealthy, has her own agenda. She knows how to use her body to get what she wants. But Bowers knows how to play the game.
Set in a world of indulgence, Sea Games follows two hearts as they battle memories of the past. Will they win or lose a future together?
Tell us about one of your characters and how he or she developed in your imagination?
KevaD – True story: Joe Harrison, Patrice's personal assistant in Sea Games, was actually inspired by Coretta Scott King's assistant she had with her when she visited Freeport (where I live). I was invited to spend a few minutes talking with Mrs. King and her assistant in private. Mrs. King was an extremely intriguing and gracious lady.
Is there a style or genre of writing that you haven't tired yet but you'd like to explore?
KevaD – Predator vs Alien, The Love Story.
H.C. Brown- A psychological thriller- a really nail biting, edge of seat story.
How do you make time in your life for writing?
KevaD – I send my wife shopping.
H.C. Brown- I have to make time for my life in my writing.
What do you like to read? Do you have some favorite authors?
KevaD –I'm quite fond of bathroom graffiti. My fave author? Whoever realized the word 'Boob' includes top, front and side views. I suspect that is the same person who wrote, "All you need is love, all you want is sex, all you have is porn." Bathroom graffiti is great.
H.C. Brown- Uh-huh, so that's why a guy takes so long in a public bathroom. Trust me, there is hardly anything worth reading in the ladies.
If you decide to take a Saturday off, what are we likely to find you doing?
KevaD – Trick question. My antiques shop is open every Saturday.
H.C. Brown – The beach. I love going to the beach all year round
Choose six adjectives to describe yourself.
KevaD – Squishy, opinionated, bicameral, wicked, mellifluous, moist.
H.C. Brown- Aw you picked two of mine. D-oh! Blonde, voluptuous, short, dominant . . . um . . . you wanted six right . . . .ah, blonde.
Describe the perfect meal.
KevaD – Pizza served on Demi Moore's stomach.
H.C. Brown- Really ?You sound more like pineapple rings on Penelope Cruise's nipples type of guy.
If you were a dessert what would you be and why?
KevaD – Pecan ice cream. Read Sea Games and you'll understand why.
H.C. Brown- Strawberries and cream because people would look at me and say . . . Mmmm yummy.
What question haven't I asked that you wish I had?
KevaD – How old would you be if you didn't know how old you are?
H.C. Brown- When is your book coming out as a movie?
KevaD Bio:
Bestselling author KevaD is in real life David "DA" Kentner, a prize-winning author and journalist who suspects the letter "Q" was created by a bored caveman outlining grapes in charcoal. That or the government's first attempt at sex education.
He lives with his wife Virginia, mostly because, well, she's his wife, on five acres outside of Freeport, IL. A retired police chief, Army veteran, auctioneer, and antiques dealer with a college degree in something he no doubt believed important at the time, KevaD is also a former chairman of the board for the local Salvation Army where he and Virginia continue to volunteer. A starving artist, his stick figures draw no line of interest, which probably explains the starving part.
He believes in the afterlife and hopes to become a ghost writer.
KevaD –
Twitter
Facebook
Website
H.C. Brown Bio
First published in 2006, H.C Brown is a multi published, best selling, award winning, author of Historical, Paranormal, Sci-Fi, Fantasy, BDSM, Time Travel, Action Adventure, and Contemporary Romance. In 2011 she was delighted to received nominations in three categories in the 2011 CAPA Awards. H.C writes about strong alpha males in complex settings and all her stories have happy endings. She married her childhood sweetheart and lives close to the beach in Queensland, Australia. Her interests include art, music, and reading romance.
H.C. Brown –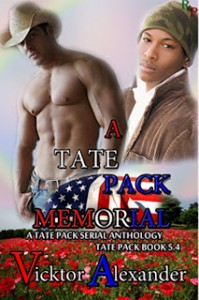 Tate Pack Memorial by Vicktor Alexander
Blurb:
Sometimes finding your mate comes with a price.
And sometimes that prices may be just a little too high.
Zander Laskaris has spent most of his life looking for his mate. Joining his brothers Zathan and Zavier, he joins the Tate Pack still hoping to one day find the man created to be his for eternity. The man who will be all he's ever hoped for and all he'll ever need.
Former soldier Devontae Robinson doesn't want his mate. He doesn't think he deserves him. After enlisting in the Army with his friends Derik and Lewis, Devontae returns home to the Tate Ranch under a medical discharge… and with the body of one of his friends in a coffin. He's haunted by war, by rumors, by the information that he's received about someone kidnapping paranormals and selling them on the slave market. He wants to curl up and die, not find the one man not only able to heal his heart and help him heal but to get him to fly again, but giving him the anchor he so desperately needs.
These two men will discover that Fate always knows best and that sometimes, in order to truly experience the freedom of flying, one must first give up control.
Excerpt
Devontae now stood before him completely nude, and Zander licked his lips at the delicious spread before him. He couldn't wait to taste every inch of the younger man's skin. He wanted every drop of sweat and cum in his mouth, on his cock at that very moment. More than that, he wanted to see his marks on the smaller man's skin. Zander's had shook slightly as he smoothed his hand over the unmarked skin of his future lover's body. He held onto his usual control by a hangnail, breathing deeply so that he didn't hurt his bunny by shoving his cock into the younger man without adequate preparation. He knew that some misguided Doms and subs thought that those with darker skin tones had to be hit harder to have marks appear on their skin. That was a fallacy. Zander had lived as a Dom for a long time, and he knew exactly how to get his marks to appear on the darker man's skin. A few well-placed lashes with his flogger or his hand and his marks would be there, on Devontae's skin, where they belong.
"On your knees, Bunny," he commanded the smaller man.
Devontae dropped to his knees immediately, his eyes beginning to glaze over, pleading as he looked up at Zander. Devontae silently begged Zander to take control, to possess him and dominate him. It made Zander feel about twenty feet tall. He felt his shoulders roll back, and his eyes closed with the sensual scent of his mate's surrender and submission as it spread over his senses and infused his every organ.
"Mmmm. Your surrender tastes delicious, bunny," he praised as he ran his hand over the younger man's closely cropped hair. The tight, black curls felt like the softest cotton underneath his palm. Zander knew that he would have Devontae grow his hair out so that he had enough to grab as he fucked the smaller man's face. The thought of his cock in his mate's mouth made him groan softly, and he looked down at the other man as Devontae looked up at him with trust shining in his eyes and a deep sadness that Zander was determined to remove.
"Choose a safe word, bunny," Zander instructed his mate, reinforcing the term of endearment with the smaller man.
"A-a s-safe word? What's that?" Devontae questioned.
"It's a word or phrase that you will remember and say if I go too far or you want me to stop what I'm doing," he explained. "And when we are in a scene—a scene is what we do when I am dominating you and you have turned over your control to me," he stated, having noticed the look of confusion that swept over Devontae's face. "When we are in a scene, you will address me as Sir. Understood?" he instructed his trembling mate.
Devontae nodded. "Yes, Sir."
Zander shivered. Gods, those two words sounded beautiful coming from his mate's lips. He clenched his teeth and fell back on the self-control that was a part of his inherent DNA in order to prevent himself from spewing his load all over his mate's face. Stepping back, he pulled off his black cotton tee and unbuttoned his jeans, stopping when he noticed Devontae licking his lips. Hhhmmm…interesting.
Stepping close to the other man, he repeated himself. "Choose a safe word, bunny."
"F-forty rounds," Devontae stuttered, his eyes darkening with lust.
Zander nodded his head, wondering if that phrase had connections to Fort Jackson where the younger man had done basic training with his friends.
"Forty rounds. Very good. Now." He stepped close enough that the bulge of his erection, trapped behind the zipper of his jeans, pressed against his mate's lips. "I want you to unzip my jeans with your teeth."
"Yes Sir," Devontae answered immediately, leaning his head forward, grabbing the zipper tab with his teeth, and pulling it down slowly.
Zander looked down at the top of his mate's head, grinning when he noticed that without being told his mate had assumed a completely submissive pose. Devontae kneeled before him, nude, his hands clasped behind him, his head up, but his eyes down.
"You are a very good sub, bunny," Zander praised.
"Thank you, Sir," Devontae whispered, practically glowing under the compliment.
"Now I want you to stand up and I want you to kneel down and lean over the spanking bench over there," Zander directed, pointing to the padded bench.
Devontae gracefully stood to his feet and walked over to the spanking bench, lying over the padding, pulling his knees up onto the padded restraints and laying his head forward. Zander pulled his cock and balls out of the top of his boxer briefs and pulled the flaps of his jeans apart. Walking over, he grabbed Devontae's legs and began putting them into the restraints. He pulled the restraints tight across the bottom of the other man's knees and then across Devontae's legs. Walking around the bench, he placed the smaller man's hands in the cuff that lay attached to the front of the spanking bench.
Zander placed his hand underneath his mate's chin and lifted Devontae's head to look into the other man's eyes. Seeing no fear, he gave him a small smile and then let go of Devontae's chin, proud when the smaller man immediately dropped his head again. Drifting his hand across the back of his mate's neck, Zander walked toward his wall of whips and floggers and pulled off his favorite—specially designed black and red—velvet flogger, custom made to fit his hand. Walking back toward his mate's feet, Zander drifted the strands of his whip down his lover's back and over his large, rounded ass, grinning at the shiver that wracked the other man's frame.
"Fifteen lashes, love. Count them off," he instructed.
"Yes, Sir," Devontae immediately answered.
Pulling his hand back, Zander delivered the first blow. The sound of air through the strands of the flogger making his cock throb and as it connected with the flesh of Devontae's ass, he moaned along with the black man.
"One, Sir."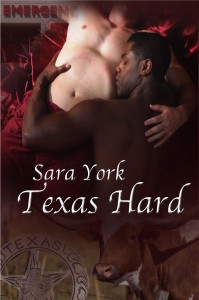 Thank you Silvia for having me on today. Connor, from Texas Hard, needs to be bound but he's placed his trust in the wrong man before. Trusting Riley is difficult in the beginning, but once he does his world is forever changed.
Blurb
Spurned by his heart's desire, Riley's aching for a fight, and he finds one with Connor, a sexy Texas lawman. Attraction fires between them, but Riley walks away, ignoring the lust between he and Connor…Until weeks later he's caught trespassing on Connor's new property–Naked.
Connor's tempted to arrest the audacious naked man in his watering hole until he realizes it's Riley. Lust muddles Connor's logic and soon he finds himself on a path rife with temptations. Passion twists Connor inside out leading him to share one of his deepest secrets. Still Riley's hiding something and the lack of mutual trust may end their relationship.
Then there's the Lane factor. Riley's ex leaves Connor feeling threatened. Riley swears it's over, but something doesn't sit right and Connor needs resolve. Coming to terms with their attraction means submitting to the fears haunting Connor and Riley before they can grasp the love that brought them together.
Texas Hard excerpt
Their lips met in the softest, most emotional kiss Conner had ever experienced. They clung together, gripping each other like their lives depended on them staying connected. Riley probed Connor's mouth, their tongues twining. Riley tugged at Connor's shirt, slipping his fingers under the material and grazing his belly. Connor jumped at the sensation. He remembered his need to be bound so he pushed Riley away. Hurt showed on Riley's face before he hid the pain.
"I need you to tie me up. Please."
"I've never really tied anyone up before."
"Oh."
"I'm willing, but I don't want to hurt you."
Connor fingered the buttons on Riley's shirt, unbuttoning the top one before moving to undo the second. "I'll give you a safe word. A word that if I say it, you stop."
"Tell me." Riley's eyes were filled with passion, his lids half closed. His nostrils flared as he sucked in a deep breath.
Connor undid another button, opening Riley's shirt, giving him a view of the man's crisp white undershirt.
"Give me your safe word," Riley commanded.
Connor shut his eyes and threw his head back, wicked cravings snaking their way though him. "Apple."
"Nice. A bit sinful, I like it. But first, I need you to help me find something you're willing to be tied up with."
"Anything." A wave of lustful dizziness washed over him as he opened his eyes and looked at Riley.
"No, I'm a doctor first, which means I'll keep you safe if we're going to do this."
Tears clouded Connor's vision. He'd known this was the perfect guy to do this with, now all of his doubts were dashed away. He hadn't made a mistake when he asked Riley to tie him up.
"Babe, what is it?"
Connor swallowed over the rush of emotions, "I trust you to keep me safe."
"Come on, help me look."
Riley held Connor's hand as they made their way through the house, opening and closing drawers, cabinets and closets. It was crazy how many household items wouldn't work. Connor was willing to use a phone cord, but Riley wouldn't allow it. They finally agreed on a tie for a bathrobe, a leather belt, an old necktie that Riley hated, and a plaid long-sleeved shirt with a rip in one of the sleeves. Connor insisted on a blindfold, and Riley solved the problem by using a soft cotton scarf.
Connor buzzed with excitement, almost ready to explode from Riley being near. He stood at the end of the bed, anticipation weaving through him as he waited for Riley to come back to the bedroom with the scarf. Riley approached hesitantly, his eyes downcast with a shy look on his face as he held up the scarf.
"I'm a little afraid of hurting you," Riley whispered.
Connor breathed out an explosive breath and a load of tension left his body.
"You okay?" Riley dropped the scarf on the bed and wrapped his arms around Connor.
"Yeah, just the last time I trusted someone to do this, I shouldn't have."
"I swear I won't hurt you. Apple is our safe word. Any time you feel overwhelmed or want me to stop, say the word and I'll pull back. I want this to be pleasurable to you, not scary."
Connor nodded as his throat closed with emotions. Riley was being amazingly nice, to the point that Connor was falling more and more for the guy.
"Say the word," Riley commanded.
Connor glanced into Riley's eyes and blinked. "Apple."
"Good, you be good and I'll let you come. You got that, big boy?"
Connor nodded and Riley grabbed Connor's ass and pulled him close. "Say yes sir."
Heat filled Connor, sparks flitting over his body, leaving all of his senses heightened. "Yes, sir."
"That's better. Now, I want you to take off your clothes."
Connor grabbed at his shirt, ready to pull the material off but Riley's hand came down hard on his arm, not a slap but the action made Connor jump.
"Slow, I want you to go slow, and you keep your eyes on mine as you undress."
Connor nodded and began pulling off his shirt, keeping his gaze on Riley. His hands shook as he pulled at the zipper on his pants, finally getting them unbuttoned after the third try. Tingling sensations rolled over his body, covering him in goose bumps. Connor shivered.
"Are you cold?" Riley asked.
"No."
Riley cocked his eyebrow, a look on disappointment on his face. For a second Connor wondered what he'd done wrong, then he remembered.
"No, sir."
"That's better. It's time to shower, I've had a long day and I don't want to smell like a hospital any longer."
Connor was disappointed for a moment before realizing Riley was being smart trying to make this a wonderful experience for both of them. He followed Riley into the bathroom and let Riley soap him up, washing off the day. After Riley sudsed and rinsed his own body, he turned off the water and wrapped Connor in a towel, drying his skin. Riley led him back to the bedroom, his hand on Connor's arm directing him where to go.
"Lie down on the bed, face-down so I have access to that sweet little hole," Riley growled.
Connor crawled onto the bed and lay down in the middle. Riley sat at the foot of the bed and grabbed Connor's right ankle. He wrapped one sleeve of the plaid shirt around Connor's ankle and tied a knot.
"That fine?" Riley asked.
"Yes, sir."
"Good answer. I'll reward you for saying sir."
Pleasure slithered through Connor, leaving him all warm and gooey inside. His cock throbbed, and his balls tightened. Pleasing Riley was his focus, everything from this point on was about doing what Riley wanted.
Riley worked on using the items to tie Connor down, making it difficult for him to move. He could probably get free if he wanted to. Riley hadn't tied him too tight, but he didn't want to be free. He was right where he needed to be, tied up and under Riley's control.
The last piece of their bonds Riley hadn't put into place was the blindfold. Riley knelt on the bed, close to Connor's head. Connor turned his head to the side. Before he placed the scarf over Connor's eyes, Riley leaned in and kissed him, his lips brushing gently over Connor's.
Riley pulled away and licked his lips, his eyes filled with excitement. "Use your safe word if you need to. I'm serious."
"Yes, sir," Connor breathed out.
The world went dark as Riley covered his eyes, wrapping the scarf around his head and tying a knot at the side. Before he'd positioned himself on the bed they'd propped up his lower body with a couple of pillows, giving Riley a good view of Connor's hole and balls. Connor's cock grew stiff, pushing at the pillows below him. He ground his dick forward and was surprised at the sharp sting of Riley's hand on his ass. He gasped in a breath, choking in surprise.
"You move when I say you move." Riley's mouth was at his ear, whispering the command.
Sara York's website
Sara York's blog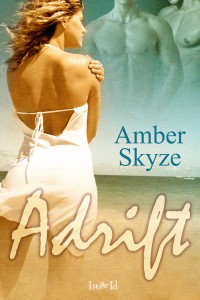 Adrift by Amber Skyze
Blurb:
Ben Eckhart has been the object of Kari Kirkland's lust for almost three years. Yet he's never spoken a word to her and why would he? She's a plus-sized woman with scars that haunt her every day. And although Kari longs for happily ever after, she's pretty much given up on love.
When their boss declares he's having a mandatory picnic, Ben not only talks to Kari, he wants to know if she's going and if she'll be alone. Kari is, if only to fantasize about Ben in his swim shorts.
But Ben has other ideas in mind for Kari. He's bringing along his best friend and lover Adam – to help him seduce Kari into believing there's great sex and true love in her future.
Unexpectedly trapped on a deserted island, Kari witnesses the men having sex then lets herself get talked into sex on the beach and a whole lot more. But when they're rescued, will Kari accept their proposition or cast their newfound love Adrift?
Excerpt:
"I expect everyone to be there." Mr. Carlton stood up and continued talking to the small group in the conference room. "My wife looks forward to this every year, so I don't want to disappoint her. There will be boats at the dock to take people back and forth to Carlton Island."
Kari cringed just thinking about getting into a boat and being escorted over to her boss's island. The last thing she wanted to do over her weekend was spend it with him and fellow coworkers. Kari enjoyed the peace and serenity of her apartment. She didn't have to make small talk except with Pepper, her cat.
Last year she'd been able to get out of the company picnic, but something told her this time she wouldn't be so lucky.
"This is bullshit."
Kari swiveled her chair to see who else felt like she did, but was brave enough to voice his opinion. She was met with the most amazing blue eyes.
Ben.
Her heart caught in her throat. Was he speaking to me?
Ben Eckhart hadn't uttered a word to her in the three years he'd worked at Carlton Technologies. Kari had admired him from afar, knowing he'd never be interested in someone like her. She wasn't a size 2 pinup model like Ben probably dated.
"Does he think we don't have a life outside of work?"
He was talking to her.
Hanging out on her deck with a book wasn't in the cards for her this weekend.
"Have you ever been?" he asked.
"Once. I've managed to escape all the other yearly get-togethers, but I don't see that happening this weekend."
"I heard people have gotten let go for not attending."
She'd heard that too, but thankfully it hadn't happened to her. With the economy in dire straits, she wasn't risking it this year. "That's what they say. I can't afford to take any chances. I'll be going."
"Me too, I guess."
Kari groaned inwardly. She didn't want to spend the weekend lusting over Ben. At work she could cover up her scars, but on Carlton Island she'd be expected to dress more casually.
Maybe she could think of a way out of this.
"Spouses and significant others are more than welcome too," Mr. Carlton continued.
Kari turned her attention back to her boss. Right about now, she wished she had someone in her life she could bring along to ease the pain of watching Ben. Fortunately he wasn't aware of her feelings for him.
He leaned closer to her chair and whispered in her ear. "You bringing someone?" Heat from his breath trickled down her neck, straight to her core. Images of Ben wearing only swim trunks filled her mind. She pictured a hard, smooth chest and abs of steel she could run her fingers along.
"No," she snapped.
"Sorry. I didn't mean to offend you."
She swiveled her chair slightly and glanced over her shoulder. His lips were close. Close enough that if she leaned just a little bit, she could graze them with her own. "I didn't mean to snap. I'm just really frustrated about having to go this weekend. I'm going alone."
"Hmmm. I guess I'll see you there."
"Guess so."
Mr. Carlton ended the meeting. Kari gathered her notebook, pen, and coffee mug before heading back to her office. She wondered if Ben would be coming alone or if he would be bringing some lucky lady.
She prayed he came alone. He'd broken the ice by talking to her in the meeting. Maybe they could get to know each other better over the weekend.
As she sat in her chair, she realized she was fooling herself. Ben would never be interested in a size 12 disfigured woman. Even if he did show an interest, Kari couldn't take her clothes off for him. Her scars were a reminder that she'd never have a love life again. It was bad enough that the memories of that horrible night still haunted her; visible scars stared back from the mirror. They screamed at her, taunting that she'd be lonely the rest of her life.
* * * * *
Try as she might, Kari couldn't find a way out of the weekend. She packed enough clothes for the overnight excursion. Maybe she could feign sickness later in the evening. Surely Mr. Carlton would understand her leaving if she was sick.
Kari parked her car in the parking lot just above the boat launch. Grabbing her overnight bag from the trunk, she made her way to the dock. There wasn't anyone waiting, and the boat ferrying people to the island was nowhere in sight.
She set her bag down and leaned against a wooden pole, waiting for the boat to return. The warm sun cascaded its rays down on her. Sweat beaded on her forehead. She'd have to remove the sweater she'd worn over her tank top soon.
"Hey, are you waiting for the boat?"
Wariness crept into her body. Kari was certain she knew that voice but prayed it wasn't him.
"Kari!"
She used her hand to shade the sun from her eyes; even with sunglasses, the brightness was blinding. She looked toward the voice calling her name. Sure enough, it was Ben. He wasn't alone; he was with another guy, who appeared to be around five-ten, Ben's height. He had jet-black hair, a contrast to Ben's sandy blond.
They dressed like twins in khaki cargo shorts and tight T-shirts. Ben's was hunter green, and his friend's an orange color. As they drew nearer, she noticed they moved in sync. Were they lovers? Their motions were as familiar as a couple. She dismissed the idea. Ben had seemed interested in her during the conference. He couldn't be gay. They each carried backpacks in one hand and a cooler in the other, swinging it as they walked.
She hadn't thought about bringing anything to drink. She had assumed Mr. Carlton would provide all the food and drinks they needed.
"Hey, Ben," she said as they drew nearer.
"This is Adam. Adam, this is Kari. We work on the project management team together."
"Nice to meet you, Kari."
He placed the cooler on the ground and offered her a hand. She accepted. Tingling sensations filled her body. She pulled her hand back quickly, afraid he'd sense her arousal at his touch.
"The boat's not here right now," she said, looking out at the water.
"We're not taking Mr. Carlton's boat," Ben said. "I have my own. Want to join us?"
Absolutely not!
She was not getting into a boat with these two gorgeous guys.
"Thanks for the offer, but I'll wait for the boat."
"Are you sure? There's no one else here. At least you can talk to us on the ride over."
Ben had a point, but Kari couldn't get her mind off him. Being on a boat making small talk should produce warm, fuzzy emotions, but she was nervous. She didn't know what to talk about with either of them.
"Come on," Adam urged. "We won't bite."
Too bad.
What the hell was she thinking? Neither of them would be interested in her.
"Please."
Kari swung her head toward Ben. He'd moved to her side and whispered softly. Was she imagining it, or was there desire in his eyes? He looked like he was undressing her with those crystal blue eyes. For a moment she allowed herself to be mesmerized.
She swallowed the moan that threatened to escape and said, "Yes, please."
Adam touched her arm, and Kari felt faint. How could she resist when they were practically begging?
"Okay, you've convinced me. I'll go with you guys." She took a step back, regaining some of her personal space. She couldn't help but wonder if she'd made the right decision.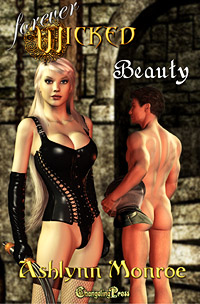 Beauty by Ashlynn Monroe
Beauty beyond compare… and a curse just made to be broken. Brand's the perfect prince for the job. But not every fairytale princess deserves to be freed from her bonds. Sometimes it's better to let sleeping beauties lie, lest you rouse the demon within. Fortunately, our prince thinks outside the box.
Excerpt:
Beauty lay on the bed, covered with rose-filled vines. Her long blond hair flowed around her pale, naked body. Her nipples stood high, peaking from the chill, as if frozen in time. The room felt frigid. Not a single ember remained in the long dead hearth.
Everything here was dead, except the roses.
Prince Brand stood at the foot of the bed and stared at her nude perfection. His cock grew hard. He'd sought this fabled beauty and her mystical, forgotten castle, and now he'd found the room where Beauty still lay. She looked too beautiful to be dead. Not a single flaw appeared on her face or form.
He pulled roses from the foot of the bed, tossing them to the floor. Slowly he worked his way around, removing the thorn vines obscuring his view. He moved to the head of the bed and carefully pulled the remaining roses from around her face.
A soft sigh escaped her lips. Startled, Brand jumped back and pulled the thick gloves from his hands, throwing them down on the dusty chair beside her resting place. He held his hand under her nose. To his surprise, the subtle breath of life remained in the eons-old body. Slumber? Can it be?
He'd come seeking treasure from the long dead kingdom, but now he found another reward to enjoy. In the halls below, dried corpses lay where they had fallen on a typical day as they went about their usual work. But here, the princess lay alive and as perfect as the day her city had fallen to the evil plague of the death roses.
Brand removed his armor carefully, afraid to touch the roses scattered on the floor. His cock throbbed. The bards sang ancient tales of Beauty's unequaled perfection, but she was more perfect than words could describe. The girl's supple body cried out for his hands and lips.
Naked, Brand carefully crawled onto the bed. It dipped under his weight and another soft sigh left the girl's red lips, which seemed to be begging for his kiss. He touched her face and felt the smallest trace of warmth. He refused to let such a sexy body go to waste. He let his hand slowly trail from her cheek to her neck, then her collarbone, and then the soft globe of her breast. He tweaked the nipple and her body stirred.
Brand sucked the pink pebble into his warm mouth, drawing hard on her nipple. The princess arched her back. He glanced at her face, but she hadn't awakened. He moved his mouth to the waiting twin, suckling hard. Her soft mewing cry spurred him on. He reached up to fondle the other breast, and her mews became throaty gasps.
Kissing down her stomach, he twirled his tongue into the small navel. She shifted. Brand looking up at her face expectantly, but her eyes remained closed. He worked lower, his mouth hovering just above her pussy. The musky womanly fragrance heightened his lust and he spread her naturally covered lips to gaze on her intimately.
Smiling, Brand flicked his tongue over her clit, and the princess's hips bucked. He lapped at her with ferocity, savoring her taste. Beauty cried out, bucking wildly under his mouth. Brand could take no more. Her body seemed to beckon to him. Climbing to his knees, he hovered above her, slowly, carefully sliding his ready cock into her tight, hot pussy. She was dripping wet for him and his mind barely registered she was no virgin before he began pumping into her wet cunt.
Her eyes flew open and he stared into the bright blue orbs. Brand felt his face grow hot and flush as he realized just how shocking his actions would appear. But a sensual smile spread across her face as she stretched her arms above her head. "My prince, you've finally come."
"My lady, I…"
"Fuck me," the sweet young voice commanded.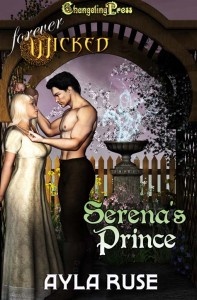 Serena's Prince by Ayla Ruse
Blurb:
A frog, a curse and a broken promise. Sometimes punishment can be its own reward.
Serena never thought asking for help from a frog would result in her being naked and tied to her bed. She should be afraid. She should call for the guards. She definitely should not be… begging for more.
Prince Rennick needs to get his hands on Serena's necklace — the one item sure to break the curse that turned him into a frog. When an accident makes him temporarily human, he cannot help but use his dominant nature to bend Serena to his will.
What should have broken the curse turns into a desperate attempt to save Rennick's life. As they try to find the key, Rennick demands much from Serena, but is she willing to surrender everything to this frog-turned-prince?
Excerpt:
Serena carefully sat on her knees near the water, as he directed. It felt strange, letting someone else tell her what to do. A part of her wanted to defy him on principal, because she was used to having the last word. But for a few moments, she'd give over to his requests. They seemed innocent enough, and it was exciting to wait, to see what he'd ask of her next, to wonder where he'd take her.
"I like seeing you like this," he murmured, his gaze dropping to her breasts. She didn't have to look to know her nipples pebbled hard against the tight bodice. Seeing him stare made them tighten more. He squatted down, cupped his hands in the water, and poured a small stream of liquid over her shoulder. She shivered as the cool water trickled over her chest and into the valley between breasts.
"What are you doing?" she asked, not stopping him, though. She liked how his eyes had darkened and grown hooded. He had a plan, and it included the two of them naked, she was sure. She shivered again as he poured more water over her chest.
"Don't ask," he told her. He took one wet finger and rubbed her bottom lip. "My mind is tired from trying to figure out the riddle of the curse and the necklace. Maybe taking my mind off the puzzle will show me the answer." She set a kiss against his finger, then swiped it with her tongue. She returned his smile and quirked her brow, as if challenging him. In truth, she wanted his mind away from the puzzle, too.
"I see that look," he said. "Let's see how well you remember to do as I ask. Don't get up, but hold your hands behind your back." Her chest thrust forward, and just as she'd feared when she'd put on the dress that morning, the movement pulled the material down and her nipples popped out over the top of the neckline. His lips twitched as if he'd expected such a thing to happen. To amp up the tease, she arched her back, making her breasts spill out of her dress a little more.
He laughed at her move. "You're a quick learner, Serena. And a tease, it seems. I like that. Now I need you to remain exactly as you are."
He cupped more water and ran it over her until her dress clung to the entire front of her body. He'd occasionally flick her pebbled nipples with the backs of his fingers, and she moaned at every contact. When he reached behind her and unclasped her necklace, she stiffened.
"Shh. Don't move. I'm only rearranging the strand." She remained still, although it was hard. When Rennick finished, she glanced down and saw that he'd made one loop so the pearls hung low to her belly. He arranged the strand so it lay on the outside of each nipple.
He dipped his head and pulled both her nipple and the necklace into his mouth. He rubbed the bumpy pearls around and over the tip while his teeth grazed her flesh. She gripped her hands together, making soft little whimpers with his every touch. The added sensation of the necklace stroking her as he suckled sent streaks of fire running through her. She grew wetter between her legs and she squirmed, wanting him to take off the dress and bury himself deep inside her.
She forced herself to be still and bit her lip to keep from begging him again. She squeezed her eyes closed as he continued what he was doing. The way he took her breasts made her head spin and her body ache.
He plumped up her breasts as he feasted from one to the other, always taking the necklace and her nipple at the same time. When she thought she couldn't take any more, that she'd throw her arms around him and pull him down on top of her, he trailed a hard tongue through the valley between her breasts, up to her neck. Meeting her lips, he kissed her hard, raising up to his knees and making her head fall painfully back under the press of his mouth.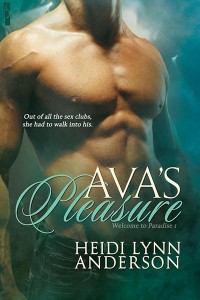 Ava's Pleasure by Heidi Lynn Anderson
Blurb
Of all the sex clubs, she had to walk into his.
When prim proper Ava stumbles into a Miami sex club, she isn't expecting to find the man from her dreams. Navy SEAL Logan is just wasting time between missions until this naïve and innocent woman turns his world upside down.
How was Ava Cullen supposed to know her prim and proper aunt was part owner of the premier sex club in Miami and a top-notch Dominatrix? When she stumbled into club Paradise and came face to face with her dream man, she had a feeling she stood on the precipice of something life changing.
Navy SEAL Logan Turner always knew he needed more out of life than the next mission. That's why he opened Paradise with his best friend Julie. It didn't hurt that he could reap the benefits of owning a sex club. That was until a sexy, doe-eyed woman walked in, making his control slip for the first time ever.
Excerpt
Ava's tongue swiped over her lips. "I don't know."
Logan slid the blindfold over Ava's eyes and stood back to drink in the sight before him.
"I don't know if I like this," she said.
"What don't you like, honey?" Logan watched the pulse in her neck beat a fast tattoo.
"I don't know."
"Are you uncomfortable?"
She shook her head. "No."
"I know you think you haven't been in control of your life." Logan grasped the flogger and ran the silk strands over his palm. "But the opposite is true."
"You've been making all the decisions for yourself." Logan ran the strands between Ava's full round tits, tracing their curve.
The sound of her moan had Logan inhaling hard. He needed to be careful, if he didn't want to blow his load too soon. "Honey, you're beautiful like this." Logan made his way slowly—almost painfully so—to her luscious pussy. The sounds of longing that came from Ava filled him with joy and love.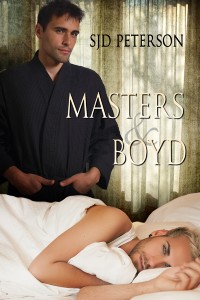 Masters and Boyd by SJD Peterson
Blurb:
Carrick Masters and Edward Boyd have already found true love—it's the happy ever after that's eluding them. Between Carrick's job as an orthopedic surgeon and Ed's career as a defense attorney, they have hardly any time to spend together, and what time they do have seems to be poisoned by resentment. Carrick and Ed know they need to refocus to make their marriage work, but they seriously need more than a spicy once-a-week date night to get them back on track.
Excerpt:
THE opulent ruby-red décor glimmered softly under the glow of two huge open fireplaces. A quintuplet of dazzling crystal chandeliers looming majestically overhead reflected the light, causing it to dance in the intimate two-tiered dining space. Swirling the dark purple wine around in his glass, Edward Boyd inhaled deeply, taking in the aromas of blackberry, plum, licorice, and spice. Raising the glass to his lips, he took a small sip. Concentrated berry and pepper flavors with a silky feel danced across his tongue. Delicious.
No matter how wonderful the atmosphere at Acapella, how impeccable the staff or how perfect the wine, Ed simply couldn't enjoy it with his heavy heart. Three years he'd been with Carrick Masters. Three years of living, loving, and building a strong and solid relationship. Tonight was to be their celebration of those three wonderful years, and yet here he sat alone.
Ed had made the reservations, confirmed schedules, and made sure every minute detail was taken care of. He'd even laid out Carrick's attire for the evening on their king-size bed: a dark blue Armani suit, a blue jacquard monogrammed French-cuffed dress shirt, Carrick's favorite gold and sapphire cuff links, black Ferragamo lace-up shoes with a matching belt, and a gold-and-navy silk tie. In addition, since all finely dressed men wore T-shirts under their dress shirts, and Carrick would be looking fine, he had remembered to lay out silk boxers and a T-shirt to keep him looking fresh. His lover had been working himself to exhaustion, and Ed had hoped that by planning everything right on down to Carrick's attire for the evening, there would be nothing for Carrick to worry about.
Ed's chest tightened painfully as he glanced down at his watch. He'd been waiting for Carrick for forty-five minutes and finally had to admit that worrying about Carrick's ensemble should have been the least of his problems. Insignificant worry compared to why my husband stood me up on our anniversary.
After paying for his wine and leaving a sizeable tip, Ed gathered up the small box and card he'd placed on Carrick's salad plate and made his way out of the restaurant. He waved off the door attendant, who had opened the rear door to a waiting taxi.
"Thanks, Carl, but I think I'll walk home tonight."
"Very well, sir. Have a good evening, Mr. Boyd."
Ed waved his goodbye without turning back and headed down the nearly deserted sidewalk. There was a chill in the air, and he hoped that the quiet walk and cool evening temperatures would help clear his head, though he doubted that any amount of walking would relieve the heaviness in his chest or the sting in his eyes. Christ, had it only been three years since he married Carrick Masters? It seemed like just last week that the most stunning man he'd ever seen had taken the seat next to him on a bench outside St. Mary's Hospital and met his gaze with twinkling hazel-green eyes. As he walked, his mind traveled back in time.
"Mind if I have a seat?"
Ed's breath caught as he looked up. "Umm… no. I mean, I don't mind," he stammered.
Good Lord, the man was gorgeous. His disheveled short brown hair stood out in a hundred different directions as if he'd been repeatedly running his hands through it. The stranger had a strong square jaw with dark stubble, high cheekbones, and thin lips. Wide shoulders filled out the blue surgical scrub top, tapering down to lean waist, the bright red drawstrings of his scrub pants catching Ed's attention. One little tug of the string….
Ed gathered his wayward thoughts, cheeks heating as the man took the seat next to him and extended his large hand. "I'm Carrick."
"Ed," he replied, accepting the offered hand.
He'd never forget that first moment when his and Carrick's hands had touched. A jolt had shot through him as the skin of their palms met, each man's grip tightening as sure as the tightening in his groin and their gazes locking. His dad's mishap with a circular saw—okay, so nearly cutting off a hand was probably a little more than a mishap, but thanks to dear ol' Dad's carelessness, he'd met the man of his dreams while sitting out in front of St. Mary's Hospital as the surgeons worked to save Jonathon Boyd's hand. To this day, one touch from Carrick still sent a jolt through him.
Their lives had been crazy back then, Carrick in his third year of residency in the surgical program and Ed in his final year of his Juris Doctorate degree. Yet no matter how busy, they always seemed to find time for each other. Some days their time together was measured in minutes rather than hours, but they had always been thankful for each occasion and cherished each opportunity, giving each other their sole focus while they were together, counting the minutes until they could be together again. Even in the limited amount of free time Ed had, Carrick always made him feel special.
Ed rubbed absently at his chest as he made his way down Seventh Avenue. Their lives were still busy—his husband was in the fellowship program, specializing in pediatric orthopedics. Carrick only had a few months left. He'd soon be joining a very well-known and successful orthopedic group, and Ed was now a junior partner in his dad's law firm. Soon school would be behind them and their lives would become more manageable, time-wise, and yet Ed wasn't so sure anymore that their relationship had endured the stresses. He certainly didn't feel special anymore.
Reaching the row house he shared with Carrick, Ed ran a finger along the black wrought iron railing as he took the steps up to their front door. A smile crossed his face as he remembered a happier time, the way his much larger lover had lifted him into his arms and carried him up these very steps the night of their commitment ceremony. If he concentrated hard enough, Ed could still hear their laughter, could still see the love and happiness that had shone in his lover's eyes. His chest tightened. God, I miss that look.