Posts Tagged 'captione'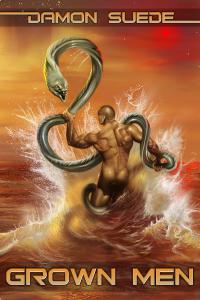 In southern Italy, meat is reserved for Christmas Day, so seafood is traditional for Christmas Eve celebrations. As it happens, roasted eel is a standard Italian holiday dish so here is a groovy, quick baked-eel recipe which is heartier and simpler to prepare than you might imagine for a big ole fish…
BAKED CAPITONE
(serves six)
TIME: 75 minutes (Prep is 15 minutes/cooking takes 60 minutes)
Ingredients:
1 cleaned and skinned eel, weighing 1 1/2 to 2 lbs (as fresh as possible!)
6 medium peeled potatoes
3 bay leaves
salt
fresh ground pepper
6 sage leaves
4 tablespoons sweet butter (1/4 cup)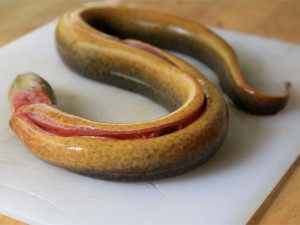 INSTRUCTIONS:
Preheat oven to 360 degrees Fahrenheit
Bring a large pot of water to a rolling boil. Crush the bay leaves lightly, and add them to the water with a fat pitch of salt and the potatoes. Allow them to boil until fork tender (8-10 minutes). Drain them (making sure to remove the bay leaves) and put them in a nonstick baking pan.
Rinse the eel thoroughly in warm water, section it into 4 inch pieces, and put it in the baking pan with the potatoes. Season liberally with pepper and salt. Roast for 50 minutes until the flesh becomes golden.
After 45 minutes of baketime, take a shallow pan and melt the butter over a medium flame; gently sauté the sage leaves until their scent permeates the butter. Don't scorch!
When the eel is lightly browned, remove the baking pan from the oven and portion into six servings, plating each with a halved potato. Drizzle with sage & butter to taste.
Blurb:
Every future has dirty roots.
Marooned in the galactic backwaters of the HardCell company, colonist Runt struggles to eke out an existence on a newly-terraformed tropical planetoid. Since his clone-wife died on entry, he's been doing the work of two on his failing protein farm. Overworked and undersized, Runt's dwindling hope of earning corporate citizenship has turned to fear of violent "retirement."
When an overdue crate of provisions crashes on his beach, Runt searches frantically for a replacement wife among the tools and food. Instead he gets Ox, a mute hulk who seems more like a corporate assassin than a simple offworld farmer. Shackwacky and near-starving, Runt has no choice but to work with his silent partner despite his mounting paranoia and the unsettling appeal of Ox's genetically altered pheromones. Ox plays the part of the gentle giant well, but Runt's still not convinced he hasn't arrived with murder in mind.
Between brutal desire and the seeds of a relationship, Runt's fears and Ox's inhuman past collide on a fertile world where hope and love just might have room to grow.
Excerpt:
(The following is an excerpt from Chapter 1 of Grown Men, released by Riptide Publishing)
Runt had almost turned toward the habitat when the huge bundle jerked and curled like a monstrous metallic worm.
"Fuck!"
Runt's shout sent a few surviving moths fluttering from the bluish palm trees. He fell to the ground and scrabbled back on his ass toward the heavy-duty submachete still planted nearby. Noisy, but the only accessible weapon.
The resurfacing tarp moved again, a wriggle all along its length, something packed alongside the fabric.
Alive.
Something alive stuffed inside the sack.
What the hell could be that big?
Hogs, dogs, humans . . .
I'm dead.
His recruiter had warned him that, if he didn't meet their terraform schedule, forcible termination was likely. Fuck. His numbers were shit and he was behind schedule.
I'm a dead man.
After a scant eighteen months, they'd finally sent his retirement plan in a corporate Trojan Horse, the cracked container packed with terraformer nibbles, and he'd fallen for it like a hungry idiot.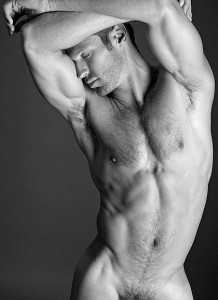 HardCell means business.
Runt realized HardCell had sent a new pair of terraformers stashed in foam to retire and replace him. Duh. Runt was undersized and had been trapped working solo.
All that's their food.
Legs braced to pounce, Runt gripped the whirring submachete and circled the enormous squirming life-support duffel. He could see big angled bumps like limbs inside straining hard at the closure.
The reflective packaging moved again and one of its occupants gave a bass groan. Transport anesthesia wearing off. With a tearing sound, the flex-wrap split, and one gigantic hairy arm clawed at the sand a moment as Runt's assassin struggled free from the life-support sack and the silvered fabric.
A man, large enough to be two people, but no mate.
Because he's too oversized to share a stasis sleeve.
Huge. Naked. Drugged. Alone.
Runt goggled in confusion as the superhuman body squirmed out of the shiny canvas like a colossal larva to flop on the sand and gulp the briny air.
I sat on him. I ate a mealpak sitting on my executioner.
Runt circled nearer, submachete by his side with the safety off. He took a step. He took another one.
Still shivering from the drugs and the bruising impact, the strapping stranger didn't react. He twitched and curled on the hot ground, heaving.
Fuck, he's huge. Runt took another wary step. He's a fucking mutant.
The stranger unfolded his limbs and rolled onto his side. His bulging arms were longer than Runt's legs. His broad back was a shifting wall of muscle over a high, square ass. His flaccid penis hung like some kind of blunt trunk.
Runt knew he had about a thirty-second window as the transport tranquilizers wore off. If he was going to kill his replacement, this was the only moment. The submachete whirred softly in Runt's calloused hand a few centimeters above the ground as he crept.
Closer . . . closer.
Runt's mouth hardened into a scowl under his salt-stiff mustache. If he slaughtered this circus clone now, he could claim the goon had died on entry like his long-lost wife.
Do it.
The groggy giant gasped and spat, then rolled onto all fours, his head hanging. He shuddered, and drool ran from his mouth. He had close-cropped tawny hair, bronzed skin, and a stubbled face that looked like it had seen plenty of fights.
He's a killer.
Brawny slabs of military-grade synthetic muscle covered his frame. Maybe not a full clone, but growth hormones out the wazoo, obviously. The broad paw spread on the ground had a palm bigger than Runt's entire face.
Don't look at him.
Runt's eyes scanned for the sweet spots: throat, kidney, groin. He raised the humming submachete, his hand sweaty on the gel grip. He glanced up at the habitat, his crop terraces, the little kingdom he'd built by himself for eighteen months a millimeter at a time.
Retire him now.
Suddenly, the troll turned his head and looked right into Runt's eyes and simply smiled in relief . . . as if greeting an old friend. A small smile . . . no triumph, no cruelty, a faint hopeful curve of childlike pleasure which dampened Runt's murderous thoughts. As if the big dumb freak was happy to be naked and puking on the sand at the ass-end of the universe.
Shit.
A human smile after so long.
Released 30 October 2011 by Riptide Publishing
Copyright 2011. Damon Suede. All Rights Reserved.
Books:
Bio:
Damon Suede grew up out-n-proud deep in the anus of right-wing America, and escaped as soon as it was legal. Though new to M/M, Damon has been writing for print, stage, and screen for two decades. He's won some awards, but counts his blessings more often: his amazing friends, his demented family, his beautiful husband, his loyal fans, and his silly, stern, seductive Muse who keeps whispering in his ear, year after year. Get in touch with him at: