Posts Tagged 'erotica'
Coming Soon:
Shifter's Galaxy: Accommodating Desire, an m/m/f short story, will be available very soon from Changeling Press. I loved having the chance to revisit my Shifter's Station world with this story, and I've got several more story ideas for this spin off series.  Here's an unofficial blurb:
Shifter's Galaxy: Accommodating Desire by Silvia Violet
Lucy Vasilia is the director of the Alkestis Market, a well-run trading center
catering to both legitimate and black market concerns. She's not a woman who
normally mixes business with pleasure, but shipping tycoon, Ian Hadley's
dominating presence and cool control make her knees weak. When he
matter-of-factly proposes a three way with his lover, Security Chief, Connor
Langley, she decides to make an exception and give herself over to pleasure
for an afternoon. But Ian and his dark, dominating lover want far more from
her than a few hour's dalliance. They intend to make her acknowledge their
soul-deep connection, and they won't be satisfied until they've claimed her in
every possible way.
Seduction of the Captain, a BDSM sci fi set in the same world as Surrender in the Dark, will be coming your way this summer.
Works in Progress
I'm currently working on Protect and Serve: Sex on the Hoof. This is Jason, Natalie's brother from Savage Wolf's, story. I love writing for this series and Jason and his lover, Drew, are a roller coaster ride of humor, angst, and dirty fun.
I've got lots of other projects bouncing around in my head. But I think once Sex on the Hoof is done, I'll be focused on Wet: Reef's Guardian, part of an upcoming multi-author series for Changeling. I know this one is going to be fun because one of the characters is a cuttlefish shifter. Oh the things I'll be able to do with that 🙂
After that I've got a m/m Christmas story that's been begging for my attention as well as one featuring intergalactic spies, betrayal, confusion and seriously hot sex.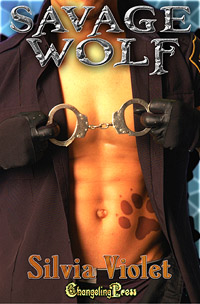 Make Steak Diane. Bake some potatoes. Load them up with butter, sour cream, bacon and cheese. Then come to dinner wearing nothing al all.
Officer Wolf: Silvia's onto something here. I would definitely go for that. Manly food. Nakedness. Dirty sex for dessert. I'm all for it.
Get better acquainted with Officer Wolf in Protect and Serve: Savage Wolf by Silvia Violet

On a Full Moon by Silvia Violet
"Damn it!" Samantha tripped over a branch and cursed for the millionth time that night. What on earth had possessed her to go for a walk so close to dark, and how the hell was she going to find her way out of these woods?
An owl hooted and something rustled in the trees behind her. Sam spun around, her hand coming unconsciously to cover her pounding heart. She couldn't see anything. The narrow beam from her tiny flashlight illuminated only a few feet of the path in front of her. The moon was full but under the dense tree cover, little of its light shone through.
Somehow she'd made a wrong turn, but now she was so lost she would be damned lucky to get out before dawn. She had no clue what trail she was on, but she kept walking, too restless to stop and too scared to dare try to sleep.
Several hundreds yards ahead, the path opened into a clearing. Moonlight shone through the opening in the trees making it appear almost bright there. As Sam got closer, she realized the clearing was occupied. A large black wolf stood right in its center.
It turned toward her, and Sam ducked behind a tree. Her heart hammered in her chest, and sweat slid down her back. She held her breath, not daring to move. But the wolf had heard her. He stared in her direction, a low growl emanated from him mouth. He lowered his nose to the ground and sniffed.
Sam's lungs burned; she needed air. She wanted to run but stood frozen to the ground. Her fingers dug into the bark of the tree until she felt it rip her skin.
The wolf raised his head and looked right at her. His eyes were the color of the sky on the most perfect of spring days, yet they penetrated her as if he could see straight through the tree and into her heart.
He began to walk toward her.
She tried to get a grip a solid grip on the bark. Could she climb the tree? Could wolves climb trees? Why didn't she know the answer to that?
She shouldn't run. Shouldn't show her fear. But her heart threatened to explode, and she could no longer hold her breath in her burning lungs. It rushed out and then shot back inside in short, harsh pants.
The wolf was so close now she could reach out and touch him if she so dared. The taunting glimmer in his strangely blue eyes told her that he was no big dog wanting to be petted.
Then he lifted his snout and howled. Shivers ran through Sam's body. And so did a stab of . . . lust? She could only assume it was a reaction to the adrenaline coursing through her body.
Light flashed. It seemed to surround the wolf before dissipating. The wolf raised up on his hind legs. They began to lengthen. His front feet grew into arms. His snout shortened. It all happened too fast for Sam to register the entirety of the change. Within seconds, a man stood in front of her.
A sinfully gorgeous, naked man whose thick, hard cock reached almost to his navel. He stood well over six feet and his muscles were long, lean, and clearly defined just as the wolf's had been. Closely-cropped black hair stood out on his head like he'd already been rolling around on the ground taking the pleasure his body was intent on. His eyes hadn't changed. They were still the same shade of sky blue.
Sam wondered if she were dreaming. Had she fallen and knocked her head? Had she fallen asleep as she walked? If she were, she didn't want to wake up. Not if this man intended to act on the lust blazing in his eyes. He took a step toward her.
She was hyperventilating, but she couldn't slow her breathing and she couldn't move. While running from a wild animal was not the best course of action, running from a strange, naked man whose eyes clearly showed the lascivious thoughts in his mind was the only sane thing to do. But this man was also a wild animal. And Sam wasn't sane. Her body craved him like he was made of chocolate. Hot cream slid from her body, dampening her panties.
The man stepped so close she could feel the heat radiating from his body. "You shouldn't be here." His voice was rich and smooth. Sam's knees weakened. She nodded in agreement but she didn't move. This had to be a dream. If is wasn't a dream she'd be running for her life, not staring at his full lips and wondering when he was going to kiss her.
"The change plays hell on our hormones. When I'm back in human form, all I want is a rough, hard fuck."
Sam tensed and stopped breathing altogether. She'd grown so wet her panties and jeans were soaked.
"I'm going to count to five. If you're still here when I'm done, I'll assume you're going to give me what I want."
Sam opened her mouth, but nothing came out besides a squeak.
"One." Sam looked up into the man's eyes. The blue had darkened and she either saw or imagined a leap of blue flame. She couldn't look away.
"Two." He stepped even closer. If she could remember how to breath, her chest would brush his as she did so. "Three." He leaned forward and braced his hands on the tree, trapping her between his arms. "Four. Five."
His mouth crushed hers as his body pinned her against the tree. Sam arched against him, desperately needing pressure on her clit. She rubbed herself against the hard length of his erection while his tongue and teeth savaged her mouth.
He pulled back. She moaned and opened her eyes. His face looked pained. He took another step back. "Take off your clothes, or I'm going to rip them off."
Dear God, he was barely under control. A jolt of need rocked Sam's body at the thought. She'd always wanted a lover who would take her with no restraint.
"Now." The word came out as a growl.
Sam gripped the hem of her T-shirt, pulling it off in one motion. Then she unzipped her jeans and pushed down off her legs, kicking them off along with her shoes. She reached for the clasp of her bra just as the man's control broke.
He gripped the waistband of her satin panties and ripped them in half. As he tossed them to the ground, he picked up her T-shirt and spread in on the ground like a small blanket. "Get down on your hands and knees."
She obeyed instantly.
He dropped to the ground behind her and grasped her hips, pulling them so high she was forced to drop to her elbows. She felt the tip of his cock brush across her lips, sliding through her wetness until he could rub it against her clit. She moaned. "Please."
He gave a low laugh. "I think you're as hot as I am. And you haven't even Changed." She pressed back against him, desperate to feel him inside her.
He groaned. "Get ready." She sucked in her breath as he positioned himself at her entrance. He pulled her hips back as he thrust, fully seating himself in her. She gasped. Damn he was big. The fullness was almost pain, but her body adjusted quickly. Already she wanted him to move. She whined and tried to move her hips. But he held her against him. "I'll do the fucking."
She whimpered. She'd dreamed of a man controlling her like this. She loved it, but still her hips fought his hands. Her need to be fucked overran her need to be dominated.
He started to move, but his pace was too slow. She struggled again. "Please. I need it."
He wrapped her braid around on of his wrists, jerking her head back. "You'll get it when I'm ready to give it to you."
She tried to hold it in, but another whimper escaped.
He pushed on the small of her back until she dropped her chest to the ground.
"Touch yourself while I fuck you."
She groaned and wiggled until one of her hands could slip beneath her. She let her nails rake her belly before her hand reached her swollen clit. She made a v with her fingers and pressed down just as he surged back into her body. The intensity of the pleasure sent a wave of dizziness through her.
He increased his rhythm as she worked herself, finally giving her the hard fuck he'd promised. He thrust so deep and hard his balls slapped against the lips of her pussy at the end of each stroke, sending jolt of sensation to her clit which felt ready to burst. She hovered on the edge of orgasm.
He reached underneath her, circled her wrist with his hand, and pulled her hand away from her pussy. "I'm not ready for you to come."
"Please." She fought him, trying to free her arm. But he held it tight and grasped her other wrist as well, pinning her to the ground as his whole body lay over hers. He fucked her relentlessly. Little cries escaped her lips with every punctuating thrust. Once again, her clit tightened, getting ready to explode. Then he pulled out.
She tried to protest, but she couldn't catch her breath to speak. He flipped her to her back and pinned her wrists above her head with his hands. Her thighs fell open as his cock to her opening once again. But he stopped there, the tip of his cock barely brushing her. "Look at me."
She opened her eyes. The man's gaze pinned her as surely as his hands had a moment before. "I want you looking at me when you come." He thrust into her. Her hips bucked up and she struggled, fighting to feel every inch of him, fighting to get pressure on her clit as his pelvic bone slammed down against hers. She wrapped her legs tightly around his hips, determined to hold him inside her. This time, he was going to let her come.
Her climax rose like a wave through her body. She was so close. She prayed he wouldn't stop. He thrust deep and stayed inside, grinding his pelvis against her. Her body tensed. Her breathing stopped. She feared her heart had stopped too. Then pleasure beyond any she'd felt before pulsed out from her clit, wracking her entire body.
He pulled back, but her body gripped him tightly and pulled him back in with contraction after contraction of her pelvic muscles. He growled, low and long. Then he convulsed against her with a shout.
For many long minutes, they lay still. Sam enjoyed the firm weight of him on top of her as she floated in a world of pure sensation.
When he stirred, she expected to feel embarrassment, even horror at what she'd done, but the feelings didn't come. All she felt was intense satisfaction. She didn't even care whether she'd really seen him change from a wolf into a man or how that could be.
When he pulled out of her body and sat up, she reached for his arm. His eyes looked down into hers. "Will you be here again on the next full moon."
He smiled. "Yes, I will. And so will you."
For more wolfy goodness, check out Savage Wolf or my Wolf Caller series.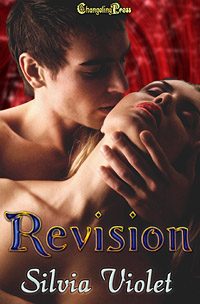 This week, in honor or my latest release, Revision, I'm going to be hosting a celebration of vampires. Several fantastic authors will join me in sharing thoughts what makes vampires so appealing. For now, here's a taste of Niall and Ethan, two very seductive vampire assassins:
Excerpt from Revision by Silvia Violet
Niall slid silently from the bed, cursing his lack of a weapon. Someone was on Vivian's balcony. He could hear a single heartbeat. He reached out with his mind, but whoever it was had shields too thick for him to break without giving himself away.
The balcony door slid open. Niall stepped into the living room, cloaking himself. No human would be able to see him now. Of course, he doubted the intruder was human, but he could always hope.
A tall man stepped into Vivian's apartment.
Niall sprang.
The man captured his wrist in an unbreakable grip. "You could have told me you'd reclaimed your body."
"Ethan." Niall's partner dropped his arm, and Niall stepped back.
Ethan growled. "Why didn't you call me?"
"I needed to regain my strength."
Ethan arched a brow. "Based on your smell and appearance I'd say you needed to fuck someone's brains out."
Niall ran his hand through his ruffled hair. "I would have contacted you as soon as we woke."
"It's not like you to be distracted from a mission."
"After months of being trapped by that bastard I deserve a night to feed and fuck without the Consulate coming down on my ass."
Ethan grinned. "That's true enough. Tell me how you got free."
Niall explained how he'd sent out mental feelers from the story world where he'd been trapped by Lorcan, a wizard so powerful even his band of elite vampire assassins had been unable to capture him after months of trying. Vivian, a romance writer, had been the only one to respond to his calls.
She'd listened to him tell the story of his fight with Lorcan and his capture, thinking he was a character out of her own imagination. When she'd finished writing his tale, the magic of her words brought him back into his body and transported him to her apartment.
Ethan frowned. "When did you return to your self?"
Niall glanced at the clock on the wall. It was nearly 10:00. "About twelve hours ago."
Without warning Ethan lunged for him. Niall countered the attack, blocking Ethan's attempt to smash his jaw. He sent Ethan flying backward with a swift kick.
Ethan held up his hands in surrender.
Niall snarled. "What the fuck was that about?"
"A test. You're back to nearly your full strength."
"So?"
"You should need days to recover after going so long without feeding. There's something you're not telling me."
"Apparently, I'm stronger than you thought I was." Vivian had restored his energy almost instantly. She responded to him like a Companion, yet even a Companion shouldn't have such power before being Turned. He needed more time to examine their connection before sharing it with anyone, even Ethan.
Ethan growled. "You're lying. We can't afford secrets on this mission."
Lorcan was the greatest threat to their kind Niall had encountered since joining the Protectors. "There is nothing you need to know right now. I'll tell you when I can."
"You'd better."
Niall hoped there would be nothing to tell. The thought of letting Vivian go made his stomach knot, but she didn't deserve to be forced into a bond with him, especially one that linked their lifeforces so closely. He risked his life every day as a Protector, and when a vampire died, his Companion rarely survived.
Ethan stepped back onto the balcony and retrieved a bag. He tossed it at Niall. "Duval expects us at sunset. I brought you some clothes and weapons. You'll get a new phone tonight."
"Damn! I was hoping to avoid him for a bit longer." Like until he figured out whether Vivian really was his Companion or if something even stranger was going on. Companion bonds had become rare in the last few hundred years and he'd never heard of one that formed this fast.
Ethan shook his head. "It's a formal summons. He'll drag you there if you don't come willingly."
He would too. The bastard. "How pissed is he?"
"Well, you did get caught."
"God damn it! Nobody knew Lorcan would be able to suck me into his enchanted book. I'll not be –"
He realized Ethan was laughing at his vehemence. "Fuck you."
"You're the best Protector the Consulate has. The fact that you got caught shows how strong Lorcan really is. We've been unable to locate him since you disappeared. Then last night, Duval sensed you again, and I sensed Lorcan's magic. Vivian breaking his hold on you must have weakened him temporarily. We know where he's hiding."
"Then let's go get him."
"How well did that go last time?"
Niall snarled. "I want the bastard dead."
"As do we all, but this is too big for the two of us. We need Duval. Hell, we may need every last Protector and all the allies we can bring in. We've got a few shifters watching the townhouse he's using for his base. They'll alert us if he leaves."
"This can't wait. We need to go in now."
Learn how Niall and Vivian met in Stranger Than Fiction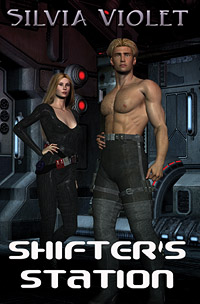 All Changeling Press titles are 25% at All Romance Ebooks this month.
This includes my Shifter's Station Collection:
Shifter's Station Collection by Silvia Violet
Years ago, the Terran Government betrayed special forces officer Marc Devlin, forcing him to flee for his life. He rescued several fellow officers and built a new life as the head of his own mercenary force. When he captures a beautiful Cerian diplomat, he thinks to torture the man to learn Cerian secrets. Instead, he finds a lover. Months later, Marc and his Cerian lover, Kirlos, take a young woman captive, fearful she might be an agent of one of Marc's oldest enemies. The two men strike a bargain with her that lands her in their bed for a month. As they dole out exquisite torment with their Cerian sex table, passion builds and turns to love. But Marc and Kirlos must fight to keep her and the life they've made for themselves.
This e-book collection contains the previously released Shifter's Station series novellas Pilot's Bargain, Pilot's Heart, Loving the Enemy, and Eye of the Tigress.
Excerpt from Shifter's Station 1: Pilot's Bargain
The commander cut off whatever Captain Devlin was going to say. "I have the ability to probe your mind to determine if you're telling the truth. And if you are lying, I can compel the truth from you."
Larissa studied him for a moment. He seemed sincere and somewhat dismayed by the captain's brusque manner. "Do it."
She felt pressure on her head, as if someone were mashing the heel of their hand against her forehead. Then the pressure turned to pain. It grew sharper until it felt like a needle was boring into her skull.
She felt tension radiating from Adesta. "Stop fighting it."
"I… can't. I don't –"
Then the pain spread as if her skull had cracked. She fell to her knees, panting. The world began to go black. But just before she passed out, the pain disappeared.
"Fires of hell, she's strong."
The captain snorted. "Did you get through?"
"Yes, she's telling the truth."
Thank the gods. They would have to let her go now. Larissa heard the men speaking, but they sounded very far away. A dull pounding still echoed in her head. Nothing like the tearing pain of the scan, but she still wasn't sure she could stand.
Then she felt a hand on her arm. It was the commander. She wanted to refuse his assistance, but she didn't want to be on her knees in front of the captain. He was arrogant enough without her prostrating herself like a slave.
When the commander helped her to her feet, she stepped away and forced herself to focus on Devlin. His dark eyes were narrow and cold. "Who taught you to shield your thoughts?"
"My boss."
Devlin raised his brows. "You need this ability often on cargo runs?"
"When you take these kinds of jobs, you do."
He laughed. "I suppose you are right. Federated Transport isn't exactly a legitimate business."
"And yours is?"
Adesta's lips curled into a wicked smile. "You seem to be losing your touch, Captain. You usually have them trembling in their boots by now."
Larissa just managed to keep from rolling her eyes. The captain might be one delightfully put together man, but she had no intention of rolling over for him. "Can I go now?"
Devlin scowled. "No."
"The commander has established my innocence."
"He has established that you were unaware that the weapons were faulty. But I still have one dead crewman and several more injured. Someone has to pay."
"Yes. That someone is my bastard of a boss."
"But he's not here, and you are."
"Captain." The warning glare in the commander's eyes gave Larissa hope he might convince his superior to let her go.
"She stays."
Larissa's heart pounded. "You can't be serious."
He gave a cold smile. "I'm always serious."
Larissa clasped her hands behind her back to hide their shaking. "You can't just keep me here."
"I can do anything I damn well please."
"But –"
The captain stepped toward her. She stabbed her nails into her palms, hoping the pain would dull her fear and help her hold her ground.
Devlin grasped the single braid that hung down her back and jerked her head to the side. "I am the law here. No one questions what I do. If I wanted to shove you out an airlock, that's exactly what I'd do. No one would dare protest."
She held her breath, and commanded her suddenly rubbery legs to keep her upright.
He let her go and stepped back. "Fortunately for you, I have something far more pleasant in mind as repayment for your crimes."
Larissa's lungs burned, but she couldn't seem to fill them with air. She forced herself to look him in the eye. "I have no intention of letting you punish me for a crime I didn't commit."
Adesta smirked. "I like her spirit."
The captain stared at her intently. "So do I. The spirited ones are so much more fun to break."
Larissa's heart hammered against her chest. She knew her eyes were wide and her fear shone all too plainly. She felt like a rabbit cornered by a wolf — a big bad wolf with plans to eat her.
Now why the hell did that thought make her body feel hot and tight? She was so damn wet she'd likely soaked through her flight suit. What was wrong with her?
Devlin took a long, deliberate inhale. "Mmm. I think she likes us more than she wants us to know."
Shit! The last thing she needed was for him to be aware of how she was responding to them. She needed to convince them to let her go. But before she could think of anything to say, Devlin's lips curled up in a wicked smile.
"Since you seem so interested in the issue of fairness, why don't we strike a bargain?"
"What bargain would that be?" Larissa mentally cursed the quaver she heard in her voice.
His smile widened. "I will spend the next two hours convincing you that you want to stay. If you can resist, you go free. If you can't, you agree to remain on the station as my servant for the next month."
Larissa took a deep breath. Her initial reaction was to tell him to go to hell, but something told her this might be her only way off the station. "How will you convince me to stay?"
"That's my secret, but you have my word you will come to no harm."
"Why should I trust you?"
The captain's face froze, and a sound too like an animal's growl rose from his chest.
Larissa glanced at Adesta. He shook his head. "I wouldn't go down that road if I were you."
"Fine. If I were to lose, which I have no intention of doing, how would you expect me to serve you?"
The captain's smile returned instantly. "With every last inch of your naked body."

I'm loving Changeling Press' Protect and Serve series, so much I'm working on a story idea for the series myself. All three of the books released so far funny, sexy and fast-paced. And man are the covers hot! With each one, I couldn't stop reading once I got started. I highly recommend checking them out.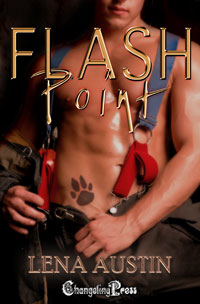 Flash Point by Lena Austin
When fireman Dustin Hardesty saves a scruffy tomcat from a fire, and then a neutering at the shelter, he has no idea he's just moved a cat shifter named Tigs into his life.
Tigs figures he owes Dustin, so he'll hang around to give Dustin some good times. He doesn't count on Dustin never wanting to let go of his alley cat.
Badge Bunny by Cynthia Sax
My name is Officer Drake. I'm genetically enhanced to be the best damn policeman there is. I can snap a werewolf in two. I can outrun a car. That's not boasting. Those are the facts.
I'm designed to protect and serve, and when I spot a plush little bunny shifter by the name of Hunny Lapin, that is exactly what I do. I protect her from a strip club owning vampire and serve up her every desire in bed. 'Course, that lands me in a whole heap of trouble, but it's nothing I can't handle. I'm a supercop, remember?
Kitty Kat by Anne Kane
Kat hasn't always been a stray — but times are tough, and when she lost her job, her no good boyfriend dumped her. Now she's living in a deserted basement and scrounging for food behind the restaurants in the better section of town, while attending business school during the day.
Jake feeds scraps of his dinner to the fluffy little con-artist from time to time as he walks his beat. He can't get the sassy stray off his mind. He feels a strange affinity for the feisty little kitty, so he decides to trap her and tame her. What he doesn't realize is, she's a shifter, and she's conned his heart right out of his chest.

Enjoy this free story set in the world of  Stranger Than Fiction and Revision, my upcoming vampire novella……
"Trapped" by Silvia Violet
Shit! The alley was a dead end. The concrete block wall in front of her didn't look like it would provide any handholds to help her climb. Before she had a chance to find out, the vampire caught her, slamming her up against the wall with his hard body. He captured each of her wrists and stretched her arms over her head.
His thick erection pressed against her ass, and she wanted him despite the anger and fear racing through her body.
He inhaled deep and his body shuddered against hers. "I do love a good chase."
He was drinking in her fear and her need, feeding on them as he would her blood. She should be terrified, she was wet as hell.
"I didn't kill those women," his voice was a seductive purr.
Her heat hammered against her chest. "I can't be sure of that."
"The hell you can't."
She fought his hold though she knew she couldn't break it. Panic rose as she realized she was well and truly trapped.
His breath caught, and he froze. "Stop fighting me."
"Let me go."
"Never."
He pressed against her mental shields. She put all her energy into keeping him out, reinforcing her shields until they were thicker than the wall she lay against.
He growled. "I don't want to hurt you. But my control could snap any second."
"I don't want you in my mind."
"What about in your body?"
She pushed back against him and rubbed herself against his cock. As she'd hoped, his need distracted him. She slipped her hands free and spun, aiming a kick at his balls.
He caught her leg. She looked up and the power of his eyes froze her. He burst through her shields, but rather than raid her thoughts he opened his mind to her. What she read there confirmed what she'd suspected all along, he was telling the truth.
Before he shut his thoughts away, she saw something else, images of exactly what he wanted to do to her. Her desire rose until she could hardly breathe.
"Now, do you believe I am innocent?"
"Never. But you're not a murderer," her words came out in a husky voice, belying the hunger she felt.
He chuckled. "Run now or those thoughts you saw will become reality."
She should run, but she couldn't make herself. He was fighting his need, fighting his body's compulsion to take control of her mind and body, she had seconds before that control broke. But she'd wanted him from the moment she'd laid eyes on him.
"Too late." He pulled her to him, crushing her mouth with his.
She couldn't breathe, couldn't think. He was all around her.
He slid his hands under her skirt and pushed her panties down. She stepped out of them and kicked them away before she remembered they were in an alley on a city street.
"Here?"
"Can't wait," he growled, grinding his cock against her.
She shuddered, trying to fight her need. "We'll be arrested."
"No one will see us."
"But-"
"I can cloak us."
"But I didn't think-"
His thumbs found her clit then, and she no longer cared who might see them. He slid two fingers inside her, and she bucked against him. Heat shimmered in the air as if his lust were so strong she could see it, feel it. Her nipples tightened as if he'd touched them.
She unbuttoned his pants unable to wait another second.
He lifted her, and she wrapped her legs around him. With one stroke, he plunged deep, making her cry out.
She braced herself against the wall as he fucked, harder and harder with each stroke as if he were going to consume her body as well as her blood. His cock felt so damn good inside her like it was made just for her.
The rough surface of the wall scratched her back but she didn't care, she was beyond registering anything but the orgasm building low in her belly, pressing against her, threatening to rip away all conscious thought.
His traced the side of her neck with his tongue. She tensed, but he didn't give her time to be afraid. His fangs sank deep, and the pleasure/pain sent her over the edge. Her orgasm stretched on and on.
His mind connected with hers as he. He poured all his need into her. She bucked against him, desperate for all he could give.
She came a second time, and he went over with her, lapping at the wounds in her neck as he poured himself into her body.
When he released her, she sagged in his arms, incapable of moving.
He kissed her softly. "You're delicious."
His silky voice stirred desire deep in her, despite her exhaustion.
"Let me take you home. I can heal the scratches on your back. Then I'll show you what I can do with more time and more comfortable surroundings."
"There's more?"
He smiled and her heart accelerated again. "Much, much more."

This week's Changeling Bar and Grille theme was shape-shifter menage. I wrote this 100 word flash piece for the theme:
Jake's claws slid out and dug into Liz's hips. He froze. Afraid of how she would react.
But she showed no sign of fear. Instead, she moaned around his friend's cock and shoved her hips back, taking Jake deeper.
He let his claws sink into her flesh, deep enough to sting.
She went wild, bucking against him, begging for more. He gave her his full length, pounding against her, no longer trying to hold back his animal nature. She squeezed his cock, pulling him toward orgasm as his friends fucked her mouth and howled.
Be sure to stop by the Bar and Grille next Friday to see what the Changeling authors are up to.


Snowbound: Saved by a Vampire is now available from Changeling Press so head on over and check out the rest of this ice melting collection of short stories while you're there.

Every Friday night, Changeling Press authors open up the Changeling Bar and Grille at 5pm EST. During Bar and Grille hours, authors and readers are asked to share 100 word flash fiction based on the weeks topic. This week's topic is Dreams and here is my contribuition:
She concealed herself behind the curtain, watching as the man she'd followed opened wide to swallow his lover's cock. His back muscles flexed as he moved back and forth, fucking his lover with his mouth, sucking, licking, eating him up. The other man thrust his hips, forcing his cock deeper into his lover's mouth.

She reached down to touch her aching pussy. Her hand tangled in the curtain, dragging it across her body.
Her eyes opened. Where was she? Something touched her leg, and she turned over, heart pounding. But it was only the curtain fluttering in the breeze from the open window.
Hop on over to the Changeling Press Readers Loop to see what others have come up with and join us next Friday for more yummy treats.