Posts Tagged 'spanking'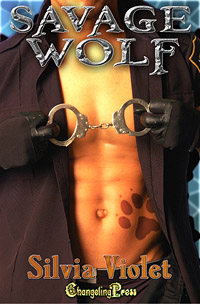 Protect and Serve: Savage Wolf is now available at ARe! I'm so excited about sharing this book with all the readers there. Here's a little taste to whet your appetite….
Savage Wolf by Silvia Violet
I'm Wolf, Officer Aidan "Wolf" Savage. I'm a werewolf. But unlike most of my kind these days, I'm one of the good guys even if I do scare the hell out of most people the first time they meet me. When a white-tailed deer shifter comes leaping into my life, she makes my body hotter than an erupting volcano. She's on the run, and she doesn't want my help. But I'm not about to let her get herself killed, and I'll use any means necessary to keep her safe.
Excerpt:
I tried to make myself be a gentlemen and roll off my naked little shifter. But werewolves aren't gentlemen. I heard her racing heart and smelled the hot cream between her legs, and my wolfish side begged me to shove her legs up onto her chest and bury my cock in her pussy. Then she shocked me by opening her legs and inviting me in. How could a man say no?
And, by all that's holy, she said those four words that just about made me lose it before I'd even gotten inside. "I like it rough." Just what an alpha wolf like me needs. A woman who appreciates my appetite.
When I drive into her, holding nothing back, she cries out. Her pussy holds me tight. I fight to hold still and let her adjust to my size. But she wraps her legs around my hips and bucks against me.
"More," she begs, and I'm not about to deny her. I slide out nearly all the way. She whimpers.
I thrust back in, and she groans, "Yes." After that I ride her hard and fast. She meets every stroke, slamming her hips against mine. I fuck her with brutal strength, and she keeps crying for more. I'm in heaven.
Her gorgeous breasts bounce up and down in rhythm with my thrusts. I can't wait another second to get better acquainted with them.
I shift my weight to one arm, and use the other hand to cup the tantalizing flesh, which is as soft and smooth as it looks. I slide my thumb back and forth over her tightly puckered nipple, and I'm rewarded with a sharp cry.
I keep up the light, teasing strokes. She arches toward my hand, whimpering. I pinch and tug on the pink bud. She bucks so hard she nearly unseats me. "Yes, God, yes!" she cries.
I need one of those sensitive nipples in my mouth like I need to breathe. I grab her hips, holding her firmly on my cock as I sit back on my heels. She lets her torn dress and bra slide from her arms. Then she wraps her arms around my neck and pulls herself up until she's seated in my lap. Now I can lick and suck and bite those hard buds all I want while driving myself even deeper inside her tight, wet cunt.
As if she can read my mind, my doe pulls my head down to her breast. I draw a pink tip into my mouth and suck hard, letting my teeth sink in just enough for her to feel them. She cries out, digging her hands into my scalp. "Harder, oh God, harder. I . . ."
I glance up without letting go of her nipple, desperate to know what she wants to say. Her deep brown eyes are wide and filled with need. "I like it to hurt."
I nearly choke around the hard flesh in my mouth. Have I died and gone to werewolf heaven? I bitehard enough to make her scream. She writhes against me. Before she's recovered, I give her other nipple a vicious pinch.

Shifter's Galaxy: Accommodating Desire is an m/m/f BDSM sci fi story set in the same world world of my Shifter's Station collection and it's coming your way in less than a week. Here's a little sneak peak…..
Shifter's Galaxy: Accommodating Desire
by Silvia Violet
Ian Hadley opened the door to the reception area for the Alkestis offices. A Vindolesian with the characteristic grass green hair and onyx eyes burst out of Ms Vasilia's office. "Stupid bitch," he yelled as he threw a nano tablet at the receptionist, narrowly missing her head. "If that slut thinks she can keep us out of her fucking market, she's even stupider than I thought."
Ian stepped into his path. "You would be wise to retract that last statement."
The Vindo shoved at Ian's chest. "Fuck off, asshole."
In one swift motion Ian drew his plasma gun and shoved the man up against the wall, weapon pressed under his chin. "If I or one of my employees hear you refer to Ms. Vasilia like that again, those will be the last words you ever speak."
"Jeez, lighten up man. You fucking her or something?" Ian shoved the weapon harder against the man's chin. The Vindo made a choked gasp. "Fine. Fine. I'll lay off your girlfriend."
"I respect the women I do business with, and I will defend their honor even if that means some asshole has to die. Don't let me see you on this station again."
Ian stepped back and the Vindo scrambled to the door and disappeared down the corridor.
***
Lucy Vasilia electronically signed a document and folded her nano tablet before looking up at Ian Hadley. She made a final, slow perusal of his well-toned physique, suppressing a sigh that their meeting had come to an end. "That should conclude our business. I've sent a copy of the contract to your ship's computer."
He smiled, a slow, sensuous curve of his lips. "Excellent." He made no move to leave her office.
"Did you have further questions?" Lucy managed to keep her tone professional though he made her want to purr.
"I do have one question." He paused, his bright blue eyes hot and unrelenting. "Would you like company?"
Lucy titled her head and stared at him. "For what?"
His smile deepened. "When I fuck you."
Lucy sucked in her breath. "Presumptuous, aren't you?"
"I've seen your eyes drifting down to my cock. You want this as much as I do."
She stared pointedly at his crotch. His erection threatened to burst one of the seams of his expensive suit. "You certainly are making a rather impressive display."
He smirked. "Indeed."
"I assume you'd like your Head of Security to join us?"
"Ah, so you did do your homework."
"I never meet with anyone I haven't researched thoroughly. You hired Langley at Captain Devlin's suggestion." It was a statement, not a question.
Ian nodded. "Devlin said to tell you hello by the way."
"Did he indeed? I take it Chief Langley isn't fully human."
Ian shook his head. "He's not, but I have the impression you won't be disturbed by his particular needs."
She grinned. "I'm not as fragile as I look."
"I never thought you were. So what will it be? How much hard use are you game for today?"
She nearly choked. "I can take whatever you and your lover want to give."
"You may live to regret that statement. When?"
She held up a finger signaling him to wait and pressed a button on her desk unit, paging her receptionist. "Cynthia."
"Yes, Director?"
"Cancel my next two appointments."
Ian raised his brows, studying her curiously.
A sharp voiced erupted from the comm. Unit. "With all due respect, Director, the delegation from-"
"My business with Mr. Hadley is taking longer than expected. I will simply have to reschedule."
"Yes, Director." Cynthia sounded resigned.
Lucy looked at Ian, fighting the urge to tremble. The sexual heat in his eyes was devastating. She'd never slept with a business associate, and she'd certainly never cancelled an appointment so she could get a quick fuck in her office.
Then again, she couldn't recall a man who'd ever turned her on as hard and fast as Ian did. She'd glimpsed him with his lover as she'd headed to dinner the night before. Connor Langley was a glorious mix of beauty and pure animal power. He moved with a panther's grace, but she had no doubt he could kill most men one-handed. She'd been working her ass off. She deserved a treat. "Call Langley now."
He pressed a button on his wrist unit. "Langley, you're needed in the Director's office."
"Is there a problem, sir?"
"No, we are simply in need of a . . . consultation."
"I will be right there, sir, " Langley responded.
Learn more here.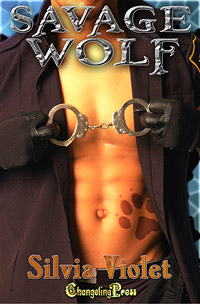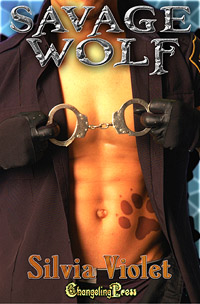 Woohoo! Protect and Serve: Savage Wolf is available now at Changeling Press!
I'm Wolf, Officer Aidan "Wolf" Savage. I'm a werewolf. But unlike most of my kind these days, I'm one of the good guys even if I do scare the hell out of most people the first time they meet me. When a white-tailed deer shifter comes leaping into my life, she makes my body hotter than an erupting volcano. She's on the run, and she doesn't want my help. But I'm not about to let her get herself killed, and I'll use any means necessary to keep her safe.

Later this week, Protect and Serve: Savage Wolf will be released. Isn't the cover simply luscious? I'm so excited about being part of this fantastic series.  Here's a little taste of what my story has to offer…..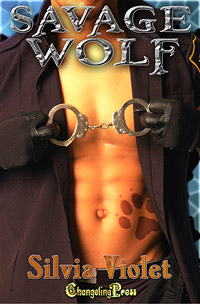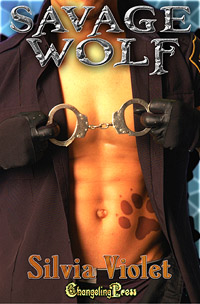 Protect and Serve: Savage Wolf by Silvia Violet
I'm Wolf, Officer Aidan "Wolf" Savage. I'm a werewolf. But unlike most of my kind these days, I'm one of the good guys even if I do scare the hell out of most people the first time they meet me.
I'm a damned good cop. If I'm tracking a criminal, he doesn't stand a chance of getting away. I love the chase, the take-down, the chance to be scary-as-hell, but there's one thing I hate about this job: stakeouts.
That's what tonight is all about, sitting in a hot, muggy car, eating doughnuts and watching the woods for signs of life. Man what I wouldn't give for a beer right now. And a warm house and a warm woman. Ok, that train of thought isn't doing a damn thing for me. Because my partner and I are stuck right here until we see something, or the sun comes up.
Jacobson, my partner, crushes his paper coffee cup and tosses it in the bag that serves as a trashcan. "I so don't want to do this shit tonight."
I don't think his comment deserves a response so I take a sip of my own coffee, which is damn near empty too.
Jacobson stares hard at the fence outside his window. "Do you actually think we're going to see anything? Anyone could have dumped those bodies by the park. Why would they come back now?"
We're parked along the outer perimeter of City Park. In it's heyday it was a place for city residents to relax, have a picnic, get some exercise, and remember what trees actually looked like. When the economy went south, the city stopped maintaining it. Now it's an overgrown eyesore used primarily by the homeless, drug addicts, and kids looking for a thrill.
The department is constantly getting complaints about the vermin that thrive in the undergrowth, both animal and human. But recently, the volume of calls about trouble in the park has increased, and two teenagers were found dead at the park's northern gates last night. They'd been shot, execution style.
I take another sip of coffee before responding to Jacob's questions. "We've had too many complaints and none from the usual suspects. Something's up."
"Gang initiation?" Jacobson suggests.
I shake my head. "I don't think so."
His eyes narrow. "You smell something, don't you?"
I nod. Under the smells of sex, beer, and greasy food, there's an odd chemical odor. I can't place it, but I'm certain it doesn't belong in the park. It hadn't been there a few months ago when I'd pulled the short straw and been sent to run off a bunch of kids who'd come out here to party.
Before I can describe the smell to Jacob, I hear distant footsteps pounding the pavement. "Someone's running this way. Someone fast."
Jacob nods. I doubt he can hear a thing, but he's learned to trust my non-human ears without question. A few seconds later, a woman comes into view. She's wearing a sundress and a pair of high-heeled sandals so I doubt she's running for her health. Not that any sane woman would be at night in this part of town.
She has straight, reddish-brown hair that swings past her waist. Her heavy, round breasts are barely contained by her dress. Long shapely legs reach out for the ground making my cock sit up and say hello. Her strides are so long she's practically leaping.
She's moving faster than any human should be in shoes like that. The wolf inside me begs me to chase her for the sheer thrill of apprehending such a hot piece of flesh. But my cop instincts tell me this woman is our key to what's actually going on in the park.
Jacobson reaches for the door handle, but I lay a hand on his arm, stopping him. "Not yet."
"She's not out for an evening jog, Wolf. Someone's chasing her."
"Exactly. And we need to know who and why."
Learn more here.