Posts Tagged 'werewolf'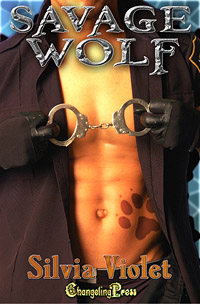 Protect and Serve: Savage Wolf is now available at ARe! I'm so excited about sharing this book with all the readers there. Here's a little taste to whet your appetite….
Savage Wolf by Silvia Violet
I'm Wolf, Officer Aidan "Wolf" Savage. I'm a werewolf. But unlike most of my kind these days, I'm one of the good guys even if I do scare the hell out of most people the first time they meet me. When a white-tailed deer shifter comes leaping into my life, she makes my body hotter than an erupting volcano. She's on the run, and she doesn't want my help. But I'm not about to let her get herself killed, and I'll use any means necessary to keep her safe.
Excerpt:
I tried to make myself be a gentlemen and roll off my naked little shifter. But werewolves aren't gentlemen. I heard her racing heart and smelled the hot cream between her legs, and my wolfish side begged me to shove her legs up onto her chest and bury my cock in her pussy. Then she shocked me by opening her legs and inviting me in. How could a man say no?
And, by all that's holy, she said those four words that just about made me lose it before I'd even gotten inside. "I like it rough." Just what an alpha wolf like me needs. A woman who appreciates my appetite.
When I drive into her, holding nothing back, she cries out. Her pussy holds me tight. I fight to hold still and let her adjust to my size. But she wraps her legs around my hips and bucks against me.
"More," she begs, and I'm not about to deny her. I slide out nearly all the way. She whimpers.
I thrust back in, and she groans, "Yes." After that I ride her hard and fast. She meets every stroke, slamming her hips against mine. I fuck her with brutal strength, and she keeps crying for more. I'm in heaven.
Her gorgeous breasts bounce up and down in rhythm with my thrusts. I can't wait another second to get better acquainted with them.
I shift my weight to one arm, and use the other hand to cup the tantalizing flesh, which is as soft and smooth as it looks. I slide my thumb back and forth over her tightly puckered nipple, and I'm rewarded with a sharp cry.
I keep up the light, teasing strokes. She arches toward my hand, whimpering. I pinch and tug on the pink bud. She bucks so hard she nearly unseats me. "Yes, God, yes!" she cries.
I need one of those sensitive nipples in my mouth like I need to breathe. I grab her hips, holding her firmly on my cock as I sit back on my heels. She lets her torn dress and bra slide from her arms. Then she wraps her arms around my neck and pulls herself up until she's seated in my lap. Now I can lick and suck and bite those hard buds all I want while driving myself even deeper inside her tight, wet cunt.
As if she can read my mind, my doe pulls my head down to her breast. I draw a pink tip into my mouth and suck hard, letting my teeth sink in just enough for her to feel them. She cries out, digging her hands into my scalp. "Harder, oh God, harder. I . . ."
I glance up without letting go of her nipple, desperate to know what she wants to say. Her deep brown eyes are wide and filled with need. "I like it to hurt."
I nearly choke around the hard flesh in my mouth. Have I died and gone to werewolf heaven? I bitehard enough to make her scream. She writhes against me. Before she's recovered, I give her other nipple a vicious pinch.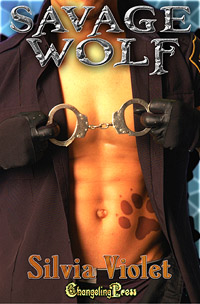 Make Steak Diane. Bake some potatoes. Load them up with butter, sour cream, bacon and cheese. Then come to dinner wearing nothing al all.
Officer Wolf: Silvia's onto something here. I would definitely go for that. Manly food. Nakedness. Dirty sex for dessert. I'm all for it.
Get better acquainted with Officer Wolf in Protect and Serve: Savage Wolf by Silvia Violet

On a Full Moon by Silvia Violet
"Damn it!" Samantha tripped over a branch and cursed for the millionth time that night. What on earth had possessed her to go for a walk so close to dark, and how the hell was she going to find her way out of these woods?
An owl hooted and something rustled in the trees behind her. Sam spun around, her hand coming unconsciously to cover her pounding heart. She couldn't see anything. The narrow beam from her tiny flashlight illuminated only a few feet of the path in front of her. The moon was full but under the dense tree cover, little of its light shone through.
Somehow she'd made a wrong turn, but now she was so lost she would be damned lucky to get out before dawn. She had no clue what trail she was on, but she kept walking, too restless to stop and too scared to dare try to sleep.
Several hundreds yards ahead, the path opened into a clearing. Moonlight shone through the opening in the trees making it appear almost bright there. As Sam got closer, she realized the clearing was occupied. A large black wolf stood right in its center.
It turned toward her, and Sam ducked behind a tree. Her heart hammered in her chest, and sweat slid down her back. She held her breath, not daring to move. But the wolf had heard her. He stared in her direction, a low growl emanated from him mouth. He lowered his nose to the ground and sniffed.
Sam's lungs burned; she needed air. She wanted to run but stood frozen to the ground. Her fingers dug into the bark of the tree until she felt it rip her skin.
The wolf raised his head and looked right at her. His eyes were the color of the sky on the most perfect of spring days, yet they penetrated her as if he could see straight through the tree and into her heart.
He began to walk toward her.
She tried to get a grip a solid grip on the bark. Could she climb the tree? Could wolves climb trees? Why didn't she know the answer to that?
She shouldn't run. Shouldn't show her fear. But her heart threatened to explode, and she could no longer hold her breath in her burning lungs. It rushed out and then shot back inside in short, harsh pants.
The wolf was so close now she could reach out and touch him if she so dared. The taunting glimmer in his strangely blue eyes told her that he was no big dog wanting to be petted.
Then he lifted his snout and howled. Shivers ran through Sam's body. And so did a stab of . . . lust? She could only assume it was a reaction to the adrenaline coursing through her body.
Light flashed. It seemed to surround the wolf before dissipating. The wolf raised up on his hind legs. They began to lengthen. His front feet grew into arms. His snout shortened. It all happened too fast for Sam to register the entirety of the change. Within seconds, a man stood in front of her.
A sinfully gorgeous, naked man whose thick, hard cock reached almost to his navel. He stood well over six feet and his muscles were long, lean, and clearly defined just as the wolf's had been. Closely-cropped black hair stood out on his head like he'd already been rolling around on the ground taking the pleasure his body was intent on. His eyes hadn't changed. They were still the same shade of sky blue.
Sam wondered if she were dreaming. Had she fallen and knocked her head? Had she fallen asleep as she walked? If she were, she didn't want to wake up. Not if this man intended to act on the lust blazing in his eyes. He took a step toward her.
She was hyperventilating, but she couldn't slow her breathing and she couldn't move. While running from a wild animal was not the best course of action, running from a strange, naked man whose eyes clearly showed the lascivious thoughts in his mind was the only sane thing to do. But this man was also a wild animal. And Sam wasn't sane. Her body craved him like he was made of chocolate. Hot cream slid from her body, dampening her panties.
The man stepped so close she could feel the heat radiating from his body. "You shouldn't be here." His voice was rich and smooth. Sam's knees weakened. She nodded in agreement but she didn't move. This had to be a dream. If is wasn't a dream she'd be running for her life, not staring at his full lips and wondering when he was going to kiss her.
"The change plays hell on our hormones. When I'm back in human form, all I want is a rough, hard fuck."
Sam tensed and stopped breathing altogether. She'd grown so wet her panties and jeans were soaked.
"I'm going to count to five. If you're still here when I'm done, I'll assume you're going to give me what I want."
Sam opened her mouth, but nothing came out besides a squeak.
"One." Sam looked up into the man's eyes. The blue had darkened and she either saw or imagined a leap of blue flame. She couldn't look away.
"Two." He stepped even closer. If she could remember how to breath, her chest would brush his as she did so. "Three." He leaned forward and braced his hands on the tree, trapping her between his arms. "Four. Five."
His mouth crushed hers as his body pinned her against the tree. Sam arched against him, desperately needing pressure on her clit. She rubbed herself against the hard length of his erection while his tongue and teeth savaged her mouth.
He pulled back. She moaned and opened her eyes. His face looked pained. He took another step back. "Take off your clothes, or I'm going to rip them off."
Dear God, he was barely under control. A jolt of need rocked Sam's body at the thought. She'd always wanted a lover who would take her with no restraint.
"Now." The word came out as a growl.
Sam gripped the hem of her T-shirt, pulling it off in one motion. Then she unzipped her jeans and pushed down off her legs, kicking them off along with her shoes. She reached for the clasp of her bra just as the man's control broke.
He gripped the waistband of her satin panties and ripped them in half. As he tossed them to the ground, he picked up her T-shirt and spread in on the ground like a small blanket. "Get down on your hands and knees."
She obeyed instantly.
He dropped to the ground behind her and grasped her hips, pulling them so high she was forced to drop to her elbows. She felt the tip of his cock brush across her lips, sliding through her wetness until he could rub it against her clit. She moaned. "Please."
He gave a low laugh. "I think you're as hot as I am. And you haven't even Changed." She pressed back against him, desperate to feel him inside her.
He groaned. "Get ready." She sucked in her breath as he positioned himself at her entrance. He pulled her hips back as he thrust, fully seating himself in her. She gasped. Damn he was big. The fullness was almost pain, but her body adjusted quickly. Already she wanted him to move. She whined and tried to move her hips. But he held her against him. "I'll do the fucking."
She whimpered. She'd dreamed of a man controlling her like this. She loved it, but still her hips fought his hands. Her need to be fucked overran her need to be dominated.
He started to move, but his pace was too slow. She struggled again. "Please. I need it."
He wrapped her braid around on of his wrists, jerking her head back. "You'll get it when I'm ready to give it to you."
She tried to hold it in, but another whimper escaped.
He pushed on the small of her back until she dropped her chest to the ground.
"Touch yourself while I fuck you."
She groaned and wiggled until one of her hands could slip beneath her. She let her nails rake her belly before her hand reached her swollen clit. She made a v with her fingers and pressed down just as he surged back into her body. The intensity of the pleasure sent a wave of dizziness through her.
He increased his rhythm as she worked herself, finally giving her the hard fuck he'd promised. He thrust so deep and hard his balls slapped against the lips of her pussy at the end of each stroke, sending jolt of sensation to her clit which felt ready to burst. She hovered on the edge of orgasm.
He reached underneath her, circled her wrist with his hand, and pulled her hand away from her pussy. "I'm not ready for you to come."
"Please." She fought him, trying to free her arm. But he held it tight and grasped her other wrist as well, pinning her to the ground as his whole body lay over hers. He fucked her relentlessly. Little cries escaped her lips with every punctuating thrust. Once again, her clit tightened, getting ready to explode. Then he pulled out.
She tried to protest, but she couldn't catch her breath to speak. He flipped her to her back and pinned her wrists above her head with his hands. Her thighs fell open as his cock to her opening once again. But he stopped there, the tip of his cock barely brushing her. "Look at me."
She opened her eyes. The man's gaze pinned her as surely as his hands had a moment before. "I want you looking at me when you come." He thrust into her. Her hips bucked up and she struggled, fighting to feel every inch of him, fighting to get pressure on her clit as his pelvic bone slammed down against hers. She wrapped her legs tightly around his hips, determined to hold him inside her. This time, he was going to let her come.
Her climax rose like a wave through her body. She was so close. She prayed he wouldn't stop. He thrust deep and stayed inside, grinding his pelvis against her. Her body tensed. Her breathing stopped. She feared her heart had stopped too. Then pleasure beyond any she'd felt before pulsed out from her clit, wracking her entire body.
He pulled back, but her body gripped him tightly and pulled him back in with contraction after contraction of her pelvic muscles. He growled, low and long. Then he convulsed against her with a shout.
For many long minutes, they lay still. Sam enjoyed the firm weight of him on top of her as she floated in a world of pure sensation.
When he stirred, she expected to feel embarrassment, even horror at what she'd done, but the feelings didn't come. All she felt was intense satisfaction. She didn't even care whether she'd really seen him change from a wolf into a man or how that could be.
When he pulled out of her body and sat up, she reached for his arm. His eyes looked down into hers. "Will you be here again on the next full moon."
He smiled. "Yes, I will. And so will you."
For more wolfy goodness, check out Savage Wolf or my Wolf Caller series.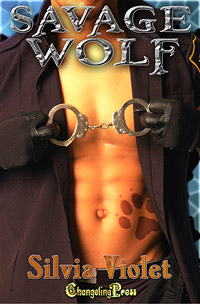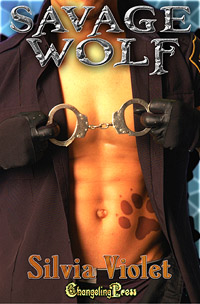 Woohoo! Protect and Serve: Savage Wolf is available now at Changeling Press!
I'm Wolf, Officer Aidan "Wolf" Savage. I'm a werewolf. But unlike most of my kind these days, I'm one of the good guys even if I do scare the hell out of most people the first time they meet me. When a white-tailed deer shifter comes leaping into my life, she makes my body hotter than an erupting volcano. She's on the run, and she doesn't want my help. But I'm not about to let her get herself killed, and I'll use any means necessary to keep her safe.

Later this week, Protect and Serve: Savage Wolf will be released. Isn't the cover simply luscious? I'm so excited about being part of this fantastic series.  Here's a little taste of what my story has to offer…..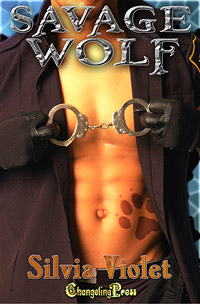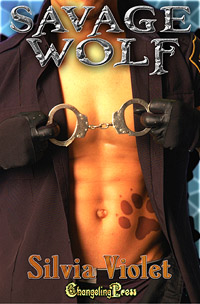 Protect and Serve: Savage Wolf by Silvia Violet
I'm Wolf, Officer Aidan "Wolf" Savage. I'm a werewolf. But unlike most of my kind these days, I'm one of the good guys even if I do scare the hell out of most people the first time they meet me.
I'm a damned good cop. If I'm tracking a criminal, he doesn't stand a chance of getting away. I love the chase, the take-down, the chance to be scary-as-hell, but there's one thing I hate about this job: stakeouts.
That's what tonight is all about, sitting in a hot, muggy car, eating doughnuts and watching the woods for signs of life. Man what I wouldn't give for a beer right now. And a warm house and a warm woman. Ok, that train of thought isn't doing a damn thing for me. Because my partner and I are stuck right here until we see something, or the sun comes up.
Jacobson, my partner, crushes his paper coffee cup and tosses it in the bag that serves as a trashcan. "I so don't want to do this shit tonight."
I don't think his comment deserves a response so I take a sip of my own coffee, which is damn near empty too.
Jacobson stares hard at the fence outside his window. "Do you actually think we're going to see anything? Anyone could have dumped those bodies by the park. Why would they come back now?"
We're parked along the outer perimeter of City Park. In it's heyday it was a place for city residents to relax, have a picnic, get some exercise, and remember what trees actually looked like. When the economy went south, the city stopped maintaining it. Now it's an overgrown eyesore used primarily by the homeless, drug addicts, and kids looking for a thrill.
The department is constantly getting complaints about the vermin that thrive in the undergrowth, both animal and human. But recently, the volume of calls about trouble in the park has increased, and two teenagers were found dead at the park's northern gates last night. They'd been shot, execution style.
I take another sip of coffee before responding to Jacob's questions. "We've had too many complaints and none from the usual suspects. Something's up."
"Gang initiation?" Jacobson suggests.
I shake my head. "I don't think so."
His eyes narrow. "You smell something, don't you?"
I nod. Under the smells of sex, beer, and greasy food, there's an odd chemical odor. I can't place it, but I'm certain it doesn't belong in the park. It hadn't been there a few months ago when I'd pulled the short straw and been sent to run off a bunch of kids who'd come out here to party.
Before I can describe the smell to Jacob, I hear distant footsteps pounding the pavement. "Someone's running this way. Someone fast."
Jacob nods. I doubt he can hear a thing, but he's learned to trust my non-human ears without question. A few seconds later, a woman comes into view. She's wearing a sundress and a pair of high-heeled sandals so I doubt she's running for her health. Not that any sane woman would be at night in this part of town.
She has straight, reddish-brown hair that swings past her waist. Her heavy, round breasts are barely contained by her dress. Long shapely legs reach out for the ground making my cock sit up and say hello. Her strides are so long she's practically leaping.
She's moving faster than any human should be in shoes like that. The wolf inside me begs me to chase her for the sheer thrill of apprehending such a hot piece of flesh. But my cop instincts tell me this woman is our key to what's actually going on in the park.
Jacobson reaches for the door handle, but I lay a hand on his arm, stopping him. "Not yet."
"She's not out for an evening jog, Wolf. Someone's chasing her."
"Exactly. And we need to know who and why."
Learn more here.

This week's Changeling Bar and Grille theme was shape-shifter menage. I wrote this 100 word flash piece for the theme:
Jake's claws slid out and dug into Liz's hips. He froze. Afraid of how she would react.
But she showed no sign of fear. Instead, she moaned around his friend's cock and shoved her hips back, taking Jake deeper.
He let his claws sink into her flesh, deep enough to sting.
She went wild, bucking against him, begging for more. He gave her his full length, pounding against her, no longer trying to hold back his animal nature. She squeezed his cock, pulling him toward orgasm as his friends fucked her mouth and howled.
Be sure to stop by the Bar and Grille next Friday to see what the Changeling authors are up to.