Anticipating Temptation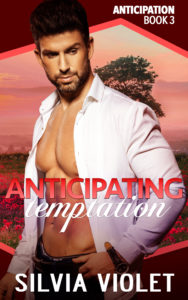 Anticipation
Anticipation 3
July 26
Marty doesn't want to need a Daddy, but he's still anticipating temptation...
Marty's new boss pushes all his buttons. He's confident, capable, and he expects to get his way.
But Marty's past experience has made him wary of dominant men and determined to establish his independence. Even if deep down he knows Rob will treat him right, he can't put his new job at risk. Everyone knows sleeping with your boss is a terrible idea.
Rob is the CEO of a company he built himself. He's wealthy and successful, but he's also lonely.
While he'd never admit it, he longs for a place to call home and a man to love.
Before he met Marty, Rob never felt such a protective urge toward anyone. When he hires Marty to be the housekeeper for his new ranch, Rob doesn't just want Marty to work for him. He wants to be Marty's Daddy. Rob is a man who always goes after what he wants, even if he has to break some rules.

Excerpt
**Unedited Excerpt**
He looked up, right into Rob's heated gaze. "Yes, Daddy. Tell me what to do."
Rob's eyes widened, and he sucked in his breath. "That is so fucking hot."
Marty nodded, not sure he could form words.
"I'm going to take such good care of your boy. Now put your hands on the stall and don't move."
"H-here?" Marty squeaked. "We're doing this here."
Rob nodded. "I like to take risks. It's my job to worry about that and yours to enjoy what Daddy does for you."
"O-okay." Marty used to be a risk taker, but since he'd move to Anticipation, he'd been such a good boy. Was he really going to let Rob fuck him in the barn when anyone could come in?