Arresting Love by Silvia Onyx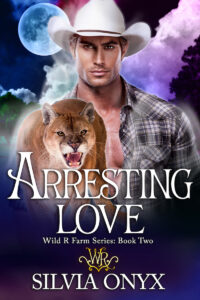 Wild R Farm 2
January 20, 2023
Billy can manage a ranch with ease, but can he handle a man with claws?
I didn't believe true love existed until I watched my grumpy boss fall head over heels. I'd told myself managing the ranch was my life, and I was happy to do it alone. Then I rescued Levi, a wounded shifter in desperate need of help, and something flared to life inside me. He's my destiny, and I will do anything to protect him.
Heat sizzles between us, but as much as I long to act on it, I refuse to take advantage of him while he's vulnerable, even when he begs me to.
As his past begins to catch up to him, I realize I might lose my chance to truly make him mine. We will both have to fight with everything we have to find the life we deserve.
2nd Edition. Arresting Love was previously published in 2012 as Silvia Violet.

Excerpt