Arresting Love (m/m)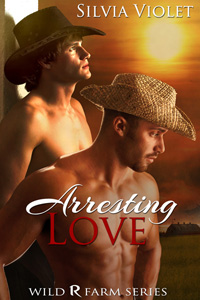 Wild R Farm
Wild R Farm 2
Silvia Violet Books
Billy Lawson is jealous. Every day he watches his boss, Cole, and his boss's lover, Jonah, prove again and again how deeply in love they are. Billy's never had a real relationship, and he didn't believe true love existed until Cole proved otherwise. Now, he longs for what Cole and Jonah have.
When he meets Levi, a scared, wounded shifter who needs his help, he ignores the chemistry that flares between them, thinking he'd be taking advantage of Levi at a vulnerable time in his life. Before Levi can convince Billy they were made for each other, his past catches up to him, and both men must fight for a chance at love.
Excerpt
Chapter 1
The crazy cuckoo clock his boss's lover had rescued from the farmhouse attic began to chirp, signaling the start of a new year. Cheers went up from the hands, and Billy watched his boss, farm owner Cole Wilder, pull Jonah to him for a kiss.
Billy took a pull from his beer and tried to make himself look away, but he couldn't keep from staring as Cole staked his claim, seeming to devour his young lover. Jonah gave back as good as he got, and Billy's cock stirred in his pants. The two men were beautiful together.
When Cole finally pulled back, the look on his face made Billy's chest ache. No one could miss seeing Cole's love for Jonah. They had a bond that was strong as steel, and Billy was jealous.
Four years ago when he'd been hired as barn manager at Wild R Farm, Billy had developed a crush on Cole, but he'd quickly realized Cole would never see him as more than a friend. He'd accepted that. He treasured their friendship, and he'd never forgotten that Cole had given him a chance when he could have hired someone better educated with years more management experience. But watching Cole and Jonah together made him long to connect with someone. Having a man look at him the way Jonah looked at Cole would be a taste of heaven.
Billy drained the rest of his beer. That line of thinking would do nothing but depress him. He needed to be thankful for what he had. The chance of finding the kind of love Cole and Jonah shared was nearly non-existent. He was starting another year doing a job he loved on a farm where he didn't have to hide the fact that he was gay. Considering he'd been kicked out by his family at seventeen, he'd done a damn fine job of pulling his life together.
It wasn't in his nature to be morose, but he'd be turning thirty this year, and he was getting tired of living in a bunkhouse, no matter how much he enjoyed the company of the hands he shared it with. He was weary of men who wanted nothing more than a hard, rough fuck behind a trailer at a horse show. He wanted a home and someone to share it with. Age was making him soft.
He stepped onto the farmhouse porch and took a breath of the chilly night air. He shivered, but he'd rather be out here than in the crowded house especially in his current mood. He leaned against the porch railing and listened to the rush of water in the stream that ran behind the house as he tried to push his depressing thoughts away. One of the horses whinnied, and he wondered if going for a midnight ride would help.
"What you doing out here?" Cole asked, stepping out on the porch and letting the screen door slam behind him.
Billy shrugged. "Just gettin' some fresh air."
Cole frowned. "Are you okay?"
"Yeah, you know I don't like crowds."
Cole snorted. "Me either. I'm about to get rid of everybody since we've rung in the New Year.
This whole party thing was Jonah's idea. I had a much better plan for the night, but he wouldn't listen."
Billy forced himself to smile. "I'm guessing your plan involved Jonah naked and flat on his back."
Cole grinned. Then he narrowed his eyes and studied Billy. "Are you sure you're all right? You've been grouchy for weeks now."
Billy raised his brows and looked pointedly at Cole.
"Yeah, yeah. I'm grouchy all the time. I know it." Cole said.
Billy rolled his eyes. "Damn temperamental wolf."
Cole snorted. "I'm better than I used to be, now that I've got Jonah." As soon as those words came out, Cole tensed.
Jonah's brother, Nathan, had kidnapped Jonah, drugged him so he had to remain in horse form, then sold him. Fortunately, he'd ended up at Cole's friend's horse sanctuary. As Cole and the rest of the crew at the farm fought to keep Jonah safe, Billy ended up in a fistfight with Nathan. In the aftermath, Cole finally realized Billy had hoped for more than friendship between them.
Fortunately, Cole hadn't freaked out, but he was still sensitive about talking to Billy about his relationship with Jonah. Billy wished he'd just get over it.
"You're right. Jonah's been good for you." Billy clapped him on the shoulder, and Cole looked his way, tension easing.
"You should take some time off," Cole said. "With planning the addition to the barn and new horses coming in, you've been working non-stop for weeks."
That was true, but when he was working, Billy didn't feel lonely, and he didn't have time to be jealous of Cole. "I don't mind. I'd rather be working with the horses than doing anything else."
Cole frowned. "When was the last time you left the farm?"
Billy shrugged. "I don't know. I went into town a few weeks ago."
Cole raised his brows and glared.
"I'm fine. Really."
"You need a vacation."
Billy shook his head. "I'm happy here. There's nowhere else I want to go."
He'd spent his late teens and early twenties wandering, finding work where he could, never staying anywhere long. Now that he had a place he felt safe and accepted, he never wanted to leave.
Cole leaned closer and sniffed. It had taken Billy a while to get used to Cole's werewolf habits, but now he took such things for granted.
"Something's bothering you," Cole said. "I can smell it."
"I'm just keyed up. It's probably the barn addition. I want to be sure I've got all the details right before we break ground."
"You need to relax," Cole insisted.
Billy scowled. "The last thing I need to is sit around on my ass. You know I can't stay still long."
"Maybe you need to learn how. You're taking a three-day weekend starting next Friday, and I won't listen to any complaints."
Three whole days to think about everything he didn't have instead of concentrating on what was right in his life. "Where the hell do you expect me to go?"
Cole frowned. "I don't know, but I'll figure it out and let you know."
Billy glared at him. "You're not sending me on a trip."
Cole growled. "The hell I'm not. Consider it a bonus."