Perfect Alignment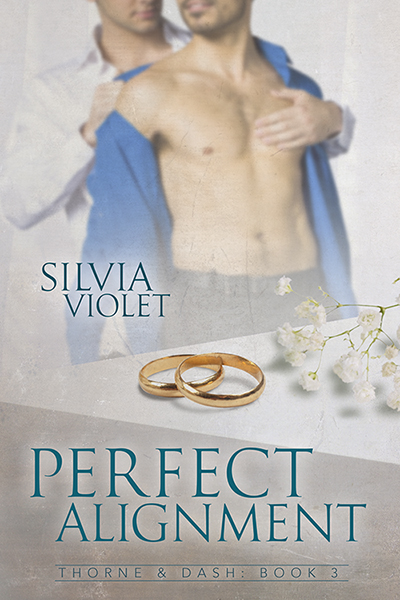 Thorne and Dash
Thorne and Dash 3
November 15, 2016
Thorne proposed to Riley. Riley accepted.
Thorne thought that was that. They'd take a nice trip, get married, and spend a week luxuriating in a five-star hotel with occasional excursions to fabulous restaurants.
Riley imagined a traditional wedding with all the trappings. With all their friends and family. At Christmas.
Thorne concedes reluctantly, and a flurry of wedding planning ensues. At the same time, Thorne is wrestling with a recalcitrant client, and Riley and his business partner, Susan, are consumed with renovations and planning for the opening of their bakery. Stress on top of stress makes both Riley and Thorne doubt their relationship, and a major misunderstanding nearly silences the wedding bells.
By the time they reach their happily ever after, they're both going to deserve all the romance they've been dreaming of.
Purchase in multiple formats at Payhip

Excerpt
The maître d' at Bavaria Haus recognized Thorne immediately. "I have your table ready, sir, and your server will bring out the wine you requested right away."
Bavaria Haus didn't take reservations unless you were Thornwell Fucking Shipton, and Riley noticed the dirty looks they received from several patrons who were waiting in the crowded lobby. One grumbled about entitled pricks loudly enough for Riley to hear, but if Thorne noticed, he didn't seem to care. He'd likely heard worse complaints about his behavior that very day at the office.
A server appeared before Riley had a chance to say anything. He opened the wine and started to pour some in Thorne's glass for him to taste, but Thorne waved his hand toward Riley.
"It's my partner the wine should impress."
The man nodded. "Of course, sir."
Riley nearly laughed at Thorne's satisfied grin. Thorne really did love when others did his bidding, which made it all the more special that he surrendered so beautifully to Riley.
Riley kept his eyes on Thorne as he sipped the wine, making a show of just how much he liked it. Thorne knew his tastes now: dry, red wine with berry overtones and a hint of smoke.
He sucked the wine off his bottom lip before setting his glass down. By then he was certain Thorne was hard and aching to adjust himself. He was practically panting. Riley might not be an escort anymore, but he hadn't lost his seduction skills even if he only used them on Thorne now.
He looked up at the waiter. The man's eyes were wide. Apparently, he wasn't unaffected either. "Perfect."
"I… I'm glad you like it, sir."
The poor server nearly dropped the bottle as he attempted to pour a full glass for Riley. He regained his composure and completed the task, filling Thorne's glass and then asking if they knew what they'd like.
Riley smiled at Thorne. "Have you chosen for us?"
Thorne relaxed under his attention. Of course he had, but he'd probably thought Riley would bristle at that. He used to, but now he knew it meant Thorne was trying to please him. If he really wanted something else, he could always speak up.
Thorne ordered kartoffelpuffer and beef rouladen, the same appetizer and entrée they'd first eaten here, despite the kartoffelpuffer not being on the current menu. He really was up to something.
When the waiter walked away, Thorne looked at Riley and smiled. "So you do remember?"
"That I ordered this on our first date? Yes."
"Was that a date?" Thorne asked.
"We wanted to pretend it wasn't, but yes."
"I agree."
Riley took a sip of his wine. "So…?"
"What?"
Thorne was trying so hard to be coy, and it was adorable, but Riley was feeling much too impatient to wait through it all. "You didn't get reservations tonight and attempt to recreate our first non-date for no reason."
"Of course I didn't." He signaled the waiter who came over immediately. "I had a package delivered here. Would you please bring it now?"
"Yes, sir."
"You can have a package delivered to a restaurant?"
"I can have a package delivered where I damn well please as long as I pay enough."