Taming Tristan (m/m)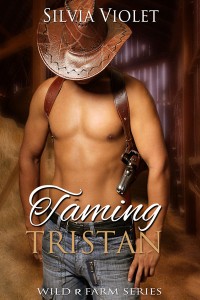 Wild R Farm
Wild R Farm 4
Silvia Violet Books
Private Detective, Wesley James, and horse shifter, Tristan Hayes, have spent the last few weeks adjusting to living together in Wes's house in Nashville. Night after night with a demanding stallion is wearing Wes out, but he doesn't mind. He loves Tristan more than he ever imagined, and he'll do whatever it takes to show him, even if that involves a spanking, some handcuffs, and a visit to the gun range. Wes almost lost Tristan once, and no matter how difficult Tristan makes it, he's determined to teach his man how to protect himself in his more fragile human form.
Excerpt
"Son of bitch tried to take my man," Tristan snarled.
"Shut up," Wes said through gritted teeth.
He held up his hands to the bouncer who looked like he was about to give them both another shove. "We're leaving, okay?"
Wes didn't wait for a response. He just took Tristan by the arm and dragged him toward the car.
When they were both seated and the doors were shut—or slammed in Tristan's case—Wes closed his eyes and scrubbed his hand over his face. "Why the hell did you have to start a fight?"
"That guy was rubbing up on you, humping you like a dog, and…and"—Tristan waved his arms wildly—"flirting with you!"
Wes shook his head and bit his lip to keep from laughing. He couldn't decide if he was pissed at Tristan or amused. Seeing him get all huffy and possessive was too damn cute. "Isn't that what you used do when you went out? Seduce men?"
Tristan looked at him like he'd lost his mind. "That's completely irrelevant. You're mine." He growled, sounding more like an enraged cat than a stallion. "The little slut."
Wes raised his brows.
Tristan glared, but his lip quirked up on one side. Finally, laughter won out.
"I can't believe you got us thrown out."
Tristan grinned, not the least bit remorseful. "Is that the first time you've gotten kicked out of a bar?"
Wes shook his head. "I used to go barhopping with Cole, remember?"
Tristan rolled his eyes. "Right. My temper is nothing compared to his."
"Yours is bad enough. You should come with reins."
Tristan glared in mock offense. "You can ride me bareback all you want, but you'll never put reins on me."
"Oh really?"
Tristan grinned. "I'd kinda like to see you try, though."
"Would you now?" Wes visualized Tristan stretched across his bed, hands and feet tied, completely at his mercy.
"Do you want to tie me up?"
Wes glanced quickly at Tristan as he pulled out into the road. "Yeah, I think I do."
"Too bad we're not back at the barn. They've got lots of rope and reins." He reached across the console and laid his hand on Wes's thigh, letting his fingers skim along the inside.
Wes tensed and tightened his grip on the steering wheel.
Tristan continued to tease him, drawing patterns on his inner thigh. "You really do like this idea, don't you?"
"Tristan," Wes growled. "I'm driving."
"There's no one else on the road now."
Wes sucked in his breath as Tristan moved closer to his cock with each stroke of his fingers.
"I bet you have some handcuffs, don't you?"
Wes made a strangled sound. "I'm a PI, not a cop."
"Sure, but what do you do when you catch a suspect?"
"My cases usually involve cheating wives and husbands or very petty theft. If something more serious comes up, I call the police."
When Wes stopped at a red light, he looked over at Tristan. The naughty stallion's brow was raised, and he was obviously not buying Wes's explanation. "Didn't you tell me you had a bounty hunter's license and that you take skip-tracing jobs sometimes? Bounty hunter equals man with sexy handcuffs, right?"
Wes sighed and looked back at the road as the light turned green. "Yes, I've got a pair of cuffs."