The Reaper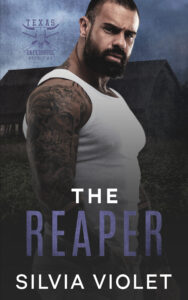 Texas Safehouse
Texas Safehouse 2
October 13, 2022
A marine. An assassin. A fine line between love and hate.
I've seen too much death as a marine and the son of a mafia boss's stooge. I finally have a chance to do what I've always wanted: raise horses. 
The catch: My brother's ranch is also a safehouse for men the police would never protect. 
TJ, our first client, is a hot AF mafia assassin who doesn't take no for an answer. He's the last man on earth I want to desire, and the only one I long for.
My self-control grows thinner each day until I give into TJ's demands, baring myself to him in more ways than one.  
TJ isn't the man I thought he was, and I can't fight what I feel for him, but the danger that sent him to the ranch is growing and sooner or later, he'll go back to his family. Do I fight for him or accept that we were never meant to be?

Excerpt