Tied to Home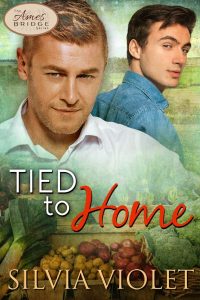 Ames Bridge
Ames Bridge 3
January 2, 2018
Luke Sumner has spent his whole life being coddled, after nearly dying as an infant. At twenty-one, he is more than ready to break free from his restricted world. He hasn't told anyone he's gay, and he's only just admitted his kinkier needs to himself, but he hopes to work up the courage to say something to the older man who has captured his attention.
Since moving back to Ames Bridge, Jack Lawrence has been consumed with running a successful bed-and-breakfast. He hasn't considered making time for relationships until he starts flirting with Luke each week at the farmers' market. By the end of the summer, Jack is wondering where the spark between them could go.
When Luke finally ventures into a club where he can fulfill his desires, he unexpectedly runs into Jack, and they discover they're a perfect match in the bedroom. With each hot encounter, more tender feelings surface, but between the age gap, not being out in Ames Bridge, and Luke's need to come into his own, do they dare be more to each other?

Excerpt
Luke doubted today would be any different. He couldn't take his eyes off Jack as he examined the berries Cal had for sale. His long-fingered hands gently cradled each basket as he searched for the best one. The gray pants he had on clung to his ass and his muscular thighs, and his deep-blue shirt would bring out the color of his beautiful eyes.
Jack looked his way, and Luke quickly dropped his gaze, praying Jack hadn't seen him.
For all Luke knew, Jack was straight as an arrow and would be disgusted if he realized Luke fantasized about him. But he'd seen Jack assessing other men in a way most straight men didn't. The fact that Luke had noticed meant he'd spent far too much time watching a man who probably thought of him as a kid. Why did he always crush on older men who were out of his league?
When Jack crossed the grassy area between the rows of booths, Luke's mouth went dry and his pulse pounded in his head.
"How's the afternoon going?" Jack asked.
"Um…fine. It's…uh…hot."
"It is. It shouldn't be this hot so far into September."
"Right. It…um…shouldn't." Great. He was making a fool of himself.
"How's your corn?"
The change of subject threw Luke at first. "Oh…um…it's still producing. We've got some beautiful ears right here." He pointed to his left where he'd placed the corn in bushel baskets. Produce was a safe subject. He could talk produce in his sleep.
"Great. I'll take some. I've got a recipe for a Mexican casserole I want to try."
"For your guests?"
Jack nodded.
"You…um…you seem to like choosing recipes for them."
"Cooking for people has become my favorite part of running the inn, which has really surprised me."
"Yeah?"
"Before I decided I wanted to run my own inn, I was, at best, a mediocre cook. I knew I wouldn't be able to hire anyone to cook for me, though, so I started watching videos and practicing, and now I'm quite good, or at least the guests think so."
"I bet you are." Heat filled Luke's face as he realized how breathless his words sounded.
"You should stop by the inn for breakfast sometime."
"Oh, um…" Luke's heart pounded.
"Since your family supplies so much of the food, it only makes sense for you to see how it gets used. And I like to show off my skills because I—"
"Worked hard for them." They said the words at the same time.
"I know that feeling," Luke said.
Jack smiled. "I guess you do."
Unlike most people, especially anyone older than Luke, Jack didn't patronize him. He simply acknowledged that Luke had worked hard for opportunities a lot of people took for granted.
"Call me if you want to stop by one morning."
Luke would love a chance to spend more time with Jack, but he also knew he wouldn't have the nerve to call. If he let Jack feed him a delicious breakfast, he'd be even more of a wreck around him than usual, or, even worse, he might lose his mind altogether, follow Jack into the kitchen, and try to seduce him right there.