Sweet Treats: Mint Chocolate Chip Cupcakes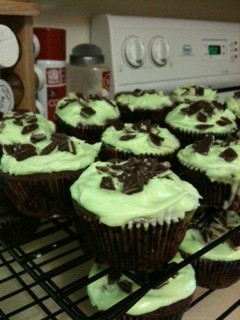 Cupcakes and brownies are my current obsessions. I've got a whole list of new recipes to try and this week, I made Mint Chocolate Chip Cupcakes. They were amazing!! So I had to share the recipe.
Chocolate Cake
1 cup sour cream (yogurt works too)
1 tsp baking soda
2 cups flour
½ cup Dutch process  cocoa powder
1 cup unsalted butter
1 cup granulated sugar
½ cup light brown sugar
1 tsp salt
2 eggs, plus 2 egg yolks
Combine baking soda and sour cream in a bowl and set aside. Combine flour and cocoa and set aside. Beat butter and sugars until creamy. Add salt and eggs and mix until thoroughly combined. Add flour mixture and sour cream mixture alternately starting and ending with flour. Mix after each addition.
Fill lined cupcake cups 2/3 full and bake at 350F for approximately 20 minutes.
Mint Frosting
1 cup butter, softened
1/3 cup heavy cream
1/4 tsp salt
2 tsp peppermint extract
4 cups powdered sugar
1 cup crumbled Andes mints
Place first five ingredients in mixer bowl and mix until creamy. Add sugar 1/2 cup at a time mixing until icing is the right consistency.
Ice cupcakes and top with Andes mints.

Comments
Selena Illyria says:

Looks sooo yummy!
*watches plot bunny bounce by*