Dinner with a Hero – Hank Edwards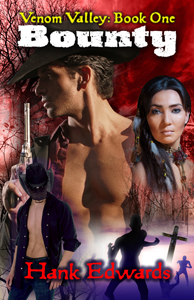 Today I'm thrilled to welcome, Hank Edwards, one of my favorite writers. He's here to share good food and an excerpt from his spooky, sexy, Western adventure, Bounty.
Hi Silvia, thanks so much for inviting me to share a recipe and a bit of story. My partner is the chef in our house, but I love sampling his recipes. He's adventurous and not afraid to try different ingredients together, whereas I pretty much stick to a written recipe. Even though he's the cook, I still have a few recipes I haul out and throw together for us, and since it's October and, like in my Old West vampire/zombie mash up novel "Bounty," it's starting to get cooler, this seems like the perfect time for comfort food. To hell with the calories, it's winter, we need to insulate! (I completely agree! – Silvia)
I've selected a recipe for Beef Chow Mein. My mother made this for us kids a lot growing up, it was a filling meal and made a pound of ground beef go a long way. It's one of my go-to dishes for cold days or those times you just want to sit and digest afterwards. I actually made this recipe for my partner's wacky cooking show, "Dish and a Drink," and you can see that episode on here.
This dish is really good fresh out of the oven, but even better warmed up the next day. And, since it's a Chinese Chow Mein dish, I'll include an excerpt from my book with Ling Chen, a Chinese frontier girl who has a small but pivotal role in "Bounty," book one of my Venom Valley Series. Thanks for stopping by, and happy eating!
Beef Chow Mein Dish
Ingredients
1 cup chopped onion
1 cup diced celery
1 ½ pounds ground beef
1 can cream of mushroom soup
1 can cream of chicken soup
1 cup cooked rice
1/8 cup soy sauce
1 small can mushrooms
1 can bean sprouts
1 can sliced water chestnuts
1 can chow mein noodles
1. Brown beef, onion, celery in a skillet. Drain.
2. Add remaining ingredients except chow mein noodles. Mix well.
3. Fold into a 9 x 13 dish.
4. Bake at 350 for 1 hour.
5. Top with chow mein noodles.
6. Bake 5 minutes longer.
7. Let stand 10 minutes before serving.
Bounty by Hank Edwards
Blurb:
Josh Stanton discovers he can raise the dead after his adoptive mother returns and tries to kill him. With a bounty on his head for her murder, Josh flees into the arid plains of Venom Valley, pursued by his best friend and deputy, Dex, and the two finally surrender to the love that's grown between them. Back in town, a powerful vampire stalks the girls working at the saloon, and Glory, a half white, half Indian saloon girl, depends on her Native American protective spirit to keep her safe as she fights to save her best friend, Edith.
Excerpt:
A sound outside the window brought him back, and Josh jerked his head up. The pale shape of a face hovered behind the glass, almond eyes wide and mouth round with shock. It was Ling Chen, the young Oriental girl Agnes had been instructing in English.
Ling's eyes shifted between Agnes's body and Josh's face.
Josh looked at Agnes, the rifle in his hand, and then back to Ling. In a moment of horrifying clarity, he understood how it must look.
"Ling," Josh croaked and rose to his feet, looking at the window again.
Ling was gone. Josh stumbled to the door, stepping out into the wind-driven night and squinting against the onslaught of sand. All he saw was the rear end of a horse galloping down the road, Ling hunched low in the saddle, snapping the reins hard as she rushed toward town and the sheriff's office.
"No, no, no, no," Josh moaned. He spun in place a moment, looking between the fleeing girl and the inside of the house. What could he do? Ling had seen him by the body, possibly seen him shoot Agnes. Even if he could bury Agnes's body, there would be questions and accusations, especially because of who he was. He would be thrown in jail, and at some point someone would miss Wayland Overbrooke and ride out to his farm and find him dead in the barn.
"Fuck!" he shouted into the furious wind of the night.
He hurried into the house and slammed the door, leaning back against it as he swept his gaze around the small rooms. He had been raised in this house, had spent hours by the fire with Agnes. How could he leave her like this, with no explanation, no respects paid?
But who would believe him?
Dex, maybe. But Dex was just a deputy. The rest of the town would believe what they wanted, even from a Chinese girl. They had made up their minds about him years ago. He had to run.
Keeping his gaze averted from Agnes's body, Josh moved through the house. He grabbed clothes, some dried meat, and bread. Crouching before the bookcase, he selected a few favorite books and stuffed them in his pack. Agnes had not only encouraged his reading, she had insisted that he devote time each day to it. He would not let her down now.
Picking up his hat, Josh turned to throw a final look at the body consumed by shadows.
"Rest in peace, Agnes," he whispered, his voice breaking on her name. "I will always be grateful for you."
He left the house and pulled the door closed behind him. Clementine stamped and snorted as he mounted her. Josh patted the side of her neck and leaned down to whisper in her ear.
"It's just us now, Clem."
He sat up and clicked his tongue as he pulled the reins. Clementine turned, and he urged her into a gallop, heading for the Overbrooke farm. He needed to try and find a connection between the farmer and Agnes. Then he planned to travel further outside of town to the house where he had once lived with his mother. It stood, vacant and decaying, on the edge of the brutal stretch of desert land known by those in Belkin's Pass as Venom Valley. He would be safe there for a day, maybe two. Perhaps something of his mother's still lay waiting inside the house that might help explain what happened when he got close to the dead.

Comments