Holiday Recipe Extravaganza – SJD Peterson
Candy Cane Brownie Lollipops
Ingredients:
1 package (18-21 oz.) fudge brownie mix (plus ingredients to make brownies)
24 candy canes
10 oz. chocolate-flavored almond bark
Additional decorations, such as red jimmies (optional)
Directions:
Line sheet pan with a piece of parchment paper. Lightly spray with nonstick cooking spray and set aside. Prepare brownie mix according to package directions. Pour batter into pan. Bake 30 minutes, or until wooden pick inserted in center comes out with moist crumbs attached. Remove from oven to cooling rack, and cool for 20 minutes or until slightly warm.
Meanwhile, cut straight ends of candy canes off to form 4½-inch sticks. Place candy cane tops into resealable plastic bag, and crush into small pieces. Set aside.
Roll brownie into 24 smooth balls. You can use a coffee scoop or something like that to make them the same size. (I didn't have a coffee scoop, so I just eyeballed it. As with my homemade candy canes, these are like snowflakes. Every one is different!) Then, insert candy cane sticks into centers of balls, mounding brownie around each stick.
Place almond bark into small bowl. Microwave according to package directions until smooth. (The microwave method didn't work out so well for me, so I used the stove-top directions the second time around. Worked like a charm!) Spoon melted bark evenly over each ball, turning to coat completely.
Allow excess bark to drip off. Dip into reserved crushed candy canes or jimmies, and stand upright on a piece of parchment paper. Repeat with remaining almond bark, lollipops and crushed candy. Let stand until set.
You can place into miniature cupcake liners and wrap lollipops in cellophane, tie with ribbon and use as table décor, place cards, or take-home goodies for a special holiday touch. Yields 24 servings.
After eating the brownie, may I suggest enjoying the candy cane as much as Leon and Jase.
"He nearly fell over the edge when Leon suddenly produced a thick candy cane and began sucking it deep into his mouth, bringing it nearly all the way out, letting his tongue swirl around the edge before sucking it back between those lush lips." from Leon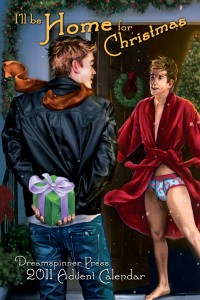 Leon
By SJD Peterson
After growing up poor in rural West Virginia, Jase McCoy doesn't have a single good thought for Christmas… until he dreams of a mysterious stranger who follows him home and treats him to a night of magical passion designed to convince Jase of the joys possible in the holiday season.
Excerpt:
In Jase McCoy's opinion, there was only one thing worse
than New York City during rush hour: New York City
during rush hour on Christmas Eve. Not that anyone
would ask his opinion. If they did, he'd admit that the
subzero temperatures, the ugly mud and oil-slick snow, and
the extra padding each New Yorker wore, making the already
crowded walkways nearly impassable, were just minor
inconveniences. What Jase really hated about this time of
year was the sorry homeless-looking Santas with their
missing teeth, dirty natural beards, and the stench of cheap
booze that rolled off them—or worse, the leering, over-jolly
fat men who got their rocks off by groping children. The
constant noise of Christmas music, mixed with the
screeching and crying of children and added to the constant
blinking of multicolored lights—it was enough for Jase to
want to rip out his hair and gouge out his eyes from their
sockets.
There wasn't anything festive or jolly about this season.
He couldn't bring to mind a single pleasant memory of
Christmases past. To him it wasn't a goodwill or spreadcheer
time of year. More like, cuss, beg, go in debt, hate your
in-laws, spoil your brats, rush, fight lines, give-me-a fucking-
migraine time of year. The facts that the calls
coming into the complaint desk where he worked multiplied
by several numbers and the suicide rate went up
substantially during this time of year were proof that he
wasn't the only one on the planet who hated Christmas.
Buy Leon here.

Comments
N.J. Walters says:

OMG Those candy cane brownie lolipops look so good!

Great excerpt too!

Myristica says:

And we're off! Love Jase already. ;D But, he does need someone special to ward off such Christmas blues. Looking forward to this read, hon! And…the candy cane brownies look scrumptious!! Unfortunately, I don't have an oven and can't afford to buy a toaster over at this point in my finances. I will, however, copy and paste the recipe and store it for future. Question, though, where does one buy parchment paper? Is wax paper a good alternative?
Great job, hon! Keep those ideas flowing! <3