BDSM Excerpt Week – Vicktor Alexander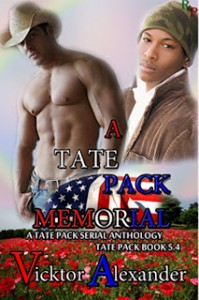 Tate Pack Memorial by Vicktor Alexander
Blurb:
Sometimes finding your mate comes with a price.
And sometimes that prices may be just a little too high.
Zander Laskaris has spent most of his life looking for his mate. Joining his brothers Zathan and Zavier, he joins the Tate Pack still hoping to one day find the man created to be his for eternity. The man who will be all he's ever hoped for and all he'll ever need.
Former soldier Devontae Robinson doesn't want his mate. He doesn't think he deserves him. After enlisting in the Army with his friends Derik and Lewis, Devontae returns home to the Tate Ranch under a medical discharge… and with the body of one of his friends in a coffin. He's haunted by war, by rumors, by the information that he's received about someone kidnapping paranormals and selling them on the slave market. He wants to curl up and die, not find the one man not only able to heal his heart and help him heal but to get him to fly again, but giving him the anchor he so desperately needs.
These two men will discover that Fate always knows best and that sometimes, in order to truly experience the freedom of flying, one must first give up control.
Excerpt
Devontae now stood before him completely nude, and Zander licked his lips at the delicious spread before him. He couldn't wait to taste every inch of the younger man's skin. He wanted every drop of sweat and cum in his mouth, on his cock at that very moment. More than that, he wanted to see his marks on the smaller man's skin. Zander's had shook slightly as he smoothed his hand over the unmarked skin of his future lover's body. He held onto his usual control by a hangnail, breathing deeply so that he didn't hurt his bunny by shoving his cock into the younger man without adequate preparation. He knew that some misguided Doms and subs thought that those with darker skin tones had to be hit harder to have marks appear on their skin. That was a fallacy. Zander had lived as a Dom for a long time, and he knew exactly how to get his marks to appear on the darker man's skin. A few well-placed lashes with his flogger or his hand and his marks would be there, on Devontae's skin, where they belong.
"On your knees, Bunny," he commanded the smaller man.
Devontae dropped to his knees immediately, his eyes beginning to glaze over, pleading as he looked up at Zander. Devontae silently begged Zander to take control, to possess him and dominate him. It made Zander feel about twenty feet tall. He felt his shoulders roll back, and his eyes closed with the sensual scent of his mate's surrender and submission as it spread over his senses and infused his every organ.
"Mmmm. Your surrender tastes delicious, bunny," he praised as he ran his hand over the younger man's closely cropped hair. The tight, black curls felt like the softest cotton underneath his palm. Zander knew that he would have Devontae grow his hair out so that he had enough to grab as he fucked the smaller man's face. The thought of his cock in his mate's mouth made him groan softly, and he looked down at the other man as Devontae looked up at him with trust shining in his eyes and a deep sadness that Zander was determined to remove.
"Choose a safe word, bunny," Zander instructed his mate, reinforcing the term of endearment with the smaller man.
"A-a s-safe word? What's that?" Devontae questioned.
"It's a word or phrase that you will remember and say if I go too far or you want me to stop what I'm doing," he explained. "And when we are in a scene—a scene is what we do when I am dominating you and you have turned over your control to me," he stated, having noticed the look of confusion that swept over Devontae's face. "When we are in a scene, you will address me as Sir. Understood?" he instructed his trembling mate.
Devontae nodded. "Yes, Sir."
Zander shivered. Gods, those two words sounded beautiful coming from his mate's lips. He clenched his teeth and fell back on the self-control that was a part of his inherent DNA in order to prevent himself from spewing his load all over his mate's face. Stepping back, he pulled off his black cotton tee and unbuttoned his jeans, stopping when he noticed Devontae licking his lips. Hhhmmm…interesting.
Stepping close to the other man, he repeated himself. "Choose a safe word, bunny."
"F-forty rounds," Devontae stuttered, his eyes darkening with lust.
Zander nodded his head, wondering if that phrase had connections to Fort Jackson where the younger man had done basic training with his friends.
"Forty rounds. Very good. Now." He stepped close enough that the bulge of his erection, trapped behind the zipper of his jeans, pressed against his mate's lips. "I want you to unzip my jeans with your teeth."
"Yes Sir," Devontae answered immediately, leaning his head forward, grabbing the zipper tab with his teeth, and pulling it down slowly.
Zander looked down at the top of his mate's head, grinning when he noticed that without being told his mate had assumed a completely submissive pose. Devontae kneeled before him, nude, his hands clasped behind him, his head up, but his eyes down.
"You are a very good sub, bunny," Zander praised.
"Thank you, Sir," Devontae whispered, practically glowing under the compliment.
"Now I want you to stand up and I want you to kneel down and lean over the spanking bench over there," Zander directed, pointing to the padded bench.
Devontae gracefully stood to his feet and walked over to the spanking bench, lying over the padding, pulling his knees up onto the padded restraints and laying his head forward. Zander pulled his cock and balls out of the top of his boxer briefs and pulled the flaps of his jeans apart. Walking over, he grabbed Devontae's legs and began putting them into the restraints. He pulled the restraints tight across the bottom of the other man's knees and then across Devontae's legs. Walking around the bench, he placed the smaller man's hands in the cuff that lay attached to the front of the spanking bench.
Zander placed his hand underneath his mate's chin and lifted Devontae's head to look into the other man's eyes. Seeing no fear, he gave him a small smile and then let go of Devontae's chin, proud when the smaller man immediately dropped his head again. Drifting his hand across the back of his mate's neck, Zander walked toward his wall of whips and floggers and pulled off his favorite—specially designed black and red—velvet flogger, custom made to fit his hand. Walking back toward his mate's feet, Zander drifted the strands of his whip down his lover's back and over his large, rounded ass, grinning at the shiver that wracked the other man's frame.
"Fifteen lashes, love. Count them off," he instructed.
"Yes, Sir," Devontae immediately answered.
Pulling his hand back, Zander delivered the first blow. The sound of air through the strands of the flogger making his cock throb and as it connected with the flesh of Devontae's ass, he moaned along with the black man.
"One, Sir."

Comments
Leenie says:

I love this book and the relationship between the main characters, I love the nicknames too.. so cute, and it shows such care in a realtionship. It's great! the whole series was GREAT!!

Amilyn says:

~sigh~ So lovely. I'd forgotten he called him bunny. Always wanted a cute nickname like that. This is a wonderful and varied series!

Browncountrygirl says:

One of my favorite of the series. Z shows D so much care and knew exactly what he needed.

Stace says:

I love the whole series. Can't wait for more.

Felicia says:

Loved this book as well as the whole series. Can't wait to read more about the Tate pack.

Tj says:

Can't wait to read this one:) I've loved the whole series.

Marie* says:

I love the diversity of this series 😉

pattymelisa04 says:

Great book! LOved it! One of the best from the Tate Pack series!

Lucy/Kat says:

I loved this book! I fell in love with the whole Tate Pack series. I know I haven't read them all yet but oh I will. I can't wait to read more. I will soon enough I know this.

Cornelia says:

love the series,adding this to my list.