Guest Author: Sara York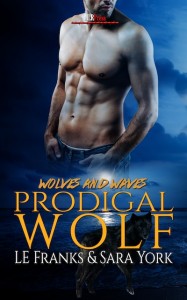 I love shifters. Silvia's Wild R Farms series drew me in and had me falling in love with the characters. She always does such an excellent job of creating worlds that are believable and characters that are amazing.
When Linda and I started writing Prodigal Wolf we wanted to make the shifters believable. We wanted the characters to be more than just wolves who occasionally turned into humans or humans that occasionally turned into wolves. We wanted fully formed characters that were shifters and couldn't be separated from or exist without the other piece of themselves. Of all the wolves, I think Ted is my favorite. He's comical but dangerous. Ted isn't the main focus of book one, but he's a big part of it. Ted's humor comes from his laid back attitude. He's masterful but in a calm way.
My next favorite would be Carlo. He's all smoke and shadows with a dose of sexy and dangerous. Tall dark and handsome along with smart make him one hell of a man. Add to that the animalistic nature that is his beast and he's the total package. Carlo is the central character in the Wolves and Waves series, featured in book one but his story isn't resolved that quickly.
Then there are the twinks, Kevin and Grady. They are cute and sweet but together, they are trying to hard and they might just ruin the best thing to happen in their lives. Through their fumbling, Kevin and Grady might just find happiness, if they get their head up high enough to see that they have something special.
I hope you enjoy Prodigal Wolf and our guys. Prodigal Wolf is available at most online ebook retailers like Amazon
Blurb: Carlo has a problem; after years away he's finally returned to his South Carolina roots – but instead of peace and quiet all he's found are nosy wolves, romancing twinks, an out of control roommate threatening to expose them all, and a demanding Alpha who just won't go away.
All his Alpha wants is to show Carlo who he really is, and where he belongs. But Carlo Montefiore is a man fighting his instincts, memories, and responsibilities. His beachside home was supposed to provide sanctuary, but pack politics, unruly roommates, and human neighbors at risk of discovering that shifters exist, are making life anything but peaceful. Twinks Kevin and Grady have their own problems. Two college freshmen are no match for a couple of hot wolves who like to play chase. If they don't stop playing games they'll miss the biggest thing to happen in their young lives—love.
Excerpt:
Joey moved to stand beside him at the sink. "Whoa! Dude!" he threw over his shoulder, "Ya gotta check this out—twinkies!!!"
Ted tossed his rag on the board and crowded in to check out the scene. "Sweet!"
Two slender young men were unloading a little red Audi A3 hatchback, pulling bags and suitcases out of the rear. They looked like twins from this angle—all light brown curls and tan skin. Typical East Coasters in their pastel polo shirts and colorful madras shorts. You could literally pick them out of a Vineyard Vines catalog. Everything you ever thought about a preppy was currently bent over across the way. "Yum!" Joey couldn't resist. The change in Carlo was immediate, his eyes darkening, a scowl fixed on his face. One glance had Ted slinking back to his seat at the table.
"That is exactly what I'm fuckin' talking about! You stay the fuck away from them! You do not shift in the house without drawing the curtains… No. Wait. No fucking shifting in the house at all. You want to run, you take a drive and walk into the refuge or head to Pinckney Island. Period."
"Hey! What the fuck Carlo. You can't tell me…" Joey was protesting when a finger jammed into his breastbone, Carlo's breath in his face, brows drawn.
"Grow up, Joey… Just…." He jammed his finger, highlighting each word with a thump before moving back to lean against the counter, running his fingers through his thick black hair.
"Shit. I need you to drive to Beaufort and pick up a package. I also have a list of errands, it's there on the counter…"
Joey stared at the man. Carlo was completely losing it.
"Christ Carlo, just chill. I can pick up the stuff later—"
Carlo growled, his eyes narrowing and turning yellow, indicating the wolf was about to show. "Pick it up now."
"Fuck! Just because Angelo crawled up your ass this morning doesn't mean you have to take it out on us!"
"That's the prob, Carlo wants Angelo up his ass…" Ted muttered under his breath.
The silence was shocking and Joey knew they'd gone too far. Normally they kept their razzing at a low hum, but this morning he and Ted had thrown wisdom out the window, pouncing on the man.