Archive for the 'contemporary' Category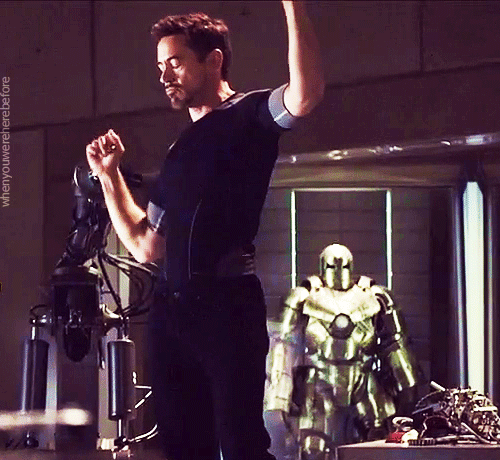 Yessss! I've finally reached the end of Unexpected Engagement (Unexpected 3). Simon and Edgar are thrilled to have all their story down even if it still needs plenty of tweaking. If you haven't read books 1 and 2 in this series, check them out here.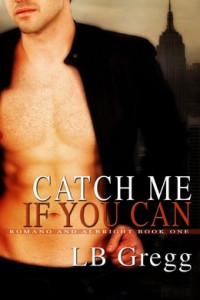 This is the second in a series of list posts. Check out the first here. These lists will include books I love and titles from my own catalog. I enjoy many romance subgenres depending on my mood. This week's list consists of books with main characters who are private investigators. This is one of my favorite types of m/m so I'd love to hear suggestions for more.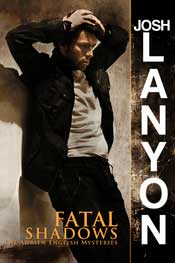 Romano and Albright series by LB Gregg
The Plumber's Mate series by JL Merrow
Cole McGinnis series by Rhys Ford
Adrien English Mysteries by Josh Lanyon
Whyborne and Griffin series by Jordan Hawk
Dino Martini Mysteries by Elle Parker
Wes from my Wild R Farm series is a PI. He appears in several books but his story is told in Embracing Need (Book 3). Eventually I'd like to do a spin off series focusing on Wes (and his partner Tristan) investigating shapeshifter crimes.

Release day is finally here! You can grab Coming Clean at Amazon, All Romance eBooks, iTunes and Smashwords. Barnes and Noble and Kobo are coming soon.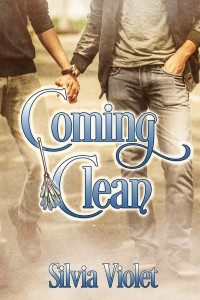 Blurb:
An unexpected inheritance lands Jeremy a large house and plenty of money to take a sabbatical from his job teaching poetry at a small college. He intends to sell the house and take off on a new path to discover what he wants out of life. Then he meets Connor. The attraction he feels to a man so different from himself is no less shocking than his change in financial circumstances, but Connor is in the closet and Jeremy wants a life lived out in the sun.
Connor is a former Force Recon Marine who runs a housecleaning business. When he's hired to get Jeremy's house market-ready, he's startled by how attracted he is to his client despite their many differences. But his past, especially his final mission, weighs heavily on him. He's not certain he can be the man Jeremy needs, but no man has ever made him want to take a risk like Jeremy does.
Excerpt:
Knock! Knock!
Shit! Someone was at the door. Jeremy had been certain he could finish breakfast before the cleaners came but here he was, covered in toast crumbs and only halfway through his eggs. He gulped down a last sip of coffee as he brushed himself with the other hand. Then he ran toward the front door, not wanting to keep the man with the alluring voice waiting. Unfortunately, he'd forgotten how slick the hardwood floors were. He tried to slow himself but it was too late: he went into a uncontrolled skid and landed against the door with a bone-jarring thud.
"I thought I was supposed to be the one knocking," the man on the other side said, his voice just as low and rich as it had been on the phone.
Jeremy wished he hadn't made an utter fool of himself in front of Mr. Sexy Voice. With a sigh, he opened the door. "Sorry. The floor's slippery, especially if you're…" He glanced down. Fuck. He was wearing his neon paisley socks, the ones David had given him last Christmas in an effort to brighten up his life. He'd really meant to change. Frayed khaki shorts and paisley socks. Yeah, that was a great first impression.
He looked up and for the first time, really saw the man on the other side of the door, Connor, he'd said his name was. Damn, Connor could wear paisley socks, or anything else, and still make a good impression. Better yet, he could wear nothing at all. His light brown hair was buzzed, emphasizing the firm line of his jaw, and his eyes looked like burnished gold. While he wasn't significantly taller than Jeremy's five foot eleven, he held himself in a way that made him seem much larger, and he exuded confidence. No doubt he'd be a good man to have on your side in a zombie apocalypse.
"You are Jeremy Parks, right?"
Please let me get through this interview without embarrassing myself. Again. "Yes, and you're Spit Shine Clean. Not that that's your name but—"
"I'm Connor." The amazing specimen of maleness held out his hand. Jeremy hoped to God there wasn't any egg or jam on his own as he reached out to shake.
Whoa. Connor's strength and the rough maleness of his hand paralyzed Jeremy as if Connor had hit him with a Taser. Jeremy didn't usually go for the military type. He was more likely to be uneasy around them than turned on. Maybe his wires were crossed that morning or maybe he'd rattled something loose when he hit the door, because he wanted to drag Connor up to his bedroom and forget about showing him the rest of the house. When Connor let go, Jeremy steadied himself, sure he was going to slide down again.
"You okay?" Connor asked.
"Oh, yes. I'm fine. Just… I meant to change. These socks were a gift. A gag gift."
"They're cute."
Jeremy glanced at Connor and the surprise in his eyes indicated he was as startled as Jeremy that those words had come out of his mouth. "Thanks. My friend has an interesting sense of humor."
Connor grinned. "I can tell."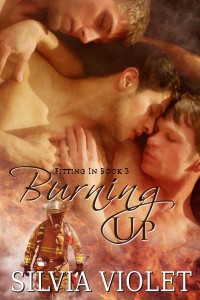 This is the first in a series of list posts. These lists will include books I love and, where appropriate, titles from my own catalog. I enjoy many romance subgenres depending on my mood. This week's list consists of books that are ultra hot, ones where the erotic content is integral to the character development.
A slight digression: You may have noticed I like writing this type of book as well as reading it. At GRL 2015, I will have the privilege of being on a panel with two authors who know all about writing hot, LA Witt and SE Jakes and we'll be talking about this very topic. So join us if you'll be attending.
Sizzling M/M Books and Series
Hell or High Water series by SE Jakes
Tristan and Jared (Market Garden series) by LA Witt and Aleksandr Voinov (sold in a bundle or as separate stories)
The Magpie Lord series by KJ Charles
Force of Law by Jez Morrow
Whitetail Rock by Anne Tenino (a free download at ARe)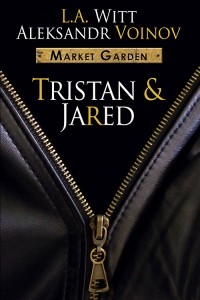 Dirty Laundry by Heidi Cullinan
Shock and Awe by Abi Roux
More by Sloan Parker
A Simple Romance by JH Knight
My own Fitting In series
I'd love to hear some of your suggestions for more hot books!

I'm so excited about this amazing cover designed by AJ Corza! Coming Clean releases May 20, 2015.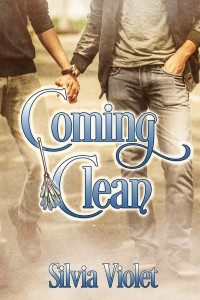 An unexpected inheritance lands Jeremy a large house and plenty of money to take a sabbatical from his job teaching poetry at a small college. He intends to sell the house and take off on a new path to discover what he wants out of life. Then he meets Connor. The attraction he feels to a man so different from himself is no less shocking than his change in financial circumstances, but Connor is in the closet and Jeremy wants a life lived out in the sun.
Connor is a former Force Recon Marine who runs a housecleaning business. When he's hired to get Jeremy's house market-ready, he's startled by how attracted he is to his client despite their many differences. But his past, especially his final mission, weighs heavily on him. He's not certain he can be the man Jeremy needs, but no man has ever made him want to take a risk like Jeremy does.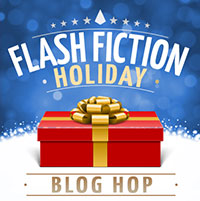 I'm thrilled to be participating in the Flash Fiction Holiday Blog Hop! All stories in the hop are inspired by the picture below and must contain a "bad boy" character and a winter holiday theme. I hope you like my offering. Leave a comment and you'll be entered to win your choice of any book from my backlist.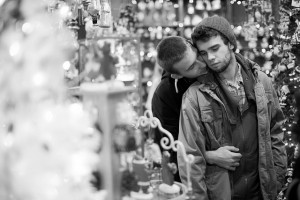 "Come on, man. I don't need any presents okay," Kyle tried to pull away from Brad's hug, but Brad just tightened his arms and leaned in, kissing his neck like he didn't care who saw.
"Everybody deserves presents and you've been talking about how much you wished you had a tablet for ages."
"Yeah, but I don't expect you to buy me one, okay. If I could find an employer willing to take a chance on a loser with a record I could save up for my own."
Brad sighed. "I already told you my dad would be willing to vouch for you."
"I didn't even mean for your parents to know who I was."
"I thought we were past that."
He heard the anger in Brad's voice, but all he did was huff.
Brad leaned over and reached out for a bottle of sparkly bath salts from a display in front of them. Kyle hadn't even noticed that he'd wandered into the bath department. He'd simply wanted to get away from the electronics he couldn't afford.
"How about this then? You surely can't argue it's too expensive."
Kyle didn't want to laugh, but he couldn't help himself. Brad managed to ask the question in such a serious voice.
"Only if you plan to use them with me."
"Now that sounds appropriately kinky." He let go of Kyle and turned, glancing around the store. "Now where's the check out."
"Give me those." Kyle yanked the bath salts out of his hand and set them back on the display shelf.
Brad laughed. "You sure?"
"Yes, I'm sure. Come on, let's get out of here."
"If we leave, you're coming back to my house," Brad insisted. "I don't see why you won't just move in."
"No… I… I just can't."
Brad shook his head. "When are you going to get it?"
"Get what?" Kyle's face burned from embarrassment. He looked around to see if anyone was watching, but most people seemed too caught up in their holiday shopping to pay attention to anything but the array of goods for sale.
"That I love you."
Kyle took a step back and nearly knocked over a display of heavily scented lotions. "You what?"
Brad smiled. "I love you. And I don't care who you used to be. I only care about who you are now."
"I'm still that guy. I'm still the guy who used to steal anything I thought I could re-sell."
Brad shook his head.
Kyle stared at him, unable to really comprehend what he'd said. A knot formed in his throat and his eyes stung. Holy fucking fuck! He was a hardened criminal not a crybaby. "I've got to get out of here."
He took off running, only thinking of how he had to get somewhere he could breathe. The tightness in his chest seemed to cut off his air. He raced through the mall and finally came to an exit. He burst through the door, starling an older couple who were coming in.
Once outside, he sat on a bench and gulped the chilly air. So much better, not trapped, not scared. No one had ever told him they loved him. No one. He'd never met his dad, and his mom was more concerned with what he could get for her than taking care of him. Eventually, she disappeared and he was on his own. And he'd been fine like that. Until Brad.
He heard footsteps, and without looking, he knew Brad had found him. Brad would always find him.
"No one ever said that to me." Kyle still didn't look up.
Brad sat beside him and laid a hand on his back. "I'm sorry, but it's how I feel."
Those words made him turn around. "Don't apologize. I love you too." His mouth dropped open after those words came out. He'd meant to say "I don't need you feeling bad."
Brad cupped the side of his face and kissed him, a quick gentle kiss but one that heated him from head to toe. "You are all the Christmas present I need. Will you come home with me?"
Kyle took a long, slow breath. "Yeah, I will."
"Will you let my dad be a reference for you?"
Kyle's natural stubbornness rose up. He wanted to refuse again, but it was pointless, Brad would eventually wear him down. "Okay."
Brad grinned. "And that is all the Christmas present I need."
Kyle gave him a sly grin. "So I should just return the—"
Brad laid a finger over his lips. "Absolutely not. And I'm not making any returns either."
Kyle narrowed his eyes at Brad.
But brad kissed him again. "Let's wait a little while to argue more about gifts."
All Kyle could do was smile. "Fine. Now let's go home."
Check out the other blogs in the hop. There are lots of great stories!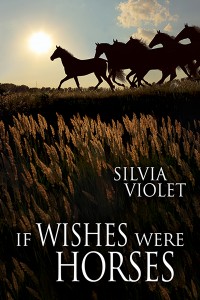 Vendors were fast to get things loaded up so if Wishes Were Horses is ready for you now! You can get it at Amazon in ebook or print, at ARe, and at Smashwords. Barnes and Noble will be up soon as well as iBooks and Kobo.
I'm so excited about everyone meeting Ken and Andy!
Blurb:
Kenneth Carver had everything growing up except warmth and acceptance. When protecting his family's name became more than he could bear, he came out as gay, sold his company, and bought a horse ranch.
Andrew Wofford's last undercover assignment nearly cost him his sanity. Now he has another chance of catching the drug runner who killed one of his informants and then escaped, but gruesome flashbacks threaten his ability to function in the field.
Andy's latest investigation sends him to Ken's ranch where he poses as a ranch hand. Ken is a prime suspect, but Andy refuses to believe Ken is guilty, in part because Andy is falling for him. Ken knows Andy isn't who he seems, but he can't bring himself to push the man away. When Ken hears rumors that someone is using his land to move drugs out of the city, he worries that it's Andy.
Neither man can trust the other even though that's exactly what their hearts tell them to do.
From Chapter One (for another excerpt, see the book page):
Ken wrapped his hand around the ornate door handle and tugged. He was not going to ring the bell at his childhood home, though that was what his parents expected. Even as a kid, he'd been treated more like a visitor than a member of the family.
He stepped into the foyer and glanced around. His mother had redecorated since he'd been here last. But the style still screamed ostentatious wealth like it always had. He strode down the hall and into the dining room where his parents were already at dinner. He was an hour late, and his mother wouldn't have risked upsetting Renata, the cook.
Thinking of Renata made Ken smile despite the tension pulsing through him. She was perhaps the only person on Earth his mother was afraid of.
"I'm sorry I'm late," he said as he took a seat.
His mother sniffed. "It was to be expected."
His mom was justified in starting without him. He'd never been enthusiastic about family gatherings, but he'd shown up late or failed to show at all since he'd stopped hiding who he really was—a gay man who disagreed with the way his father ran Carver Corp.
Of course, if his family had ever given him a warm reception, he might have tried harder to be punctual. Tonight, though, his tardiness had been unpreventable. He'd been stuck in a meeting for hours, finalizing the sale of the company he'd built, an offshoot of his family's conglomerate. He grinned as he laid a starched linen napkin in his lap. His parents were going to be pissed even though he had sole ownership and the capital he'd invested had all been his. The idea of anything bearing the Carver name being sold outside the family would give his father a heart attack if he had a heart.
Ken had arranged to have dinner with his parents so he could let them know before the news became public, more courtesy than they deserved considering they'd have taken the company from him in half a second if they'd had legal grounds to.
His mother looked up from her plate wearing the cool smile she used for public appearances. "How have you been, Kenneth?"
"Just peachy, which you'd know if you ever called," he responded, giving her the false look of graciousness he'd been schooled in from infancy.
"I'm not the one who broke off contact." Her ice calm infuriated Ken.
"If you hadn't insisted—"
His mother interrupted. "The only time you called even before the tacky airing of your private business was when you needed something, so don't try the guilt trip with me."
His father cleared his throat. "You said you had something important to tell us."
Ken nodded. "Yes, sir. I do."
"Then let's get down to business before we all lose our goddamned appetites."
That's how it'd always been. Business first. As far as his father was concerned, his family was just another arm of Carver Corp, a public relationship requirement.
Conversation stopped as the main course was brought in. Ken acknowledged the servant who'd just set his dinner in front of him with a warmer smile than he'd given his parents, even though he didn't recognize her. He looked down at the steak, grilled asparagus, and creamy mashed potatoes with gravy on top and nearly sighed. This might be the last meal of Renata's he'd ever have, and he doubted he'd get to eat it.
"I sold Carver Pharmaceuticals."
"What? That's impossible," his father stammered.
"I assure you it's not. I put out the word that I was looking for a buyer. I found one, and we just signed the paperwork. That's why I was late."
His mother pinched the bridge of her nose as if trying to fight off a headache.
"I'll top the offer," his father said as Ken had predicted he would. That was the main reason he'd kept things silent until the deal was done.
"The deal has been finalized, and my buyer will not be accepting offers." He'd given the man, an old friend from boarding school, a good price, a steal really, and he'd put a clause in the contract that his friend could not sell the business to anyone in Ken's family.
"He'll take mine," Mr. Carver insisted.
"He can't. The sales agreement won't allow it."
His father narrowed his eyes and then almost smiled. "I hadn't given you credit for being that big of a bastard. You've got bigger balls than I thought to try this shit with me."
"I learned from the best."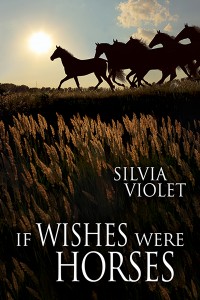 Here are a few hot and dirty excerpts from my upcoming books. To see character inspirations for these books, check out this post and this one on my tumblr and follow me there for more dirty excerpts.
The first excerpt is from If Wishes Were Horses which releases on May 16. Ken is a ranch owner and Andy is an undercover copy who's investigating a drug-running operation while working at the ranch.
Ken grinned. "Control issues?
"You're one to talk."
Ken gave a hard thrust, and Andy groaned, tipping his head back and closing his eyes. Ken should have known it was an act, but he got lost in seeing Andy's pleasure.
Andy used the moment to break free and shove at Ken's shoulders, knocking him off balance. He stumbled and Andy lunged for him, grabbing him around the waist and dragging him to the floor.
He wrapped a leg around Andy's and flipped them, spearing his hands into Andy's hair and using the leverage to slam his head against the floor.
Andy roared and arched up, nearly bucking Ken off.
They tussled, rolling over until they hit the edge of Ken's desk. Andy ended up on top, and he managed to get hold of Ken's wrists and pin them over his head. Andy hung over him, looking like he was trying to decide if he was ready to stop fighting and fuck.
"Fighting is excellent foreplay, but maybe it's time for more. What do you think?" Ken asked.
"Fuck you," Andy said, shoving at him and standing up.
Ken watched Andy as he loomed over him. The man was pissed that he'd given up on self-control and come back for what he wanted.
Andy turned like he was going to walk away, but Ken wasn't about to let that happen. "Andy."
Andy froze and slowly turned. Ken pressed his palm against his cock and rubbed, back and forth along his length. Andy watched, mesmerized. Then Ken unzipped his jeans, pulled his cock out, and kept stroking. "I thought you were here to do something about this."
"Hands off," Andy ordered.
Ken grinned at him. "Make me."
Andy took a step toward him. "I'm going to tear you up."
Ken grinned. "You were right, you know?"
"About what?"
"I love a man who's got what it takes to hold me down and shove his cock up my ass. Do you have what it takes?"
This unedited excerpt is from Unexpected Trust, a sequel to Unexpected Rescue staring Jackson's friend Sport. The projected release date is mid July. Sport is an FBI agent and Danny specializes in black ops for one or multiple lettered agencies. Danny has been following Sport trying to determine whether to bring him in on his current mission.
Sport settled at the bar and downed drink after drink. He was furious, probably more with himself than anyone else. Danny could tell by the way he carried himself even if the drinking hadn't been a clue. Danny toyed with the idea of making a move on him but this wasn't the time. Instead he chatted up a couple of young men who'd been eye-fucking him while they made out with each other. When he proposed that one of them seduce Sport while Danny fucked the other one against the wall out back, They looked like they'd won the lottery. The fact that they couldn't let on to Sport that it had all been planned made it even sweeter for them. Danny was afraid they might come just from thinking about it before he ever got them outside.
If Sport had been anything approaching sober, Danny wouldn't have gotten away with it. But he was drunk and angry and he'd let his guard down. By the time Sport stumbled outside with the twink Danny had sent to seduce him, Danny already had the young man's friend pressed against the wall, hands spread, legs apart.
The man with Sport looked at him and winked. Danny scowled but the kid didn't have time to react, because Sport grabbed his shoulders and pushed him to his knees. Danny rolled on a condom and slicked up as he watched, slapping his partner on the ass when he begged Danny to move faster.
Danny watched, mesmerized as Sport unfastened his suit pants and pulled out his cock. "Suck me," he demanded, his low, rough voice just carrying over to Danny.
Danny took his cock in hand and pushed into the young man in front of him. He groaned as the man's tight ass gripped his cock, thrusting in hard, not caring if it hurt. "You like it rough?" he asked.
The man nodded frantically. "Good, because that's how I give it." Especially when I'm so turned on I can't see straight.
Danny pounded the young man, desperate to get off. He was moaning and grinding back, loving the rough treatment. His friend must like rough too because Sport braced himself on the wall and grabbed his hair dragging his head back, and the boy took it, relaxed and easy like he would do anything Sport asked.
Danny lost his rhythm and nearly swallowed his tongue when Sport turned to look at him, holding his gaze as he drove all the way down the boys throat, choking him, using him. Holy fuck. That was the best thing Danny had every seen. He was going to get off to that memory for a long time.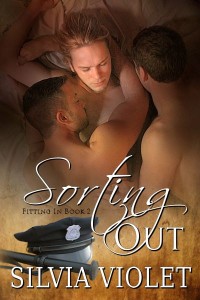 Sorting Out, the sequel to Fitting In is now available at Amazon, ARe, BN, and Smashwords. Here's an excerpt from Chapter One….
Jack heard the door open as he pulled a pan of hot caramel popcorn from the oven. Perfect timing. Mason was home and hopefully Gray had been able to get most of his paperwork finished, so the three of them could curl up together and continue their third run through the fourteen brilliant episodes of Firefly. Why oh why had it been cancelled and how had he not known about its awesomeness until Mason came into his life?
Their schedules had kept them apart for the last few nights and Jack had been looking forward to this all day, the three of them snuggled on the couch, watching TV until they started to doze off like an old married threesome. Who would need to go out with two amazing men at home? He could happily hole up for weeks just cuddling, fucking, and cooking for them.
Mason dropped his bag on the table and came up behind him. He kissed Jack's neck as he grabbed a handful of popcorn that he immediately threw back into the pan, yelling, "Hot!"
"Of course it's hot. It just came out of the oven." Laughing, Jack grabbed Mason's hand and kissed his palm. "Is that better?"
"No, but this will fix it." Mason kissed him, sliding his tongue along the seam of Jack's lips until he opened for his lover, letting him get a taste. Desire rose swiftly, and he clutched at Mason's hips, pulling him in tight, letting him feel his cock, which was now hard and needy. Maybe Captain Mal would have to wait after all.
The sound of Gray clearing his throat brought them up for air. Mason stepped back, grinning at Jack. "That was a delicious hello." He turned toward Gray, but when Jack saw the expression on their lover's face, he knew they weren't getting the same kind of greeting from him. He looked serious and…scared? Jack's stomach knotted.
"What is it?"
"I need to talk to you. I waited until Mason was home, but I… Maybe you should sit down."
"Gray, what's wrong?" Jack asked, the caramel he'd tasted as he coated the popcorn lying heavy in his stomach.
Mason laid a hand on his arm. "Are you okay? You're really pale."
Jack ignored the question. "Don't make us wait."
"Thornton, the lieutenant from Major Crimes that I told you about—"
He glanced at Mason. "He's been encouraging me to take the detective exam. He wants me in his unit."
"But—"
Gray held up a hand. "Yes, it would mean we wouldn't be partners anymore, but it would also mean we could be out if we wanted to. We've been talking about making a change, and you've known I was thinking about going for a promotion."
"Yeah, but, I…" Nausea tightened Jack's throat.
Mason reached for Jack's hand and squeezed. "This could be good for all of us. Let's think about it."
Jack looked at Mason. He had known this would happen sooner or later. Gray was right about it being for the best, but Jack had continually pushed it to the back of his mind.
"I just want us to—" he started, but Gray interrupted him.
"I told him I'd take the exam." Gray looked at the floor as he spoke.
"What?" Jack roared, fear replaced by anger that threatened to scorch him. "How dare you do that without talking to us!"
"I shouldn't have, but he'd already asked me before, and I'd put him off. He told me I had to let him know today, and you said you'd support whatever I wanted so—"
"I didn't mean for you not to even tell me. Couldn't you have mentioned this when he asked you the first time?"
"I—" Gray ran a hand over his ruthlessly short hair. "I should have. I'm sorry, but—"
"But what?" Mason asked after Gray was silent for several seconds. Jack was glad he'd spoken up, because he wasn't capable of saying anything nice.
Gray sighed. "I knew Jack would react just like this."
Fuck you. "When it was still something to actually discuss instead of something dictated to me, I would have talked to you. Now that you've kept it from me and decided to just walk away—"
"I'm not walking away."
Jack snarled at him. "We're partners, Gray, and now we won't be."
"We'll still be partners in the way that really counts."
Would they? "What about Mason? Didn't you think maybe he wanted a say in this?"
Mason glanced at Gray, and suddenly, Jack knew. "You told him, didn't you? When Thornton first asked you, you fucking told Mason and not me."
Gray closed his eyes and took a long, slow breath. "He told me to tell you, told me I shouldn't wait, but I wanted to think about it. I didn't want to upset you if I was just going to turn it down."
"Newsflash. I'm upset."
"Jack—"
Mason started to interject, but Jack held up his hand. "There's no point in talking anymore. Gray's made his decision. Thank you for actually trying to bring me into it."
"I made up my mind to take the exam. That doesn't mean I'll take the position. That's why I wanted to talk."
Jack shook his head. "You've made up your mind. I can tell. If you get the job, you'll take it."
"I want to stop hiding," Gray said. "But I want this to be a decision we all three make."
"No, you just want me and Mason to agree with you," Jack said, venom in his tone.
"That's not true. I…fuck, Jack. I love you."
Jack's anger deflated, leaving him feeling wrung out and hurt. "I can't imagine being a cop without you."
Gray took a step toward Jack. "I'll still be here."
"We'll all be together." Mason spoke at almost the same time. He sounded scared, desperate. Fuck Gray for putting Mason in the middle like this, for going to him when they'd sworn they'd keep everything out in the open.
Like the time you talked to Mason about Gray seeming depressed, and he encouraged you to talk to Gray, but you didn't. Is that what you mean by out in the open?
God, Jack hated that sanctimonious voice in his head.
He held up his hand, knowing he'd cave if Gray touched him. He'd let Gray have his way and forget how angry and hurt he was until it simmered long enough to explode again. "If you really wanted to discuss it, you would have talked with me the minute you started seriously considering taking the exam."
"Would you have listened? Really listened?"
Jack wanted to scream that he would always listen to Gray, always consider what was best for his lover without being selfish. He wanted to stop being scared he couldn't hold it together as a cop if Gray weren't by his side, but he couldn't make the words come.
Instead, he grabbed the pan of caramel popcorn and flung it across the kitchen, enjoying the ear-splitting clatter as the pan bounced on the tile. Then he stomped to their bedroom and slammed the door.
Seconds later, he heard the front door bang shut.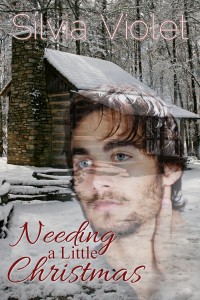 In Needing A Little Christmas, Mac's mama sends Eli a caramel cake and the two men get to know each other while enjoying it. Here's the delectable recipe she used…..
Mac's Mama's Caramel Cake
You will need three layers of your favorite yellow cake. I love the one here but you will need to multiply by 1.5 to get three layers. If tackling this well-worth-the-time caramel is all you're up for, then use Duncan Hines Butter Recipe Golden mix. It's, in my opinion, the best yellow cake mix out there.
Caramel Icing
3 cups sugar, divided
3/4 cup evaporated milk
1.5 sticks butter
1T white corn syrup
1 tsp vanilla
Put 1/2 cup sugar in a saucepan over medium heat. As the sugar melts, shake the pan so the sugar coats the bottom but don't let it run up the sides. Stir gently so the sugar browns evenly. When the sugar is almond the color of the skin on an almond, slowly pouring in the evaporated milk while stirring vigorously. The mixture will boil rapidly and start to seize up but keep stirring, breaking up the chunks of sugar. When all the milk is combined with the sugar, add the rest of the sugar, butter, and corn syrup. Mix well. Attach a candy thermometer and bring to a boil. Boil for 10-20 minutes or until the candy thermometer reads 248F. Stir occasionally. If you see any signs of burning, turn the heat down a bit. Be very careful. The mixture can splatter and you don't want to get burned!*
When the mixture is at 248F, remove the pan from the heat and carefully pour the mixture into the bowl of a stand mixer. Using a paddle attachment, turn the mixer on low and add the vanilla. Be very careful, it could splatter and it will still be very hot. Continue mixing on medium until the mixture begins to thicken and lose it's shine. Working quickly while the caramel is still pourable, pour or spoon 1/2 cup on the first layer and spread over the top. Add second layer and repeat. Add top layer, repeat and then use remaining caramel to cover the sides.
*You may want to keep a bowl of ice water nearby. Submerge skin immediately if you are burned.
And now for a bit of Mac and Eli…..
Needing A Little Christmas is available at Amazon, ARe, and Barnes and Noble.
Several minutes later, Mac had unloaded all the wood and gotten a fire going, and I'd made coffee and served cake. When we were seated at the table in the kitchen, I took my first bite of the gorgeous caramel cake and sighed. Forget sex. I was going to come from eating this cake.
"Oh my God, this is the best cake I've ever had."
Mac smiled, not the sly sexy grin he'd given me earlier but a little-boy smile of pure joy. "It's my great-grandmother's recipe. Christmas just wouldn't be right without caramel cake."
I stared at him in horror. "This wasn't supposed to be for your family tomorrow was it?"
He shook his head. "My mom always makes several of them. We give them as gifts and one would never be enough for us anyway."
"I feel honored to have one. You don't even know me; your mom doesn't know me. I could have been an asshole or even a serial killer."
Mac laughed. "Nah. I could tell you were all right when we talked on the phone. You sounded like a nice guy who was having a rough time and then got stranded. And I should know. I get plenty of assholes calling me demanding a load of wood five minutes ago because their cabin dropped below eighty toasty degrees for five seconds or expecting me to clear a foot of snow from the driveway of their artfully-decorated cabin so they can get their BMW down the mountain without a scratch. They don't get the family treatment or the family rates. But I could tell from your voice that I was going to like you."
Like I could tell from yours that you are a sex god. "Thanks. You sounded like a good guy too." A good guy? Had I really said that?
He grinned. "I aim to please."