Posts Tagged 'Selena Illyria'
Today the seductive Selena Illyria joins us with her thoughts on vampires…..
Like Moths to a Flame by Selena Illyria

They're dark, dangerous and oh so seductive. They can be animalistic, primal and savage in a minute and in the next they're weaving a silken web of desire in us, winding us so tight that we can't resist. Perhaps it's the age. Being immortal has its perks. To a vampire an eon is a blink of the eye. What wonders they could see, the good and bad of humanity. It's fascinating and yet terrifying to know that this person could have seen everything from say the Hanging Gardens of Babylon to the Moon Landing.
Despite that fear, there is also the knowledge they could pick up. *wicked grin* Think of all the delicious delights they could have learned along the way, all those tips and tricks to make you squirm, scream and cry out in ecstasy. But it's not all about the sex and danger is it? Well, maybe it could be depending on how you view it.
I find both sides of the coin fascinating. In a sense you have monster and lover all rolled into one. Think about it, you could have this ancient being, this person who's seen it all and probably done most of it interested in you, of all the people they could pick. And yet depending on the kind of person you get, you could have the Saint or the Sinner or the devil in your bed. Pretty heady, yes? The question is what kind of vampire would you like?
There's also something forbidden about the fact that they feed off of blood, our life source. You are literally they're purpose for life, what's keeping them alive, their next breath depends solely on you. Whoa, powerful , yes? There's also the fact that we've grown up being told that drinking blood, at least in some cultures, is bad, wrong, you could be damned and here is a creature that does it. We're defying societal and religious norms to be with this person. Romeo and Juliet eat your heart out! Brushing all that aside, what is it that you find sexy? Fascinating? Desirable? Irresistible? Who inducted you into the dark side and made want, yearn, for that painful kiss? Answer these questions and be entered to win a copy of Blood Claim: Trapped.
I know I love the danger and seduction of the vampire and I'm fascinated by how much they've seen and all the things I can learn. But let's be honest, it's mostly for the danger. lol
An excerpt from Blood Claim: Trapped:
Blurb:
Kit has never forgotten the cruel way Rysen rejected her as a possible consort over a hundred years ago. She's striven to get stronger, pushing her attraction to him down and using her anger as fuel.
Rysen has always regretted the way he rejected Kit. As much as he loved her, Rysen despised the way her clan tried to use her as a political gambit for power and protection. But he never stopped wanting Kit, trying to make her his in every way possible.
When enemies attack, they use old magic to seal themselves off and stay safe. But now they find themselves trapped with a century of hunger rising between them….
Publisher's Note: This book contains explicit sexual content, graphic language, and situations that some readers may find objectionable: Anal play/intercourse, domination.
Excerpt:
Rysen ignored the throbbing of his cock. As much as he wanted to fuck her right now, he couldn't. She was unconscious and she was hurt. When he got her in his bed, she was going to be awake and strong and enjoying every last bit of it.
His gaze roamed over her bruised and battered face. "Gods, she is beautiful," he murmured. He leaned down, scooped her up in his arms, and held her close. He took in her mocha skin, some patches darker with bruises. One eye was swollen shut. He regretted every mark, every bruise, every injury he had inflicted on her, but words did not work with her. Ever since he had passed her over a hundred years ago, when her clan had offered her to him as one of his consorts, she'd loathed him, and she'd taken up her clan's fight to avenge his insult against them.
He had wanted her — by the gods, he had wanted her — but he had always felt she was just too fine to bring into his world. She deserved better than to be a political sacrifice. His body shuddered at the very thought of her in his bed, arms over her head, tied to the bedposts, her legs spread far apart, her hairless mound glistening with her dew. Her pussy already dripping, ready for him to fuck her hard, fast, and deep. He wanted the image in his head so badly, and yet he knew if he even tried to make a move, she'd either kill him or die trying. He was tired of fighting her. He wanted to tie her to his bed, blindfold her, and show her the delights that could be had if she would only let him dominate her.
Carrying her up the stairs, he held her body close, cradling her like a precious relic. He made his way to the second floor. Out of all the women he'd ever encountered, she inflamed him like no one else. Her oval face, with her large, liquid brown eyes flecked with red, haunted him. Her full lips beckoned him. The graceful column of her neck invited him to sink his teeth into her jugular and drink deep of her life essence. He wanted to cup her small, high breasts and watch his hands travel along the curves of her sides, over her hips, down her thighs, caress her calves, and massage her feet. He wanted to rub his scent into her skin so that all would know she belonged to him and only him. There would be no others if she agreed to be his consort.
He could smell the odious poison in her blood. The wound on her palm was still open, blood slowly dripping from the cut. He would have to drain most of her blood and give her some of his. She would hate him for that.
Giving her his blood would allow him to track her wherever she went, to invade her thoughts and dreams, sense her moods, even from thousands of miles away. He would know if she were with someone else, he could even see through her eyes and take control of her body. He was the third chieftain of the Vampyre nation. He was the third most powerful vampyre in existence, his clan the third largest, and he was also third in line to ascend to the throne of the Vampyre monarchy. All he needed was a queen.
He made his way through a hallway and couldn't understand why she'd bought this horrid place. It had no class, no sophistication. It was out in the middle of nowhere, surrounded by woods, the nearest town five miles away.
"How in the hell is help supposed to get here in case of an emergency?" he asked the sleeping figure in his arms. "And it's not even pretty land. For the love of the gods, the garden is overrun with weeds. The lake is a cesspool, and I have yet to see one animal around here. My darling, you should have taken my offer to make you a queen. Then you could've had all the beautiful land you could want."
Even in sleep she defied him. As if on its own, her hand rose and tried to hit him.
He chuckled. "I shall call it a pet project for you, then. A hobby. But this should not be your life. You're too talented to waste your gifts on this place."
She tried to hit him again. He wanted to take hold of her hand and kiss the back of it, brush his lips against the pulse point and feel her heart beat. He looked up and saw he was only a few feet away from the bedroom he sought, the largest one at the end of the hallway. He could feel the rival vampyres outside, walking around, plotting their next move. Once he saw to her comfort and recovery, he would go outside and destroy them.
"How dare they interrupt our fight," he growled. "As soon as I know who they are, they will be dealt with."
If he had won, she would have been forced to concede to him, and therefore her fate would be in his hands. As much as he hadn't wanted it to come down to that, he would have preferred it to the suicide mission she seemed to be on when she decided it was in her best interest to fight him.
"So stubborn is my darling," he murmured softly. He loved her for that. He loved everything about her.
He kicked open the door and looked around. He was relieved to see that the room was in good condition. The furniture was of good quality, no dust or broken items. A large bed, piled high with pillows and bed coverings, stood against a far wall, the headboard a wrought-iron monstrosity whose top nearly hit the ceiling.
"This will do for now. You, my darling, deserve so much more." His cock throbbed at the thought of laying her down in the silks, satins, furs, and velvets of his own massive bed. He shook his head. He wouldn't feed his sexual desire now, not yet anyway. He refused to leave her while some unknown threat waited outside, prowling around looking for a weakness in Blyder's protection spells.
"They won't find them," Rysen murmured as he arranged her on the bed and pulled off her boots. He paused, wondering if he should undress her to see how extensive the damage was. Making up his mind, he gently took off her tank top. Next, he removed her jeans and then her underwear.
Once she was naked, he catalogued all that he saw. Though his body reacted to the sight of her, his mind worked overtime to keep his lust at bay. He could see the bruises and wounds slowly starting to heal or disappear, but not fast enough. He took hold of her wrist and held it, palm up. Her self-inflicted wound had not disappeared.
She was too weak. Her immune system wouldn't be able to defend itself until she had fully recovered. The poison was working much too well.
Swearing, he placed her arm gently on the bed and shrugged out of his black leather duster. Kneeling, he took hold of her arm and brought it to his mouth. His tongue lapped at the spot he would bite into, preparing it to stave off infection.
His canines extended. His body began to heat, and his cock grew harder. He kissed her pulse point before biting down, and his back arched as her blood hit his tongue. The sweet, salty, metallic flavor caused his taste buds to explode with pleasure. His eyes drifted closed while her life filled his mouth like sweet, hot lava. The faint bitterness of the poison did not dampen his pleasure; it was nothing to one of his strength. He drank of her, careful not to drink too much.
A soft moan drew his attention. He saw her back arch, her breasts thrust into the air. The scent of her desire filled his nostrils, and he moaned in response. Blood slipped from his mouth, coating his chin, dripping down to stain his shirt.
"Easy, darling. Be at peace. I'm going to take the poison from you," he whispered with his mind.
"I'm dying," she responded.
"No. I won't allow it. You will not meet the Great Maker now or ever, if I have my way. Relax, my darling. Let me take care of you."
"No…"
"Do it," he growled out.
He felt her resist before he reached out with his power. Like a whip cutting through the air, his power flicked out into the space between them; like rope, he wrapped his will around her, pressing her down to the mattress. Her body flinched before relaxing back onto the bed. Once he was sure he had taken enough of her blood, he reluctantly released her wrist and lapped at the wound. Once the puncture marks were closed, he bit down into his own wrist.
He gazed upon her naked body, which looked cold and waxy, almost deathlike. He shuddered. He'd become a vampyre so he wouldn't have to lose anyone else he loved. Seeing her like this reinforced how much he loved her. His wound welled, blood dripping down onto the worn bedspread. He reached out and pried her lips apart.
"Don't fight me, darling. Drink of me."
He placed his wrist at her mouth and watched her react. Reaching up, she took hold of his arm, holding it in a vise grip, her lips pressed to his flesh. Her tongue darted out and lapped at his wounds, causing pinpricks of fire to dance up his arm, inflaming his arousal. Her mouth latched onto his wrist, and each pull of her lips felt like a caress on his cock.
Rysen's shaft throbbed in time with each tug. He reached down and, with one hand, ripped open the button of his jeans, pulled down the tab, and slipped his hand into his pants. Taking hold of his dick, he began to stroke his hardened rod, eyes now closed, head tilted back. He rose on his knees and, with a bit of awkwardness, tugged his pants down until his cock was fully freed. He wrapped his fist around his shaft and started to pump, up and down, in a grip that would cause tears to form in most men's eyes. The pain and pleasure cascaded through his body. Warm waves ebbed and flowed through his veins as his hips moved back and forth. He fucked his hand as if he were inside her.
"Rysen," she moaned, her voice echoing softly in his mind. He grunted in response.
"My love," he answered. He did not care that he had just admitted his feelings for her or what she would think of them. He paused briefly, remembering the moment that had brought them to this place. The point where he had become her enemy a hundred years ago.
http://www.loose-id.com/Blood-Claim-Trapped.aspx
My Vampire Books: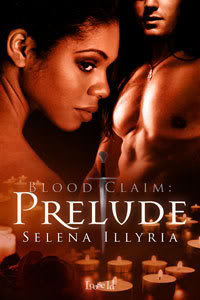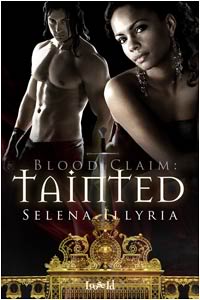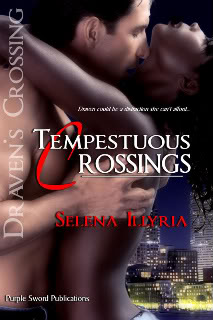 (Out Now at Purple Sword Publications)