A Chance at Love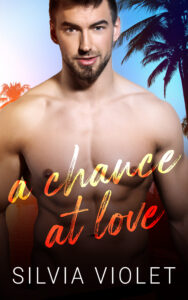 August 14, 2020
Chance is gorgeous. Younger. Confident. Seductive enough I almost joined the mile-high club the day we met, but I resisted… then.
When we meet again, though, all bets are off. I find myself surrendering to the gorgeous grad student with his intelligence and thirst for life, the guy who calls me Dare and makes me feel like I can do anything.
Despite the differences in our ages and the extra zeroes at the end of my bank balance, despite our agreement to keep our relationship a secret, I can't deny our connection…and I can't help falling for him.
But I want more than just clandestine meetings, I want it all. Chance fought to have me, but now I'll fight to keep him, to convince him he has a place in my world...and to show him I'd risk everything for a chance at love.

Excerpt
Darren sighed as he headed down the jetway. He was finally going home. A two-hour weather delay had capped off one hell of a grueling week. But he'd gotten the support he needed for his new project, which meant he could relax and fully enjoy his first-class seat for the trip back to San Diego. He stowed his bag and settled in by the window, ready to catch up on some episodes of his favorite podcast while he had a drink or several. He fucking deserved them.
He adjusted the window shade so it kept the sun out of his eyes but still allowed him to see out. No matter how often he flew—and it was far more often than he liked recently—he never grew tired of watching the ground fall away as people, cars, and trees grew smaller and smaller and the clouds began to look like a tangible blanket.
"Ahh! This must be my seat." The loud, enthusiastic voice startled Darren. A young man was making a dramatic show of checking his boarding pass against the row number. He had reddish-blond hair that stood up from his head in a spiky arrangement that made him look like he'd just rolled out of bed. Maybe he had, because—no, he couldn't be. But another look assured Darren that the man was, in fact, wearing pajama bottoms. And that wasn't even the most arresting thing about him. He was holding one of those giant canisters of garishly orange cheese balls one might see in an aisle-blocking display at Costco, a place Darren thankfully hadn't been to in years.
And yet despite the hair, the PJs, and the odd choice of carry-on, the guy was hot as hell. Darren couldn't stop himself from imagining how it would feel to run his hands over the muscles displayed by the guy's too-tight T-shirt.
Please let him be in the wrong seat.
"Yep! This is it," the man declared.
"Somehow, I doubt that," Darren said as he pushed the lurid images from his mind. The guy looked like he was in college. Surely he didn't have a seat in first class.
"Umm…" The man set his party-sized snack down in the seat and glanced at his boarding pass again.
"Sir? Is there a problem?" A flight attendant stopped by their row.
"Just making sure I'm in the right place."
She glanced at his boarding pass. "Yes, sir. Please have a seat, and we'll be on our way shortly."
"See?" he said, turning to look at Darren. "I was right after all." He still sounded as excited as he had when he'd entered the plane, despite Darren being rather obvious about his annoyance.
You just don't like how turned on you are.