Demanding Discipline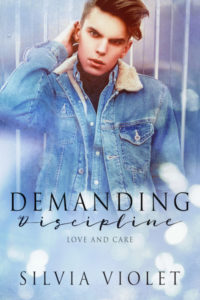 Love and Care
Love and Care 3
October 9, 2018
Sean uses his sassy mouth and bratty behavior to distance himself from others. He's afraid to care too deeply for anyone or anything. But the walls he's built have turned his life into a hot mess. He can't settle on a career, he's rarely on time, and his only real friend is his roommate. No matter how many times he resolves to change, he falls right back into his old patterns. Then he meets Blake, a man who's not afraid to use a firm hand with Sean.
Blake is a former Navy SEAL who has men falling at his feet. But he doesn't want just any man, he wants Sean. And he longs to teach Sean the discipline he so desperately needs. As he trains Sean through pony play and other games, Blake learns more about Sean's insecurities and realizes Sean needs more than a master, he needs a caring lover—maybe even a Daddy.

Excerpt
"Kneel."
I glared at the very tall, very muscular, very confident man in front of me. "What if I don't want to?"
Blake raised a brow. I was naked. He'd commanded me to strip and I'd obeyed, thinking he would do the same, but he was still wearing his faded US Navy t-shirt and dark jeans. And a belt. A wide leather belt I knew would feel delicious on my ass, but I'd never tell him that. I wanted him to work for the privilege of spanking me.
"You do." He said it like he had no doubt. I got the feeling he didn't have doubts about much.
I turned and walked across his bedroom, tightening the muscles in my ass to give him the best view.
"Sean, I told you to kneel, and I mean for you to do it now."
I wanted to. I wanted to be at his feet, but I couldn't just give in. That would mean… I wasn't sure exactly what, but it wasn't who I was. I didn't take orders. I loved to be spanked, to be fucked hard and held down, but I didn't actually want to be a man's submissive. So many Doms I'd met took everything way too seriously anyway. I liked sex, and I liked games. That's all this was, a game. Except Blake didn't seem to agree.
"And if I don't?" I asked.
"You will." He remained just as confident as he'd been since he'd approached me at Thrust.
Worse. He was right. The bastard. No way was I going to give up the chance to have whatever he wanted to give me. I'd had my eye on Blake ever since a friend mentioned seeing him do a pony play demo at Thrust. I'd stumbled across some pony play porn a few months ago, and wow. I had no idea how hot a guy could be with a tail plug up his ass. I'd ordered one for myself and played around with it, but it wasn't the same without a partner.
I walked around the room, glanced out the window, and finally came to stand by Blake again. I reached out, intending to touch his cock, hoping that would break his intense concentration. His fingers clamped around my wrist, and he squeezed tightly enough to let me know that if he didn't want me to touch him, I wasn't going to be able to.
Blake looked at the floor, making clear what he still wanted. I sank to my knees without further protest. Blake had this presence that made me want to obey. I wanted to hate him for it, but I didn't.
"Better," he said, his voice cool and even.