A Devilish Christmas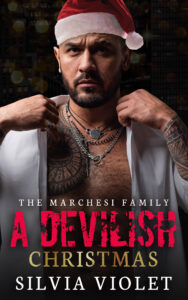 The Marchesi Family
The Marchesi Family 4
November 18, 2021
Devil, my beast of a man, seduces me into eloping, then abducts me for a honeymoon in Christmastown, Vermont.
A lot of men would be furious. I simply planned revenge involving handcuffs.
My anger doesn't last long. Devil rents my dream cottage and manages to draw me out of my Scrooge-like ways. But I've been keeping a secret, and it follows me all the way to Christmastown.
Can Devil and I enjoy each other, find our Christmas spirit, and keep ourselves safe from a vicious killer?

Excerpt
"Don't move." My cock slipped from Joe's body as I rose from the bed, leaving him lying on his back, panting and sweaty.
"I'm not sure I could if I wanted to."
"Mission accomplished."
He flipped me off as I walked to the en suite bathroom. After taking a moment to clean myself up, I stared at myself in the mirror. I'd put this off too many times. I told myself it was because Joe had been working insanely long hours and was distracted as hell by his current case, but that wasn't really it. I was scared—damn, I hated admitting that, even to myself—but I wasn't going to chicken out again. If for no other reason than my cousin Angelo would never stop giving me grief. There was never going to be a moment more perfect than this one while Joe was spread out in our bed, spent and satisfied.
I opened the bottom drawer in the vanity cabinet, pulled out the small velvet box, and charged back into the bedroom before I could change my mind.
Joe was dozing, but he opened his eyes when I knelt on the bed. "Devil, why are you looking at me like that?"
"Like what?"
He studied me before replying. "Like you're about to tell me something I won't like."
"You better like it."
Joe snorted, then he noticed what I was holding, and his breath caught. "Devil?"
"Yes, baby?"
"What's that?"
I shrugged. "You're the detective, you tell me."