Anticipating Rejection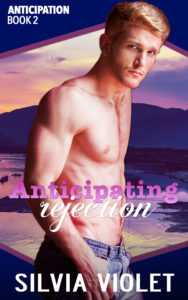 Anticipation
Anticipation 2
June 25, 2019
Del is now a single dad, and for the sake of his young daughter, he's moving back to his parents' ranch. Returning to Anticipation means seeing Noah again—the man who was his best friend and then so much more. Del enjoyed surrendering control to Noah, but fear of what their relationship would mean sent him running. Will Noah even speak to him again, much less give him a second chance?
Noah has resigned himself to a quiet life improving his baking skills and running his family's café. When his mom volunteers him to pick up Del at the airport despite an incoming blizzard, he braces himself to be stranded overnight while trying to pretend he hasn't missed the man who broke his heart.
The moment they see each other, heat flares between them, and all Noah's dominant urges come to life again. He wants Del as badly as he always has, but he can't trust Del to stay around long enough for their relationship to develop. Is there any chance of a future for these two men who are both anticipating rejection?

Excerpt
Noah pulled a sheet pan of brownies from the oven and set them aside to cool. He'd just started mixing up the mocha icing to top them with when the bakery's front door jangled.
After wiping his hands on a towel, he stepped through the swinging door that separated the kitchen from the sales counter and dining area.
"Good morning, Noah." Ada Crane was far from his favorite person, but she was a frequent customer, and he'd promised his mother he'd be friendly.
He forced a smile. "Good morning, Mrs. Crane. What can I do for you?"
"I need to order a cake. For Saturday."
"Of course; what's the occasion?"
"Haven't you heard? Delford's moving back home."
Noah dropped the notebook of cake ideas. The rings popped open and laminated pages scattered everywhere. "Um… I…"
"Here, let me help you." Noah's mother, Lisa, had been having coffee with a friend, but she scooted behind the counter and began picking up cake photos.
"Del gets in today, doesn't he?" his mother asked as Noah tried to put the book in order.
"Yes, he does, or at least I hope so. With this blizzard on the way, I can't be sure."
Noah felt like a blizzard was already raging, but it was all inside his head. Del was moving back home? And no one, including his own mother, had bothered to tell him. Why would Del do that? The last Noah had heard, Del had turned his wizard-level math skills into a cushy financial sector job in Chicago.
"When does his flight land?" Noah's mother asked.
"He gets into Casper at six tonight."
His mother nodded. "I don't think the storm is supposed to get bad before then. He should be able to make it."
"Oh, Lisa, I hope so. Edward still can't drive after hurting his leg, so I was going to send Harvey to pick Del up, but some fool cows managed to push down a section of fence, and he's working to fix it before the storm hits. Besides that, he says we've got several cows that could give birth any minute. I told him I'd go, but I do hate driving in bad weather, especially in the dark."
"Oh, you shouldn't make that drive alone with a storm on the way. Noah could go."
"What?" Noah moved his mouth, but no more words came out, mostly because there was nothing he wanted to say to his mother that wasn't profane.