Law and Supernatural Order Bundle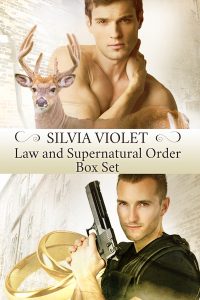 Law and Supernatural Order
Law and Supernatural Order
March 31, 2018
The Law and Supernatural Order Bundle contains four complete humorous shapeshifter novellas. Save 40% off the price of buying them individually.
Sex on the Hoof, Book 1
Deer shifter, Jason Fleetfoot, has turned his life around. After years of taking chances, he's working as a crime lab technician, and he's determined to forgo the risky behavior of his past. Then he meets Drew Danvers, the only undead detective in the city. Jason hates vampires, or does he? Drew defies all the stereotypes of his kind and something about him has taken hold of Jason and won't let go. So Jason might dare to take a chance on a man others would label a risk to his health if not his very life.
Paws on Me, Book 2
When a murder investigation at a shifter nightclub brings owner Brandon Lord and Lieutenant Seth Morrison together, passion roars to life. They're both willing to break the rules to be together. Because as mismatched as they might seem, each man is exactly what the other needs.
Dinner at Foxy's, Book 3
Fox shifter Luke runs Foxy's Chicken Shack, known for the best and spiciest chicken in town. For months he's had his eye on Silas, a young cop who patrols the area around his restaurant. When Silas arrives to question Luke about his cousins' criminal activities, things blow up, literally, and Silas is injured. Luke will do whatever it takes to see his cousins brought to justice. He might not survive his crazy plan, but if he does, there could be a chance at love for this fox shifter and his cop.
Hoofin' it to the Altar, Book 4
Deer shifter Jason Fleetfoot and vampire detective Drew Danvers have been together for a year. When Drew proposes, Jason is thrilled but shocked—vampires aren't usually the marrying kind, even the few who side with the good guys.
Other books in the Law and Supernatural Order series that are not included: Savage Wolf (an m/f prequel) and Law and Supernatural Order Extras (Coming Soon)

Excerpt
From Book 1: Sex on the Hoof
I'm Jason Fleetfoot. I've made a lot of stupid mistakes in my life. The stupidest of all was taking a job with some assholes intent on manufacturing illegal chemical weapons.
My sister, Natalie, lost her job when her company folded, and I lost mine because my fucking boss was a bastard. I've got authority issues. And control issues. All right, I'm seriously fucked up, but I wasn't going to let my sister starve because I couldn't keep it together.
So I made a deal with the devil and damn near got myself and Natalie killed. She saved me. She and her cop boyfriend, Wolf. The name's not a joke. He's a werewolf. Did I mention we're shifters, Natalie and I? Deer shifters. If you think my human form is impressive, you should see me as a ten-point buck. So yeah, a werewolf and a deer shifter. Somehow they're making it work.
When I was a kid, we were all in hiding—wolves, deer, rabbits, foxes, and all the other shifters, vampires and demons too. Then the Big Collapse happened. Worst econ crash since the Great Depression. The world was in chaos, the US Government near collapse, the unemployed filling the streets. A bunch of supernaturals said, fuck it, the humans can barely keep themselves together, it's time we had our day. I thought there'd be a war, but none of us were organized enough to attack and the humans had their own problems so now we all live together.
Peacefully? Fuck no. Most humans tolerate us, just. Some love us only for the thrill we can give them. And others would like to kill us on sight, but at least we don't have to pretend anymore. I love what my body can do and I'm never going to apologize for it.
But that's enough history. Let's get back to the now and my life on the straight-and-narrow, working hard to earn an honest dollar. I fucking hate being beholden to Wolf, but I wouldn't be where I am now if it wasn't for him. Once the Atlanta PD cleared me, Wolf helped me get a job in the crime lab where I can use my knowledge of chemistry and computers for the good guys.
As the newest hire, I work nights, babysitting the equipment and working on what comes in during the wee hours. For the most part, I like it. It's quiet and I get a chance to play around with new techniques and do a bit of programming. There's only one problem: Detective Drew Danvers.
He works nights too. Not because he's new, but because he's a goddamned vampire. They say he was Changed against his will. But what the hell was he doing picking up a vampire at a bar? I certainly have no intention of fucking a vampire. No matter how damn fuckable Drew is. Yeah, I like men, what of it? And Drew is a fine specimen of a man, like some Viking warrior. He's at least six three with sculpted arms and pecs that make him look like he could lift a truck one-handed. Considering he's a vamp, he probably can.
Getting involved with Drew would be stupid on too many levels to count. And I'm finished with making stupid decisions. So why does my body want so desperately to be impaled on him—his cock, his fangs, anything he'd like to stick in me. Natalie's right, my dick really doesn't communicate with my brain. I don't just want to fuck him, I want to be taken by him, and I never want that. Like I said, I have control issues. But with Drew… No, there's never going to be anything with Drew.