Niall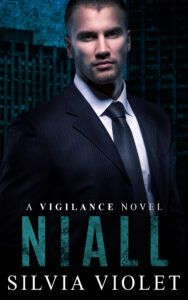 Vigilance
Vigilance 2
October 23, 2020
I'm a former FBI agent. Now I'm on the opposite side of the law as part of an underground vigilante organization.
When the fight to stop a crime ring pairs me with a pawn shop owner, it's hate at first sight.
Fun fact: Hate and desire aren't mutually exclusive.
To further the investigation, Marcus and I must pretend to be boyfriends. Too much time spent in close proximity has me wondering if Marcus might have the power to thaw my icy heart.

Excerpt
My gaze met Marco's, and for a moment, my body heated. Then I shook my head and turned away. No way in hell did I want this annoying man, even if he was hot as hell. His dark hair was just long enough to have some curl, and he didn't bother to control it. He had a scruffy beard and his eyes… They were almost black and too easy to get lost in.
Marco lifted a brow, but a second later, his expression turned serious. He pointed to his ear. Someone was speaking to him. I kept lookout as he listened.
"He's with me. His comm's down…Yes, we're clear." He smiled and turned to me. "We got the bastards."
We high-fived, and that simple contact sent electricity down my arm. That was so not good. At least Marco wasn't someone we worked with regularly. Maybe I'd never have to work with him again, because there was no way in hell I was going to act on this strange attraction.
The team met up for debrief, and when that was done, I heard some of the guys talking about going out, but I wanted a long hot shower and some quiet. A lot of guys like to party after a successful mission, but I usually needed either time to think it all through and reflect or a good, hard fuck.
I was about to head for the SUV I'd parked down the road when Marco called out to me.
"Are you going out for drinks?"
"No. I'm heading home."
"Probably best. The bar's in a sketchy part of town. You wouldn't want to get any smudges on this perfectly pressed shirt, would you?" He brushed his hand over my chest, and the heat of it almost made me step back. My traitorous cock began to swell, and I tried to think of anything but how earthy and masculine he smelled as he stood much too close.
"No, that's not—"
"You'd rather go home and jerk off over your closet of suits or stacks of spreadsheets or something?"
Anger had me tightening my fists.
Marco just grinned. "You're almost too fucking easy."
"Do you want to take this somewhere else?" The words seemed to shock him almost as much as they did me.
When he managed to close his mouth, he nodded. "Fuck yes."