Professor for Two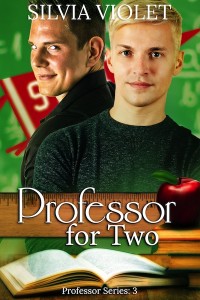 Professors
Professors 3
Silvia Violet Books
Have you ever fantasized about a professor? Go on. Admit it.
Chemistry graduate student Sean Carson's favorite form of procrastination is fantasizing about his office mate, Ben. When he learns Ben and department hottie, Dr. Stevens, are sharing a lot more than research techniques, Sean is too turned on to be shocked, even when they invite Sean to join them.
Excerpt
Sean walked quickly, trying to keep the giant stack of scientific journals from sliding out of his hands. If he could make it to his office at the end of the hall, he could relieve himself of the burden and start the long, tedious process of researching the next chapter of his dissertation. Hopefully, Ben, his office mate, wouldn't be around today. The man was far too distracting. He liked to talk. A lot. But that wasn't really the problem. After growing up with two sisters who never seemed to stop chattering, Sean could block out excess words with ease. No, the problem was that Ben was gorgeous. And Sean couldn't be in a room with him without fantasizing about making him stop talking by pushing Ben to his knees and filling his mouth with his dick.
That was never going to happen, though. Despite being a graduate student in the chemistry department, Ben was one of the cool kids, socially adept, the kind who always had a date, was fully aware of pop culture. Sean was… well, a chemistry nerd. Oh, and those dates of Ben's, they were with girls. As far as Sean knew, Ben was straight. Though he had caught Ben staring at their advisor's ass. Of course, Dr. Stevens's ass—and the rest of him—was mouth-watering. How was Sean supposed to focus on finishing his dissertation and actually graduating with so much eye candy around?
Sean succeeded in traversing the hall without dropping anything. He even managed to juggle his unwieldy load and free a hand to turn the doorknob. But when opened the door a crack, he froze.
No. No fucking way. He had to be dreaming. He wasn't about to pinch himself, though. He did not want to wake up. He glanced over his shoulder, making sure there wasn't anyone else around, but even his fellow chemistry nerds weren't using their offices on Sunday morning.
He turned back to the scene in front of him. Dr. Stevens had Ben bent over his desk, and he was fucking him hard and fast, his hips seeming to move with inhuman speed. Apparently Ben wasn't as straight as he'd seemed.
Ben gripped the far edge of the desktop, his teeth sunk into his lower lip so hard Sean couldn't believe he hadn't drawn blood. Ben's expression was a mix of pain and ecstasy that was as erotic as the slap of Dr. Stevens's hips against Ben's ass.