Ranch Daddy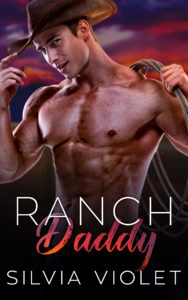 February 28, 2020
My life is a mess. I've become the loser my father expects me to be, and now I'm stuck on his ranch. The only good thing in this scenario is the foreman, Blake. I never thought a hot, older man like him would notice me, yet he sees the hidden part of me that longs for someone who cares.
I wasn't sure I wanted a Daddy, but I love the way Blake takes care of me, challenges me, and pushes me to be my best self. I want to make him proud. I want to keep him, even though we seem to belong to different worlds.
For far too long, I've let life come at me, believing I was powerless to fight for what I want. Maybe now I can use the strength Blake believes I have to give us a future together.

Excerpt
I turned around, and we stared at each other. The air felt thick between us. I wanted to hate Blake. I wanted to hate everything about this fucking ranch, but I didn't. I liked the animals, and I was starting to appreciate how well Blake had everything running. I didn't want to have to live with my father, but maybe I wouldn't have to if I could just stick this out.
"The horse was supposed to be a good luck charm. A… friend gave it to me before I came back home."
"Supposed to be?"
I moved closer to Blake. "Celeste—she taught an art class I took but she was also my friend—she thought I could find a way to do what my father wanted, to please him, and then maybe I could move back to Atlanta, and… I don't know, but I don't think it's working."
"Riley?"
I looked at him, and heat seared into me from his dark eyes. He was so close he seemed to surround me with his heat, his scent—sweat, fresh grass, and something musky that was just Blake. Need thrummed through me, dizzying me with its intensity. "Yes?"
"I believe in you."
He held my gaze, and I reached for him, hooking my fingers in his belt loops and pulling him to me. His lips brushed mine. Then the barn door banged open, and we jumped apart.