The City Dragon's Mate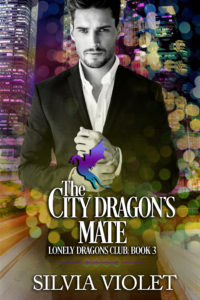 Lonely Dragons Club
Lonely Dragons Club 3
December 13, 2019
Best Decision Ever: Hiring a man in need of discipline and finding out he's your fated mate.
Bartholomew
When a friend calls, hoping I'll take a problem employee off his hands, I jump at the chance. Despite running a large company and having a bustling city at my feet, I'm bored. I need a project. And if that project happens to be teaching a young man discipline, all the better.
But when he arrives, I realize my mistake. Pierre carries burdens from his past and needs my comfort as well as my discipline. My dragon instincts tell me I'm never going to want to let him go.
Pierre
I made a terrible mistake, and it nearly cost me my life. Now I've got a second chance with Bartholomew, and I'm determined not to screw it up, no matter what he requires of me. But I didn't expect to want him so much, not when longing for a different dragon was what got me into this mess in the first place.
All I'd ever wanted was security, but now I'm falling in love. And nothing sounds riskier than trusting my heart to a dragon.

Excerpt
Pierre was a puzzle. Maybe he was what I needed to rid me of my current plague of boredom. Could I find a way to teach him discipline, punish him for having been so selfish, and also make him enjoy it? Of course I could. I could accomplish anything I set my mind to.
I took another step toward him and drew in a deep breath. His scent was incredible, warm, gingery, and so potent. Had I ever smelled a man as delicious as this one? My cock hardened as I imagined what he'd be like spread out and pliable beneath me. Yes, I was definitely going to keep him and find a way to make him want to please me.
Mine, my dragon insisted. He certainly was. For a while anyway. My dragon snarled. No. Keep.
I couldn't keep him, not for long, not unless… No, he couldn't be my mate. He smelled incredible, and I was drawn to him, but it couldn't be that easy. My mate wouldn't simply be gifted to me after I'd searched for so long.
It was that easy for Laszlo and Kymar.
No, I wasn't going to listen to that seductive voice. This was only happening because I was feeling desperate, and Pierre was a very attractive young man. I needed to focus on the business at hand.
"You're going to work here for me. You'll clean, do the laundry, run errands, and whatever else I require."
"Will I—" He froze clearly expecting to be rebuked for speaking.
"Continue."
"Thank you, Mr.… um… What should I call you?"
"Sir will do nicely. Otherwise, Bartholomew is acceptable, but no shortening my name. I abhor nicknames."
"Oh, right, sir."
I raised my brows and gave him a hard stare. "Your question?"
"Um… Will I be expected to sleep with you, sir?"