The Reprobate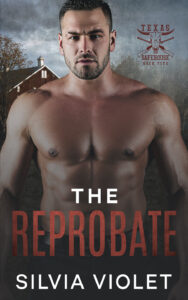 Texas Safehouse 5
June 1, 2023
People call me a reprobate. I'm known for my humor, my arrogance, and my inability to follow rules.
My boss sends me on a mission to protect a cold-as-ice billionaire I love to hate. I plan to push all the man's buttons.
He's as irritating—and as hot—as he's always been. I expected to want him. What I didn't expect was for my heart to get involved. 
There are things no one told me about the mission, and our enemies are closing in fast. We have nowhere to go, but my friend's ranch turned safehouse.
Neither of us was made for relationships, but the longer we're together, the harder it is to deny the way he makes my heart ache for more. I've been living on the run, dodging bullets and my past. Can I stay put and give myself a chance at love?

Excerpt
When I saw Darren across the hotel lobby, I had to force myself to keep moving. I wanted to stop and stare. He'd gotten even hotter since I'd seen him before or maybe it was just the suit. I'd met him in a situation that required us to blend in with the night so he'd been dressed all in black rather than his Daddy suit.
Most people were intimidated by my size or else they sensed the violence I was capable of, not Darren. He coolly met my gaze, and his expression told me he wasn't impressed. He knew I wasn't a threat since I'd been sent by X, but there was more to his nonchalance than that. He was trying too hard, and I was going to find out why. I had very little details about what he was involved it, and it's always the details you don't know that get you killed.
"Gentlemen," Darren looked from one of his guards to the other. "You may leave now."
"Identification," one of them barked at me.
"Do you honestly think I wouldn't recognize this man," Darren asked. "He's a bit distinctive."
I grinned. "Damn right."
He raised a brow at my flirtatious tone. "That's not necessary. Follow me to the suite."
"Do you have a key for me?" I asked.
"We'll discuss everything when we're upstairs."
"Listen, if I'm going to protect you then—"
He glared at me, and I stopped talking.
"No one could do that to me, not even X or my commanding officers."