The Rogue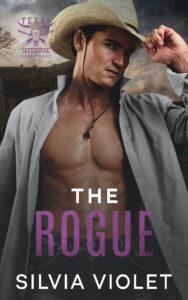 Texas Safehouse
Texas Safehouse 3
December 29, 2022
Rogue can charm the pants off anyone, but can he catch a man who might as well be a ghost?
Eight seconds on a bull was never as scary as falling for a man who might disappear any second. I might have left the rodeo to work my brother's ranch, but I never lost my taste for danger… and I've never met anyone more dangerous than Special Agent Ghost.
My overprotective brothers warned me away from him, but I've never been one to take good advice. When Ghost and I came together, it was explosive… and also healing.
We both have secrets, and neither of us ever thought we'd find comfort like we have in each other's arms, but he doesn't know how to stick around, and I've never learned how to let someone love me.
Unsure how long the fire between us will burn, we keep our relationship hidden until the day when an enemy's bullet shatters the hidden world we've created. Now we'll both have to make a choice: to keep hiding our true selves or put our cards on the table and fight for the future we want… together.

Excerpt
When the door opened, I had to work to keep my mouth closed. The man who followed TJ into the house was so beautiful it almost hurt to look at him.
He nodded toward my brother. "Grant."
I barely registered Grant moving before his fist connected with the gorgeous man's jaw. The guy stumbled back, rubbing his face but looking unsurprised by Grant's greeting.
I glanced at Rhys, and he leaned in close to let me know the man was Ghost, a guy who'd served with them in the  marines, then disappeared mysteriously. Now we knew he'd joined the FBI.
Ghost and a man we'd thought was his FBI partner had invaded our ranch, so Grant had plenty to be angry with him about, but Ghost smiled at him. I expected my brother to hit him again. Grant didn't tolerate being mocked. I ought to know.
"I probably deserved that," Ghost said, "but you won't get another one for free."
Grant glared at him. "There was nothing free about that. I caught you off guard."
"It won't happen again."
The man's confidence was seductive as hell. I didn't doubt a man like him could disappear like a ghost. He was too perfect to exist; therefore, the idea that he would dissolve if I touched him seemed right. That didn't mean I wasn't making plans to try. I desperately wanted to get my hands on him.
Landing his punch hadn't done much to settle Grant's anger. He had good reason to be furious. Ghost had been spying on us, and the other agent had fired on Rhys and TJ, but Ghost was on our side now, sanctioned by the great and mysterious X, whom I'd yet to meet.
I indulged myself by giving Ghost a slow, considering once-over. No matter what Grant thought, if he was a friend instead of a foe, that meant he was fuckable—assuming he was real.