Willing Hands by Silvia Onyx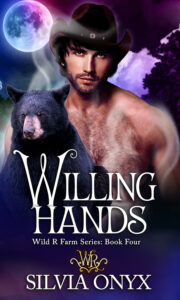 Wild R Farm 4
March 16, 2023
I've got a temper as wild as the bear I hold inside. Normally, I'm an easy-going, caring guy, but if someone crosses me, I'll use my claws and shifter strength to teach them a lesson.
I'm lucky to have found a job at Wild R Farm. I shouldn't hope for more, certainly not love, but when Ryan, our reclusive and very human horse trainer, gifts me with one of his rare smiles, I allow myself to get my hopes up.
He has darkness in his past just like I do, and it's coming for him. I intend to prove to him that I will protect him no matter the danger, but is there any chance love could bloom in the midst of so much pain?
2nd Edition. Previously published in 2014 as Silvia Violet.

Excerpt