Xavier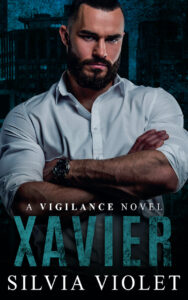 Vigilance
Vigilance 4
March 4, 2021
I thought I was straight.
I thought protecting my identity mattered more than anything besides family.
Then Emilio came to me for protection.
It's my fault he's in danger. no one is going to touch him.
No one besides me.

Excerpt
When I thought about the men I knew who wouldn't be averse to hooking up if I decided I wasn't as straight as I'd imagined myself to be, the thought of being with them did nothing for me.
I didn't want to find out what it felt like to fuck just any man—surely if that was all this was I would have gotten it out of my system long ago—I wanted to find out how Emilio felt. I wanted to spend time with him, to learn more about him, to figure out how his brain worked, to watch him as he broke into security systems and—
Jesus Christ I was losing my fucking mind.