After the Weekend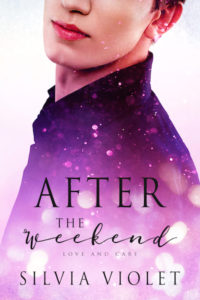 Love and Care
Love and Care 2
August 21, 2018
What Graham and Avery thought would be a single night of pleasure turned into so much more. Their needs and desires lined up perfectly, and by the time they parted after three glorious days, they both knew there was far more than lust between them.
Living in different towns makes continuing their relationship challenging, but Graham visits Avery most weekends, and their bond deepens. Avery thinks Graham is the best Daddy ever and Graham loves nothing more than taking care of Avery and challenging his need to surrender. But both men are unsure exactly how far they want this relationship dynamic to go. There are so many hard questions to answer when both men would prefer to live in a fantasy world during their limited time together.
But reality is calling. Graham and Avery both have friends who need their help with major life decisions, inquisitive family members, and a growing desire to spend more time together. In order to continue their relationship, they must figure out where their boundaries lie and what they want from each other outside the bedroom.

Excerpt
"You're so eager to serve." Graham chuckled, and the sound seemed to vibrate over me. "I don't have one with me, but I will remember how much that turns you on."
"You remember everything, Daddy. I want to make you happy."
"You do, boy. I'm so glad I found you."
"Daddy," I whimpered.
He ran a hand down my spine. "Shhh. I know what you need."
I don't know how, but he did. I needed him to punish me. Maybe last night when I'd jerked off frantically, enjoying being defiant, I'd known I'd need this. But I also knew that if he asked me not to touch myself again, I would obey. I would hold off no matter how long he kept me from coming or how badly my cock ached.