Bodyguard's Bite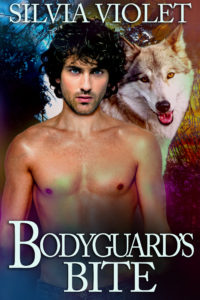 Howler Brothers
Howler Brothers 2
November 8, 2019
What if the one thing you wanted most was forbidden?
Wealthy werewolf Storm Howler wants a chance to act out his submissive fantasies without his overprotective brothers scaring off every dominant man in sight. If he can't choose his own partners, how will he ever find his fated mate?
As the former leader of a shifter special forces unit, Jax knows how to keep people safe, but he also craves the one thing he never had in the military: control.
When Storm and Jax meet, tension sizzles between them. It only takes one night of control and surrender for each of them to question whether they're fated for one another. But the next day, they discover Storm's brothers have hired Jax as Storm's new bodyguard. Rather than resign, Jax agrees to the hands-off policy in his employment contract, because no one can protect Storm as well as he can. But when danger threatens, Storm needs a man who can calm his mind as easily as he protects Storm's body. The two begin spending more time together, and there's only so long anyone can fight against fate—or love.

Excerpt
"Do you like the room?" Storm asked, sounding concerned.
"It's very nice, just not the kind of place I'd usually stay. All we really need tonight is a bed, though the floor would do, or a wall would make a decent substitute."
Storm sucked in his breath, and my dick appreciated the sound. "The bed would be more comfortable, but I'm up for any or all of those options."
I studied him until color rose in his cheeks. "You asked for me to take charge, so I'll decide where I'm going to have you and how."
Storm ran his teeth over his lower lip. "I did ask that, didn't I?"
I prowled toward him, holding his gaze. "You did."
His hazel eyes widened, and his lips parted with a soft moan. I loved how expressive he was. He made no attempt to hide his desire.
"I like being told what to do, but I don't surrender easily. My… job has forced me to learn to be more aggressive than I might be naturally."
It was more than his job. I was sure of that. Something about his life circumstances had caused him to learn to be assertive when he needed to be—not that it was a bad thing. I wanted to know more about Storm, though I knew I should respect his desire for privacy. He obviously had money and privilege. Should I recognize him? Was he someone famous? He'd said he worked at the club, but something had seemed off about that. He'd certainly known his way around. When he'd left me by the emergency door, I'd watched him closely enough to see that he'd gone into the supply room and then an office. Maybe he was friends with the owner, King Howler. He was the man I'd be interviewing with the next day. From what my friend had told me, King was very wealthy and quite powerful. I'd done a cursory search to learn more about him, but he might as well be a ghost for all the concrete information I could find. If I was offered the job, I had a hacker friend who could help me find out more, but I didn't want to bother him if the situation didn't feel right.
"I can push past your resistance if that's what you want. In fact, I'd enjoy it."
"I'd enjoy it too."
"Good. What's your safeword?"
"I'm really boring. I use 'red' to stop and 'yellow' to slow down."
I trailed my fingers down his arm. "There's nothing boring about you."
He licked his lips. "Thank you."
I slid my fingers into his hair, loving that his loose curls were as soft as they looked. Then I let my hands slide free and trailed my fingers over his cheek and down his neck, relishing the warmth of his tanned skin. I'd spent most of the weeks since I'd left the army holed up at home. I felt directionless and out of step with everything. Then I'd seen Storm and felt a connection that pulled me to him. It was like I was waking up for the first time in weeks. "Strip for me."
Storm's eyes widened.
"Don't make me wait."