Burning Up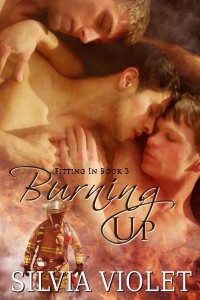 Fitting In
Fitting In 3
Bryce has been a firefighter for ten years, but when a horrific house fire leaves him reeling, he moves to a new city, hoping to shove those memories behind him. As he adjusts to his new station, Bryce keeps to himself until Matt and Toby, two hot young men in his unit, throw temptation in his path. Bryce knows better than to mess around with men he works with, especially two newbies who are in the closet. But after a difficult day, Matt and Toby offer him compassion and friendship, which slips so easily into sex Bryce finds the combination irresistible.
Matt and Toby want to expand their relationship to include a third, and they've set their sights on their sexy bear of a lieutenant. Their first night together is a scorcher, and, more than that, it feels right, to all of them. But since Bryce refuses to hide who he is, and dating men on his shift is against the rules, all three men are going to have to make some tough choices if they want to stay together.
Purchase in multiple formats at Payhip

Excerpt
"They're watching you again," Mason spoke in a low voice as he whizzed past Bryce, carrying drinks to the opposite end of the bar.
"You're imagining things again." Ever since Mason swore that Toby and Matt, who'd become regulars at the bar after Bryce started working there, were gay and interested in Bryce, he'd been teasing Bryce about their interest.
Bryce told himself not to look, but he couldn't help glancing toward the corner booth where they always preferred to sit before going back to wiping down the bar. Did they sit there because it gave them a good view of the bar? Bryce scowled. No way in hell were his hands shaking. No way in hell was he letting himself get his hopes up. Even if they were gay, even if they were interested in him, starting something with two guys from work would be the pinnacle of idiocy. Hell, getting involved with more than one guy was insane from the start. Just because Mason and his boyfriends had made a threesome work didn't make it realistic for Bryce. There was an exception to every rule.
"You're wrong," Bryce said as he passed Mason on his way to take a customer's order.
Mason snorted in reply.
Bryce was glad to see the bar was filling up. He did not need to spend the next hour telling himself not to look at Toby and Matt. He did plenty of that at the firehouse. Toby's smile could heat up and entire room and Bryce never wanted to look away from it, unless it was to contemplate running his hands through Matt's wavy brown hair while staring into his dark eyes.
But if Mason was right and they were gay, maybe they really were lovers. If so, he had no business approaching them, whether they were watching him or not. Just because they liked to look didn't mean they wanted to play. They didn't need him fucking up whatever they had going.
Plus, they worked together. They were a team, with people's lives on the line.
The line at the bar grew long, and Bryce got busy taking orders, making drinks, and ringing people up at the register. When things finally slowed down, he needed a bathroom break. As he headed to the back, he noticed Matt and Toby playing pool with a couple of guys he recognized as regulars. Toby waved and he waved back, hating the way his pulse accelerated. What the hell was wrong with him?
He pushed open the door of the restroom but failed to check his instinct to glance back over his shoulder. Toby's eyes were glued to his ass. There was no doubt about it this time. He whirled back around before their gazes had a chance to meet.
So Toby wasn't straight. Bryce had to admit that now. He was gay or at least bi, but he was just appreciating the scenery. That didn't mean anything. Bryce appreciated guys' asses all the time.
When Bryce left the bathroom, Toby and Matt were leaning in close, talking, arguing actually based on the angry expressions on their faces. Bryce hurried back to work, glad he didn't have to decide whether to speak to them or not. Several minutes later, Toby appeared at the bar. Mason, the little bastard, wasn't busy, but he made no move to take Toby's order.
"What can I get you?" Bryce asked.
"Just cashing out our tab." Our? Maybe Toby was just buying that night.
"Sure." Bryce looked Toby's name up in the register, ran his card, and handed him the receipt to sign.
"Thanks," Toby said, flashing a smile that made his eyes twinkle. How was it that he made that single word sound flirtatious? Bryce was supposed to be the one who flirted, the one in control of a situation, but despite Toby being so much younger, Bryce ended up flustered every time they spoke.
Toby looked up from signing the receipt. "You working till close?"
Bryce gave him a questioning look. "No, I get off at midnight. Why?"
"Oh I was just…um…thinking you've probably had a long day." Toby twirled one of the strands of his longish bangs around his finger. His nervous gesture again. Why was he so often nervous when talking to Bryce?
You know why.
Bryce ignored his inner voice and shrugged. "It's not been too bad."
"Good. Well, I'll see you tomorrow." Their shift at the station began at eight AM the next day.
"Yeah. You heading home?"
Toby shook his head. "Nah, we're going dancing. You could join us if you wanted?" Was that what Toby had wanted to say before? Had he been trying to get his nerve up?
"Thanks but us old folk need our sleep. Have fun."
"We will." Again with the sexy voice.
Toby grinned at him and walked away.