Claiming Bite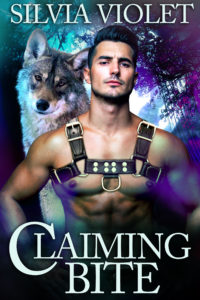 Howler Brothers
Howler Brothers 1
September 13, 2019
What if the one thing you wanted most was forbidden?
Alpha werewolf King Howler seems to have everything he could want: power, wealth, and his own club where he can act out his dominant fantasies. But the one thing he lacks is his fated mate.
Shy loner Emerson has always craved submission, not to another human—to a shifter. Handing over control to anyone could be dangerous, but with a shifter, it might be deadly. Yet all his fantasies star a werewolf who can make him beg.
When King and Emerson meet, the bond between them is instinctive and undeniable. King can't resist the pull he feels toward the younger man, even though giving Emerson what he longs for is risky. Emerson doesn't care how vulnerable he is. He knows he belongs with King, and he's willing to do anything to prove it. As longing turns to love, King knows he must find a way to keep Emerson safe, both from his enemies and from himself, because in the end, nothing can stop an alpha from claiming his mate.

Excerpt
An Unedited Excerpt
The scent that had intrigued me earlier grew stronger as we approached the bar. I tried to ignore it, but it was so fucking intoxicating. I turned my head trying to find the source of it, tripped over something on the floor, and nearly crashed into a bear shifter. Storm caught my arm and kept me upright.
"Are you okay?" Even with our sensitive hearing, he had to yell over the music.
"I am. It's just…"
Oh, fuck, the smell was coming from the young man trapped in the center of the lions. The young human man who was drunk and way too vulnerable.
My wolf stirred. Mine.
I pushed back against my animal instincts. I had to keep a clear head, so I could get these assholes out of my club without attracting too much attention. I was a businessman, not a savage. The last thing this boy needed was me being as insistent as the men who had him surrounded.
A growl rumbled in my chest as my wolf demanded I let him free.
No.
He's mine. They're touching him, and he's mine.
My control wasn't going to last long, not with the boy's scent driving me crazy. My wolf gained the upper hand for a moment. I reached in between two of the Crown brothers who'd dared rub themselves on my boy. Once I had hold of his arm, I yanked him to me and held him tightly As I held him close, I experienced even more of the nuances of his scent. The reminder that he was human and fragile broke through my haze of lust and gave me the strength to keep my wolf inside where he belonged.