Corbin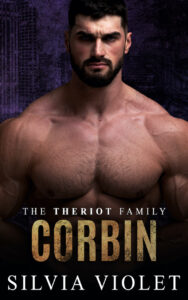 The Theriot Family
The Theriot Family 2
June 24, 2021
A bratty mobster and the man who wants to take him in hand
Everyone says I need discipline, but no one's willing to give it to me until I meet my match.
I can't stand the arrogant man who refuses to cower at the mention of my family's name.
But my hate isn't strong enough to keep me from wanting everything his hungry look promises.

Excerpt
"I want to make something very clear," Beau said. No more than two feet separated us. I could feel the tension coming off him. I didn't understand it, but something about him—his commanding tone, the way he loomed over me, his total lack of any fear—made me want to give in and stop fighting.
Fuck, if I were honest, I wanted to get on my knees. Feeling that way made me resent Beau and his arrogance even more. I'd been with plenty of men and women, but I was usually the aggressor. I'd never had anyone make me feel as eager to surrender to them as this man.
"This is my shop," Beau said. "I make the rules here. I decide whose car gets worked on first. I decide what I prioritize. If I owe someone a debt, I pay it. I respect your brother, but I won't have him sending his minions to harass me. If that's how this is going to go down, he can take his business elsewhere."
"I don't think you'd like the consequences of that." As soon as the words were out of my mouth, I regretted them.
"And what exactly would those consequences be?" he asked, taking a step closer to me. "What do you plan to do if I refuse to give in to your impolite demands?"
Had I been impolite? Obviously I was being an asshole now, but at first… I'd acted just like my brothers and my father would. They always spoke as though they assumed everyone would do their bidding. Was I ever going to learn how to do the same and have someone take me seriously?
Just because I was built more like my mother than the hulking masses they were didn't mean I didn't deserve respect. Yes, I was younger, but I was pretty damn sure they'd been commanding obedience since they were my age.
What the hell was I supposed to say now? The honest answer was that I would set Remington loose on him. That sounded really mature. And, of course, Remington would be pissed as hell that I hadn't managed to accomplish the task he'd given me. "When do you anticipate finishing the work on my brother's car?"
Beau smiled, and I waited for him to mock me, but all he said was, "I'll finish it as soon as I can. Maybe tomorrow."
"It's in your best interest to work quickly."