Down on the Farm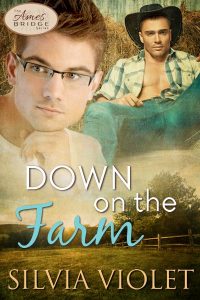 Ames Bridge
1
July 10, 2017
The start of a new small town romance series. Ames Bridge: Where Against All Odds, Love Always Wins.
After being fired from his teaching job, Beck Davis moves into the house his grandmother left him. He finds the town of Ames Bridge stifling, but it's a quiet place to hide while he regroups. Or so he thought.
His neighbor, Cal McMurtry shows up, demanding to buy Beck's land. Cal is as infuriatingly sexy as he was ten years ago when he and his jock friends spent their summers taunting Beck.
Beck expects to hate Cal as much as he did back then, but Cal isn't who Beck thought he was. He's revamped his family's farm, and now he raises heritage breed livestock and grows organic produce. Far more shocking: he's gay.
The two men want each other, but Beck has no intention of staying in Ames Bridge and while Cal is technically out, he refuses to date openly. Any chance of a relationship between them seems doomed from the beginning, but love is a powerful motivator for those willing to surrender.
**Now in Audio: Audible US  Audible UK **

Excerpt
Beck carried his cereal bowl with him as he walked to the kitchen window. An enormous black and white dog–a Great Dane?–was barking merrily as it frolicked in his grandmother's daffodils.
Shit! He'd helped plant those bulbs when he was a kid. They were heirloom varieties.
He struggled with the cranky window sash, finally getting it open a few inches.
"Hey! Get of there!"
The dog looked up at him and barked, seeming quite oblivious to how annoyed he was.
"Katie!" A man's voice called. "Katie, get out of there."
Beck watched the man. He was several yards off, walking between what used to be two large garden plots.
"Katie. Come."
The dog finally obeyed, and Beck studied the man more carefully now that the flowers were no longer in danger.
Dear God, was that really Cal? Beck hadn't seen him in years, not since his Grandma had a falling out with Cal's family, one he'd never understood. Cal had certainly…. Matured well. Physically at least. And damn if he wasn't three times hotter than he'd been at eighteen, and that was saying a hell of a lot. His shoulders had widened and his t-shirt strained over his biceps. Hell, he could probably bench press Beck.
Beck pushed the screen door open and stepped onto the porch, wishing he was wearing something other than sleep pants and a faded Emory University t-shirt.
"Oh shit, did I wake you?" Cal asked. "I forgot you big city people don't wake up at dawn like we do out here."
Did he have to start that crap right off? "I was awake. I just didn't bother getting dressed to sort through boxes." Not that he'd been awake all that long or actually unpacked anything but the coffee grinder.
Cal brushed at some dust on his jeans, drawing Beck's eyes to his muscular thighs. "Sorry about Katie. She doesn't usually run off. She must've smelled something new and wanted to check it out."
At least that's what Beck thought he said. He was too busy staring to really listen.
After too long of a lull in the conversation, heat filled Beck's cheeks. He was being way too obvious, and since it was unlikely Cal had changed much since high school, he doubted Cal wanted another man giving him a once-over.