Giorgio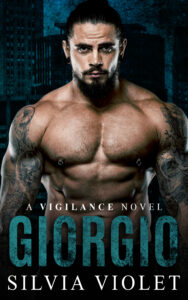 Vigilance
Vigilance 1
September 10, 2020
I'm a sniper. A trained operator. A bodyguard. A member of the elite private security force known as Vigilance.
When my boss's son acquires a stalker, of course I'm the one he calls to keep the guy safe. Mr. X's one rule? Keep my hands to myself.
Not a problem.
At least, not until I meet Lane Porter.
He's gorgeous. Flamboyant. Fascinating. He makes me want things I can't have. He stretches my self-control to the limit… and then breaks it.
As the threat to Lane intensifies, we're forced to hide out in a remote, one-bedroom cabin with danger stalking us from all sides, but suddenly keeping the boss's son safe isn't enough.
My new mission is to make Lane mine.

Excerpt
"I assure you I will keep you safe."
Somehow I believed that, but I also believed I might never be the same after this night. That should be a deterrent, but it wasn't.
"Okay, then. Let's go."
He grinned. "I like that you're eager."
"Fuck yes, I am."
He laughed as he laid a hand against the base of my spine, guiding me toward the door. The crowd parted for us in a way they never would have if it had just been me. Between the man's size, his presence, and the danger in his eyes, people didn't dare stand in his way. It was hot as hell.
He drove a black Lincoln Navigator. I whistled as I settled into the passenger seat. "Nice car. What do you do for living?"
"You really don't want to know."
I shivered. Was I in over my head? "Do I get to know your name?"
He seemed to consider that for a moment before finally saying, "Giorgio."
"I'm Lane."
"Hmm. That suits you. Now no more small talk." He started the engine then glanced over at me. "Undo your pants and touch yourself."
"Wh-what?"
He raised his brows. "Do it."
"But what if someone sees?"
"Remember when I said I would be in control, and you said—"
He stopped talking when I popped the button and lowered my zipper—a difficult task when I was hard as fuck. Apparently being a little afraid of him was only making me hotter.